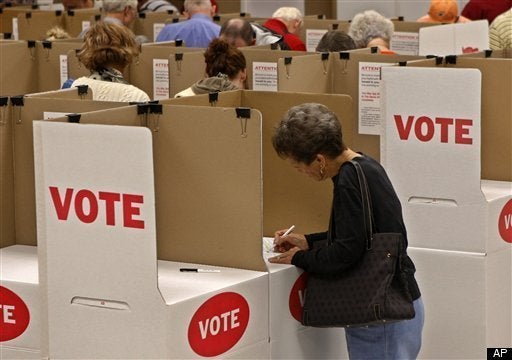 I am forecasting that 41.3 percent of those eligible to vote will cast a ballot in the 2010 election and that 28.8 percent of those votes will either be cast in-person prior to Election Day or by mail. I provide state-by-state and national forecasts here.
These forecasts are based on the number of early votes cast so far and a comparison to recent similar elections. This forecast is more of an art than a science, since I am juggling multiple factors that may influence turnout. On the early voting side, the total number of early votes is fairly firm since most states have concluded in-person early voting -- though not all. The remaining question is how many people will vote on Election Day, from which an early-voting percentage can be calculated.
I strongly encourage anyone holding a mail ballot to check their state's deadlines. In many states, today or tomorrow is the last day for a mail ballot to be received by election officials. If you have not mailed your ballot in these states, you may still be able to return your ballot to your local election office or your polling place on Election Day. For other states -- notably Alaska and Washington -- mail ballots must be postmarked by tomorrow. If these Senate elections are close, as expected, we may not know who won for weeks. And if these elections are really that close, unleash the recount lawyers.
My best advice is always to check with your local election officials about your voting options.
Of course, if there is a larger turnout on Election Day than I am forecasting, my forecasts will be off. I am always pleased with higher turnout by all eligible voters, so I hope that my forecasts prove to be wrong.

Popular in the Community