When I hit the Silverado Trail last month for a few tours and tastings, it was Kenzo Estate that was on everyone's lips. "I'm going this weekend," or "I just went last Wednesday, it's wonderful," gushed the wine-drinking public. Many of my male friends were familiar with Kenzo Tsujimoto, the chairman of Japan's Capcom Group, the gaming company responsible for Street Fighter and Resident Evil. Street what? Resident who? To me, Kenzo Tsujimoto was merely a man with a dream: to open a Napa Valley vineyard that created fine wines.
In 1990, Tsujimoto purchased the Mt. George property on which the newly opened Kenzo Estate resides. Set amidst rolling hills, Kenzo Estate occupies 4,000 acres of Napa land; 70 acres are planted; 30 acres are being planted. Add to that, 20,000 square feet of caves -- 100 percent French oak. In case you're wondering, the property was an old equestrian ranch on which the 1984 Olympic team trained, and Howard Backen, the Backen, Gillam, & Kroeger architect responsible for Screaming Eagle's design, worked his magic on the property staying true to the bucolic history of the land while inflecting it with simple Japanese aesthetics. Driving through the Kenzo Estate gate, breezing through the majestic hills to get to the winery and tasting room, and settling in on the Syar and flagstone veranda amps up anticipation. Since tastings are by appointment only, visiting Kenzo Estate feels like you're visiting a (very wealthy) friend for the afternoon. 20 years in the making, a rumored $100 million in cost, Kenzo Estate is breathtakingly beautiful, not to mention quite impressive.
The Kenzo team is equally impressive. Consulting winemaker Heidi Barrett, vineyard manager David Abreu, and Chef Thomas Keller are a Napa Valley power team. Now in their third vintage, the 2007 wines have just been released. Rindo ($75), the signature Kenzo Estate wine, is a Bordeaux varietal that nods to California reds and the rindo, a Japanese bellflower that blooms around the time of harvest. In addition, the Murasaki blend ($150), which means purple in Japanese, and the Cabernet Ai ($150), indigo in Japanese, are two other exceptional varietals at higher price points, sold in limited quantities. While reds dominate the Kenzo list, the 2009 Asatsuyu ($60) is a light, crisp Sauvignon Blanc that I absolutely loved and shouldn't be overlooked. In a gesture of wine-drinking goodwill, half-bottles of all four wines are also available.
Chef Keller rounds out the Kenzo Estate experience with his beloved Bouchon Bakery pairings. A tasting of five wines is available for $50 per person. While a wine-paired lunch featuring one of Keller's sandwiches -- Beef Brisket on Pretzel Brioche, Tuna Nicoise on Palladin, Ham and Cheese on Baguette, Heirloom Tomato, basil and Brie on a baguette, Turkey with garlic aioli, grapes on walnut bread -- is $60 per person. My choice? The tuna.
Long after you've finished your lunch, as the last sips of Rindo are drained from your glass, and you look out over the undulating hills of meticulously grown grapes loath to leave, you might just inquire about staying in the Kenzo Estate guest house for the night.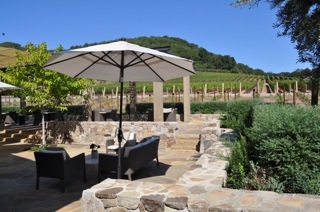 www.kenzoestate.com
The 2007 wines are currently available for purchase.
Signing up for the mailing list offers preferred pricing on all four Kenzo wines.