Last week - and especially this past weekend - saw numerous gifting suites around town tied to the Emmy Awards which aired Sunday night. Held at different venues around Los Angeles, including restaurants, hotels and the actual site of the awards at the Nokia Theatre, these suites invited nominees, presenters and other celebrities to stop by and pick up various goodies....for free - although all suites have a charity aspect so celebrities can give back or donate to causes.
With many suites happening simultaneously, it is not possible to attend them all. Below is a sampling:
THE HP TOUCHSMART GIFT LOUNGE BACKSTAGE AT THE NOKIA THEATRE:

For those celebrities who came backstage and played Angry Birds on the HP TouchSmart PC, HP made significant donations on their behalf to the Academy of Television Arts & Sciences Foundation. Those celebs also received a one pound -weighing HP Mini 210 laptop and headphones from Beats by Dr. Dre.
Other goodies: Nespresso's fastest coffee machine yet - the Pixie - which reaches its brewing temperature in 25 seconds; Nautica watches, Sarah Chloe jewelry, hair dryers and clipless curling irons from Sedu, New Balance latest Sky sneakers made from recycled water bottles, home delivery of I Can't Believe It's Not Butter, one-year giftcards to see movies free from AMC theaters, one-year memberships to Crunch gym and Yogaworks, a one-month supply of ProNutrients by Centrum along with a multi-speed juicer, vitamin B and caffeine-infused strips that dissolve on the tongue from Sheets Energy Strips.
Hasbro introduced its new Simon Flash game which updates the popular 80s game for the 21st Century. Celebs were also given gift certificates from Hasbro to stock their home and work stations with an assortment of Hasbro games including Yahtzee Flash, Twister and Rubik's Cube among numerous others.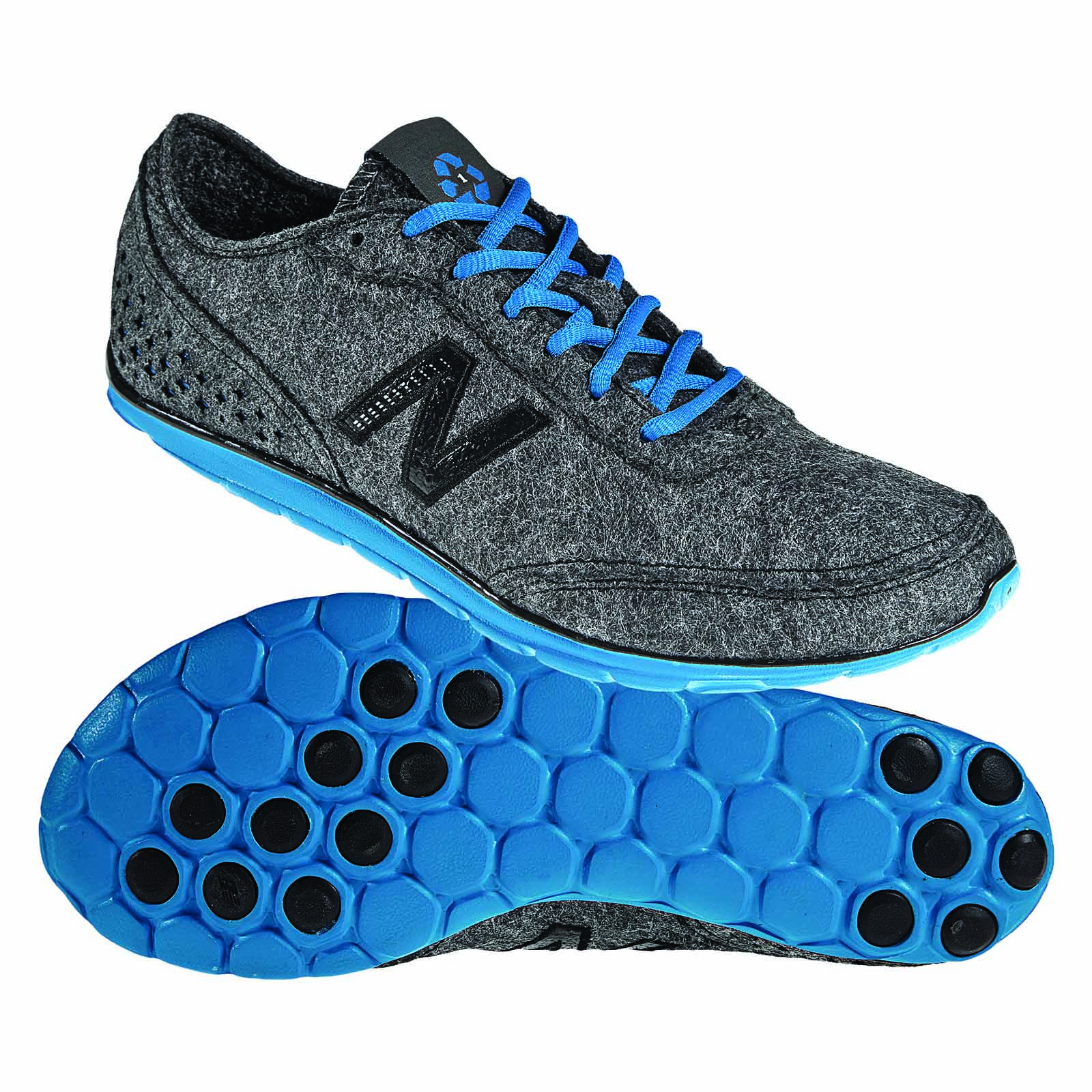 New Balance Sky sneakers made from recycled water bottles at the The HP TouchSmart Gift Lounge
GBK & TIC TAC MINTS EMMY AWARDS GIFT LOUNGE AT THE W HOTEL HOLLYWOOD:
Fashion: Apparel by Robert Graham, luxury scarves and pocket squares by Margo Petitti, gift certificates for custom made suits and tailored shirts from Bond St. Custom Clothiers, kids clothing from The Children's Place, Umi Children's Shoes.
On the beauty side: At-home facial steamers from Haan Therapeutics, solid perfume from Scentsy, skincare by Carita Paris, face, body and nail care products by Onsen which hails from Japanese hot springs, the detangling brush from Knot Genie.
What's beauty without the sleep? There were ComforPedic mattresses and pillows by Simmons made with their signature memory foam; Sheex's bedding made from athletic performance fabrics that releases body heat and wicks moisture among other things for a better night's sleep.
Other goodies: A year membership to Ancestry.com to find distant relatives and build a family tree; Christine's Gourmet Toffee in exotic flavors like bacon and chai.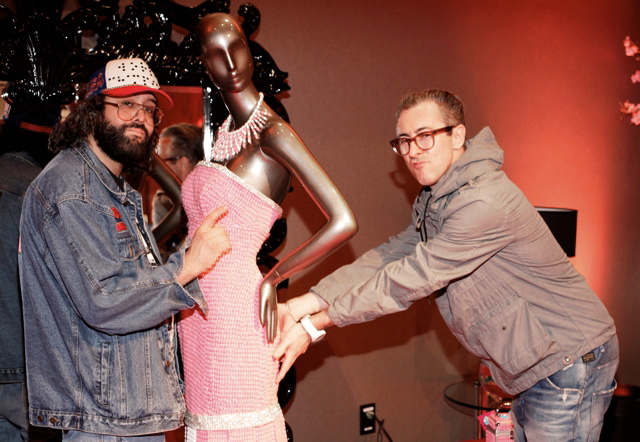 Judah Freidlander ("30 Rock") and Alan Cumming ("The Good Wife") flank a mannequin wearing a dress made entirely out of Tic Tacs at the GBK and Tic Tac Mints Emmy Gift Lounge
KARI FEINSTEIN'S STYLE LOUNGE AT THE MONDRIAN HOTEL:
Goodies included: Cordless home and office phones from Gigaset with personalized skins, invitation to the soon-to-be-launched spin studio, The Cycle House, sterling silver jewelry by Silpada Designs, Moni Moni handbags, cooking tools and kitchen supplies from The Pampered Chef, notecards from Joie Studios, women's casualwear by Saint Grace, gift certificates for manicures at the Nail Garden, snacks from Popcorn Indiana, hair care products and flat irons by Keratin Complex.
Also, LovelySkin.com, a website carrying over 200 skincare brands and 8000 products, handed out $100 gift cards to spend on the site. Founder Dr. Joel Schlessinger MD, was on hand with his son Daniel to personally gift celebs with his own line of LovelySkin products and FixMySkin healing balms.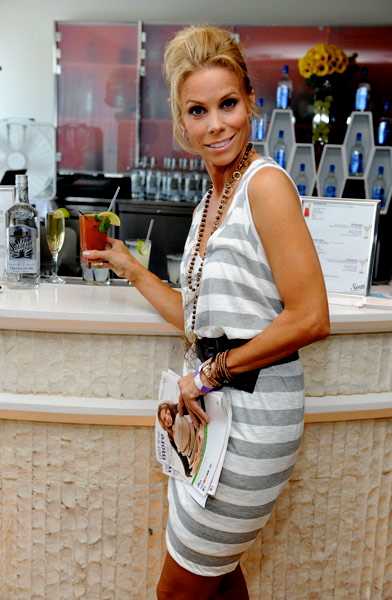 "Curb Your Enthusiasm's" Cheryl Hines at Sauza tequila bar at Kari Feinstein's Style Lounge
THE HUMANE SOCIETY AND THE SECRET ROOM EVENTS' RED CARPET STYLE LOUNGE AT THE L'ERMITAGE HOTEL:
The Humane Society of the United States was on hand to raise awareness about stopping puppy mills and factory farming, as well as protecting seals, sharks and marine ecosystems.
Travel: trips to Fiji including the Yasawa Island Resort & Spa and Sonaisali Island Resort plus 50 per cent off airfare from Fiji's international airline, Air Pacific.
Jewelry: Amaloa, Sasha Pellow, D'eonli Designs and Toby and Max, the latter which also included pet jewelry like a heart-shaped pet tags engraved with the phrase "Rescued and Loved."
Other items: Fanny Wang headphones with a duo jack for sharing, sport watches from Puma, children's clothing and accessories from Sweet Petunia Clothing, skincare from Derma Esthetics, nutritional bars from Think Thin, Super Booster Whitening Pen from Whitening Lighting, Youngblood mineral cosmetics, Lotty Dotty shirts emblazoned with paper dolls that come with their own detachable Velcro clothing so you can change the doll's outfit to match your own style.
Celebs left with gift bags containing pet mats from Crypton that are moisture, stain, odor and bacteria resistant, truffle salt from Hepp's Salt Barrell, sleep and loungewear from Pajamasutra, rings by Gregory Mikaelian & Sons Inc, author John Bradshaw's national bestselling book "Dog Sense" about the science of dog behavior; hair products by Chaacoca and Miss Jessie's Original, organic t-shirts by One One One Zero, cat calendar from pet resource website Found Animals, limited edition watercolor paintings by Rachel Tribble.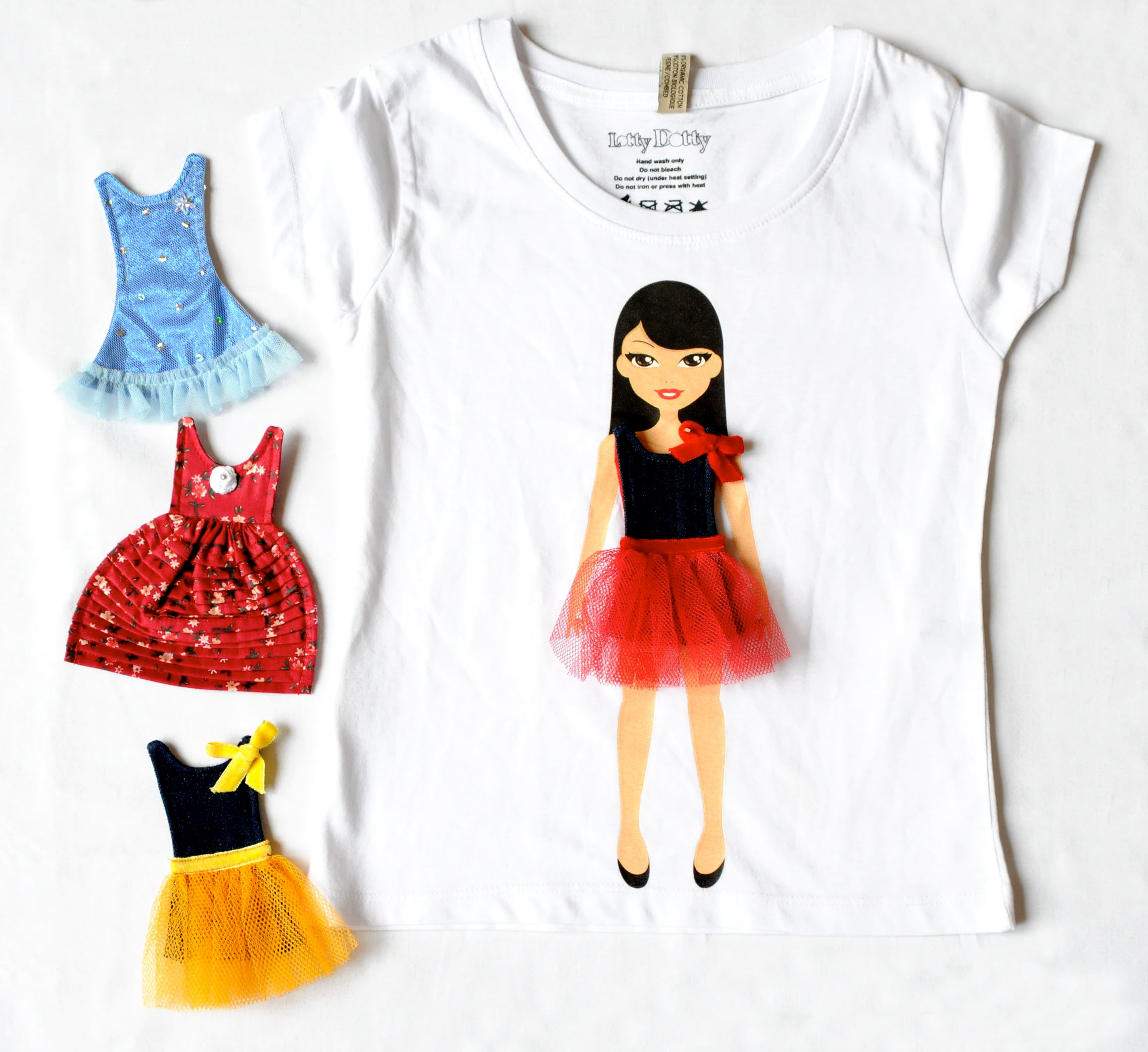 Lotty Dotty tees with detabchable Velcro clothing at the Humane Society and the Secret Room Events' Red Carpet Style Lounge
2ND ANNUAL ENDLESS SUMMER PRIMETIME EMMY SUITE AT GONPACHI BEVERLY HILLS
Footwear: running shoes from Joya by Karl Muller, men's dress shoes and accessories from Oliver Sweeney, athletic socks by Experia; bootights - a socks-meets-tights legwear designed to be worn under your fashionable boots.
Also, there was skincare by Stemulation and Prana, bath products from Vitabath and Spongeables, handbags from Lisa Berck's B Bag collection, bikinis from Becca by Rebecca Virtue, underwear from Dulcenea lingerie, dresses from Single Dress.
Jewelry designer Cynthia Mace was on hand to gift pieces from her All Saints and Divine Protection line of silver jewelry. A mother of three sons who are in the Air Force, Mace was inspired to create the line to keep her boys safe while on-the-job. Other military families began asking for pieces and Mace - who co-designs the line with her eldest son Royce - has made the various necklaces and bracelets available on her Royce Ware. The stunning pieces feature saints medallions, rosary-inspired chains, crosses on dog tags, fleurs-de-lis and others. Not just for humans, the Divine Protection line also extends to charm for your pets to wear on their collars.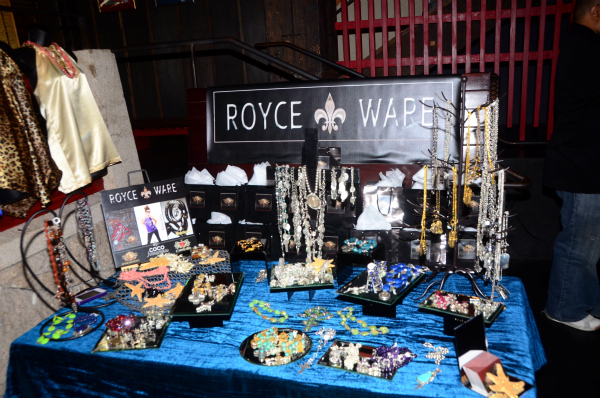 Royce Ware jewelry at the Endless Summer Primetime Emmy Suite

CALIFORNIA QUEEN'S TALENT SWAG SOCIAL IN HONOR OF THE 63RD PRIMETIME EMMY AWARDS BENEFITING KEEP A BREAST AT THE LUXE RODEO DRIVE:
Sonic skin cleaner from Nutra Sonic, watches with interchangeable bands from Shocking Goat and Epic Time Pieces, gifts certificates for laser hair removal at Dr. Tattoff, anti-bacterial cell phone wipes by Sweet Talk Wipes, make-up and skincare from Motives by Loren Ridinger, organic skincare from Elemi, One Skincare and Fixx.
Popular in the Community