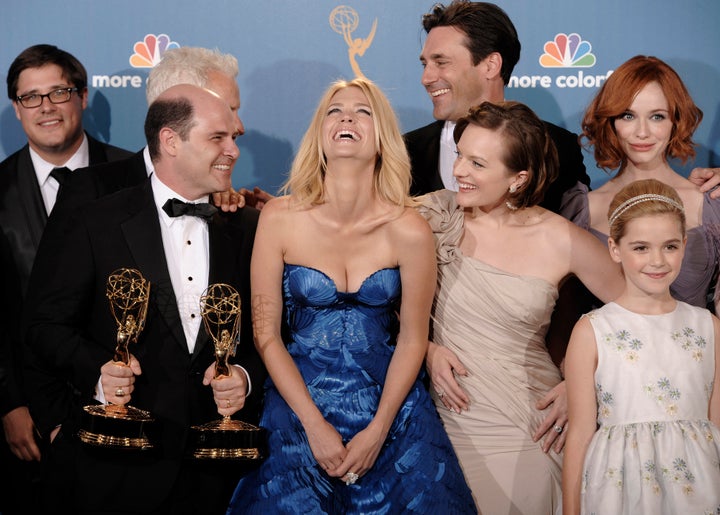 The Academy of Television Arts & Sciences on Thursday announced the nominees for the 63rd Primetime Emmy Awards. At first glance, the list seems to stock largely the same series as last year, but there are some significant newcomers.
In the Best Series, Drama category, HBO newcomers "Game of Thrones" and "Boardwalk Empire" enter the running as strong contenders. On the comedy side, fan and critical favorite "Parks and Recreation" has joined the fray, alongside fellow NBC shows "The Office" and "30 Rock."
Newcomers to the Outstanding Actress in a Comedy are "Mike & Molly" star Melissa McCarthy, who helped present the nominations and Laura Linney of Showtime's "The Big C."
In the actor categories, Jon Hamm looks to win his first Outstanding Actor in a Drama, and is buoyed by the fact that three-time winner Bryan Cranston, of "Breaking Bad," was not nominated thanks to his show's timing. Louis CK, of the eponymous comedy, "Louie," got a nod in the Outstanding Actor in a Comedy category.
Something to note: "Conan" was nominated for an Emmy, but Jay Leno's "The Tonight Show" was not.
click over to The Emmys website.
Outstanding Drama Series

Boardwalk Empire

Dexter

Friday Night Lights

Game of Thrones

The Good Wife

Mad Men

Outstanding Comedy Series
Big Bang Theory
Glee
Modern Family
The Office
Parks and Recreation
30 Rock

Outstanding Actress in a Drama
Kathy Bates, Harry's Law
Connie Britton, Friday Night Lights
Mireille Enos, The Killing
Mariska Hargitay, Law and Order: SVU
Julianna Margulies, The Good Wife
Elisabeth Moss, Mad Men

Outstanding Supporting Actress In A Drama
Kelly Macdonald, Boardwalk Empire
Archie Panjabi, The Good Wife
Christine Baranski, The Good Wife
Margo Martindale, Justified
Michelle Forbes, The Killing
Christina Hendricks, Mad Men

Outstanding Actor in a Drama
Steve Buscemi, Boardwalk Empire
Kyle Chandler, Friday Night Lights
Michael C. Hall, Dexter
John Hamm, Mad Men
Hugh Laurie, House
Timothy Olyphant, Justified

Outstanding Supporting Actor in a Drama
Peter Dinklage, Game of Thrones
Josh Charles, The Good Wife
Alan Cumming, The Good Wife
Walton Goggins, Justified
John Slattery, Mad Men
Andrew Braugher, Men of a Certain Age

Outstanding Actress in a Comedy
Edie Falco, Nurse Jackie
Tina Fey, 30 Rock
Laura Linney, The Big C
Melissa McCarthy, Mike & Molly
Martha Plimpton, Raising Hope
Amy Poehler, Parks and Recreation

Outstanding Supporting Actress In A Comedy
Jane Lynch, Glee
Betty White, Hot In Cleveland
Julie Bowen, Modern Family
Sofia Vergara, Modern Family
Kristen Wiig, Saturday Night Live
Jane Krakowski, 30 Rock

Outstanding Actor in a Comedy
Alec Baldwin, 30 Rock
Louis C.K., Louie
Steve Carrell, The Office
Johnny Galecki, The Big Bang Theory
Matt LeBlanc, Episodes
Jim Parsons, The Big Bang Theory

Outstanding Supporting Actor In A Comedy
Chris Colfer, Glee
Jesse Tyler Ferguson, Modern Family
Ed O'Neill, Modern Family
Eric Stonestreet, Modern Family
Ty Burrell, Modern Family
Jon Cryer, Two and a Half Men

Outstanding Variety, Comedy Or Musical Series
The Colbert Report
Conan
The Daily Show With Jon Stewart
Late Night With Jimmy Fallon
Real Time With Bill Maher
Saturday Night Live

Outstanding Reality Show
The Amazing Race
American Idol
Dancing With the Stars
Project Runway
So You Think You Can Dance
Top Chef

Outstanding TV Miniseries or Movie
Cinema Verite
Downton Abbey
The Kennedys
Mildred Pierce
The Pillars of the Earth
Too Big To Fail

Outstanding Guest Actor In A Comedy
Idris Elba, The Big C
Nathan Lane, Modern Family
Zach Galifianakis, Saturday Night Live
Justin Timberlake, Saturday Night Live
Matt Damon, 30 Rock
Will Arnett, 30 Rock

Outstanding Guest Actress In A Comedy
Kristin Chenoweth, Glee
Dot-Marie Jones, Glee
Gwyneth Paltrow, Glee
Cloris Leachman, Raising Hope
Tina Fey, Saturday Night Live
Elizabeth Banks, 30 Rock

Outstanding Leading Actress in a Mini-series or Movie
Kate Winslet, Mildred Pierce
Elizabeth McGovern, Downton Abbey
Diane Lane, Cinema Verite
Taraji P. Henson, Taken From Me: The Tiffany Rubin Story
Jean Marsh, Upstairs Downstairs

Outstanding Leading Actor in an Mini-Series or Movie
Greg Kinnear, The Kennedys
Barry Pepper, The Kennedys
Edgar Ramirez, Carlos
William Hurt, Too Big To Fail
Idris Elba, Luther
Laurence Fishburne, Thurgood

Outstanding Supporting Actor in a Mini-series or Movie
Guy Pearce, Mildred Pierce
Bryan F. O'Byrne, Mildred Pierce
Tom Wilkinson, The Kennedys
Paul Giamatti, Too Big to Fail
James Woods, Too Big to Fail

Outstanding Supporting Actress in a Mini-series or Movie
Evan Rachel Wood, Mildred Pierce
Melissa Leo, Mildred Pierce
Mare Winningham, Mildred Pierce
Maggie Smith, Downton Abbey
Eileen Atkins, Upstairs Downstairs
Popular in the Community