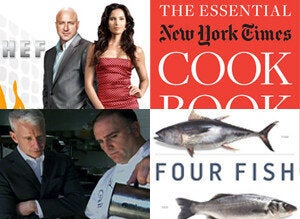 The 2011 book, broadcast and journalism James Beard awards were announced Friday night at a dinner in New York City hosted by Gail Simmons and Ted Allen. The winners, selected from the final nominees announced in March, include the LA Weekly's Jonathan Gold, Amanda Hesser's Essential New York Times Cook Book, Top Chef: Season 7, Alton Brown, and Twitter mashup Ruth Bourdain, who did not show up to accept the award and remains anonymous. Other winners include Benjamin Wallace, who won for his New York magazine profile of Keith McNally, Barry Estabrook's Politics of the Plate blog, New York magazine's group food blog Grub Street New York, the San Francisco Chronicle's food section, and 60 Minutes' José Andrés segment with Anderson Cooper. The full list of winners for the 2011 James Beard book, broadcast and journalism awards are below.
2011 James Beard Foundation Book Awards
Cookbook Hall of Fame
On Food and Cooking: The Science & Lore of the Kitchen
by Harold McGee

Cookbook of the Year
Oaxaca al Gusto: An Infinite Gastronomy
by Diana Kennedy
(University of Texas Press)

American Cooking
Pig: King of the Southern Table
by James Villas
(John Wiley & Sons)

Baking and Dessert
Good to the Grain: Baking with Whole-Grain Flours
by Kim Boyce
(Stewart, Tabori & Chang)

Beverage
Secrets of the Sommeliers: How to Think and Drink Like the World's Top Wine Professionals
by Jordan Mackay and Rajat Parr
(Ten Speed Press)

Cooking from a Professional Point of View
Noma: Time and Place in Nordic Cuisine
by René Redzepi
(Phaidon Press)

General Cooking
The Essential New York Times Cook Book: Classic Recipes for a New Century
by Amanda Hesser
(W.W. Norton & Company)

Healthy Focus
The Simple Art of EatingWell Cookbook
by Jessie Price & the EatingWell Test Kitchen
(The Countryman Press)

International
Stir-Frying to the Sky's Edge: The Ultimate Guide to Mastery, with Authentic Recipes and Stories
by Grace Young
(Simon & Schuster)

Photography
Noma: Time and Place in Nordic Cuisine
Photographer: Ditte Isager
(Phaidon Press)

Reference and Scholarship
Salted: A Manifesto on the World's Most Essential Mineral, with Recipes
by Mark Bitterman
(Ten Speed Press)

Single Subject
Meat: A Kitchen Education
by James Peterson
(Ten Speed Press)

Writing and Literature
Four Fish: The Future of the Last Wild Food
by Paul Greenberg
(The Penguin Press)

2011 James Beard Foundation Broadcast Media Awards
Audio Webcast or Radio Show
CBC Ideas: "Pasta: The Long and Short of It"
Host: Megan Williams
Area: Canada and Online
Producers: Susan Mahoney and Megan Williams

TV Food Personality/Host
Alton Brown
Show: Good Eats
Network: Food Network

Television Program, In Studio or Fixed Location
Top Chef: Season 7
Host: Padma Lakshmi
Network: Bravo
Producers: Tom Colicchio, Dan Cutforth, Jane Lipsitz, and Dave Serwatka

Television Program, On Location
Avec Eric
Host: Eric Ripert
Network: PBS, Online
Producers: Justin Barocas, Heather Brown, and Geoffrey Drummond

Television Segment
60 Minutes: "Chef José Andrés"
Host: Anderson Cooper
Network: CBS
Producers: Bill Owens and Kara Vaccaro

Television Special/Documentary
Milk War
Host: Colm Feore
Network: ichannel
Producers: Declan O'Driscoll and Kevin O'Keefe

Video Webcast
GrapeRadio
Graperadio.com
Hosts: Eric Anderson, Brian Clark, and Jay Selman
Producers: Mark Ryan and Jay Selman

2011 James Beard Foundation Design and Graphics Awards

Outstanding Restaurant Design
Design Firm: Aidlin Darling Design
Designers: Joshua Aidlin, Roslyn Cole, and David Darling
Project: Bar Agricole, San Francisco

Outstanding Restaurant Graphics
For the best restaurant graphics executed in North America since January 1, 2008
Design Firm: Love and War
Designer: Katie Tully
Project: The National Bar & Dining Rooms, NYC

2011 James Beard Foundation Journalism Awards

Publication of the Year Award
Edible Communities

Cooking, Recipes, or Instruction
Amy Thielen
Minneapolis Star Tribune
"A Good Catch," "Low-Tech Wonder," "From the Bean Patch: Plenty"

Craig Claiborne Distinguished Restaurant Review Award
Patric Kuh
Los Angeles
"Animal Magnetism," "Making Their Move," "Time for a Redo?"

Environment, Food Politics, and Policy
Carl Safina
EatingWell
"Sea Change"

Food Culture and Travel
Rick Bragg, Francine Maroukian, and Robb Walsh
Garden & Gun
"The Southerner's Guide to Oysters"

Food-related Columns and Commentary
Tim Carman
Washington City Paper
"Ignore the Pizza Police," "Supply and Da Men," "Schmeer Campaign"

Food-related Feature
Dan Koeppel
Saveur
"Fruit of the Future"

Food Section of a General Interest Publication
San Francisco Chronicle
Jon Bonné and Miriam Morgan

Group Food Blog
Grub Street New York
Newyork.grubstreet.com
Daniel Maurer, Jenny Miller, and Alan Sytsma

Health and Nutrition
Rachael Moeller Gorman
EatingWell
"Captain of the Happier Meal"

Humor
Ruth Bourdain
Twitter.com/RuthBourdain

Individual Food Blog
Politics of the Plate
Politicsoftheplate.com
Barry Estabrook

M.F.K. Fisher Distinguished Writing Award
Jonathan Gold
LA Weekly
"A Movable Beast"

Multimedia Food Feature
Michael Gebert and Julia Thiel
The Chicago Reader
Key Ingredient: "Kluwak Kupas," "Chinese Black Beans," "Geraniums"

Personal Essay
Tom Junod
Esquire
"My Mom Couldn't Cook"

Profile
Benjamin Wallace
New York
"The Restaurant Auteur"

Wine and Spirits
Jon Fine
Food & Wine
"Natural Wine: Weird or Wonderful?"

Related