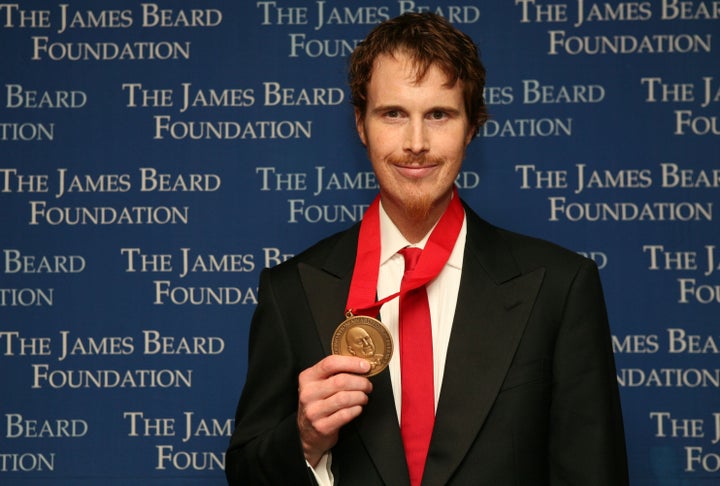 The final nominations for the 2011 James Beard Awards -- including Restaurant and Chef, Restaurant Design and Graphics, Books, Broadcast, Journalism, and special achievement awards -- were announced this afternoon at the Oregon Culinary Institute in Portland.
The final James Beard Award winners from the nominations below will be announced at the James Beard Foundation Awards Ceremony and Gala Reception, taking place on Monday, May 9, 2011 in New York at Lincoln Center's Avery Fisher Hall (the winners of the Book, Broadcast and Journalism awards will be announced on May 6 at a separate ceremony).
The final nominees in chefs and restaurants
(Scroll down for the final nominees in journalism and multimedia)
BEST NEW RESTAURANT
ABC Kitchen, NYC
Benu, San Francisco
Girl & the Goat, Chicago
Menton, Boston
Torrisi Italian Specialties, NYC
OUTSTANDING CHEF
José Andrés, minibar by José Andrés, Washington, D.C.
Gary Danko, Restaurant Gary Danko, San Francisco
Suzanne Goin, Lucques, Los Angeles
Paul Kahan, Blackbird, Chicago
Charles Phan, The Slanted Door, San Francisco
OUTSTANDING PASTRY CHEF
Joanne Chang, Flour Bakery + Café, Boston
Patrick Fahy, Blackbird, Chicago
Dahlia Narvaez, Osteria Mozza, Los Angeles
Angela Pinkerton, Eleven Madison Park, NYC
Mindy Segal, Mindy's HotChocolate Restaurant and Dessert Bar, Chicago
OUTSTANDING RESTAURANT
Blue Hill, NYC
Boulevard, San Francisco
Eleven Madison Park, NYC
Highlands Bar and Grill, Birmingham, AL
Vetri, Philadelphia
OUTSTANDING RESTAURATEUR
Bruce Bromberg and Eric Bromberg
Tom Douglas
Pat Kuleto
Richard Melman
Phil Suarez
OUTSTANDING SERVICE
Canlis, Seattle
Emeril's, New Orleans
La Grenouille, NYC
Per Se, NYC
Topolobampo, Chicago
OUTSTANDING WINE SERVICE
A16, San Francisco, Shelley Lindgren
Blackberry Farm, Walland, TN, Andy Chabot
Frasca Food and Wine, Boulder, CO, Bobby Stuckey
The Modern, NYC, Belinda Chang
Picasso at Bellagio, Las Vegas, Robert Smith
OUTSTANDING WINE AND SPIRITS PROFESSIONAL
Sam Calagione, Dogfish Head Craft Brewery, Milton, DE
Merry Edwards, Merry Edwards Winery, Sebastopol, CA
Paul Grieco, Hearth and Terroir, NYC
Rajat Parr, Mina Group, San Francisco
Julian Van Winkle III, Old Rip Van Winkle Distillery, Louisville, KY
RISING STAR CHEF OF THE YEAR
Aaron London, Ubuntu, Napa, CA
Thomas McNaughton, flour + water, San Francisco
Gabriel Rucker, Le Pigeon, Portland, OR
Christina Tosi, Momofuku Milk Bar, NYC
Sue Zemanick, Gautreau's, New Orleans
BEST CHEF: GREAT LAKES
Michael Carlson, Schwa, Chicago
Curtis Duffy, Avenues at the Peninsula, Chicago
Bruce Sherman, North Pond, Chicago
Paul Virant, Vie, Western Springs, IL
Alex Young, Zingerman's Roadhouse, Ann Arbor, MI
BEST CHEF: MID-ATLANTIC
Cathal Armstrong, Restaurant Eve, Alexandria, VA
Johnny Monis, Komi, Washington, D.C.
Peter Pastan, Obelisk, Washington, D.C.
Maricel Presilla, Cucharamama, Hoboken, NJ
Michael Solomonov, Zahav, Philadelphia
BEST CHEF: MIDWEST
Justin Aprahamian, Sanford, Milwaukee
Isaac Becker, 112 Eatery, Minneapolis
Colby Garrelts, Bluestem, Kansas City, MO
Tory Miller, L'Etoile, Madison, WI
Lenny Russo, Heartland, St. Paul, MN
BEST CHEF: NEW YORK CITY
Michael Anthony, Gramercy Tavern
April Bloomfield, The Spotted Pig
Wylie Dufresne, wd~50
Gabrielle Hamilton, Prune
Michael White, Marea
BEST CHEF: NORTHEAST
Tim Cushman, o ya, Boston
Krista Kern Desjarlais, Bresca, Portland, ME
Gerry Hayden, The North Fork Table & Inn, Southold, NY
Matt Jennings, La Laiterie, Providence
Tony Maws, Craigie On Main, Cambridge, MA
Eric Warnstedt, Hen of the Wood, Waterbury, VT
BEST CHEF: NORTHWEST
Matt Dillon, Sitka & Spruce, Seattle
Christopher Israel, Grüner, Portland, OR
Andy Ricker, Pok Pok, Portland, OR
Ethan Stowell, Staple & Fancy, Mercantile, Seattle
Cathy Whims, Nostrana, Portland, OR
BEST CHEF: PACIFIC
Michael Cimarusti, Providence, Los Angeles
Christopher Kostow, The Restaurant at Meadowood, St. Helena, CA
Daniel Patterson, COI, San Francisco
Richard Reddington, Redd, Yountville, CA
Michael Tusk, Quince, San Francisco
BEST CHEF: SOUTH
Zach Bell, Café Boulud, Palm Beach, FL
John Harris, Lilette, New Orleans
Chris Hastings, Hot and Hot Fish Club, Birmingham, AL
Tory McPhail, Commander's Palace, New Orleans
Stephen Stryjewski, Cochon, New Orleans
BEST CHEF: SOUTHEAST
Hugh Acheson, Five and Ten, Athens, GA
Craig Deihl, Cypress, Charleston, SC
John Fleer, Canyon Kitchen at Lonesome Valley, Cashiers, NC
Linton Hopkins, Restaurant Eugene, Atlanta
Edward Lee, 610 Magnolia, Louisville, KY
Andrea Reusing, Lantern, Chapel Hill, NC
BEST CHEF: SOUTHWEST
Bruce Auden, Biga on the Banks, San Antonio
Bryan Caswell, Reef, Houston
Saipin Chutima, Lotus of Siam, Las Vegas
Tyson Cole, Uchi, Austin, TX
Ryan Hardy, Montagna at the Little Nell, Aspen, CO
The final nominees in journalism and multimedia
MFK Fisher Distinguished Writing Award: Recognizes a single article of exceptional literary merit pertaining to food and/or drink published in any medium.
Colman Andrews (Departures), Jonathan Gold (LA Weekly), Patric Kuh (Saveur)
Craig Claiborne Distinguished Restaurant Review Award: Recognizes discerning criticism of enduring value which contributes to the larger discourse on cuisine or restaurants.
Dara Moskowitz Grumdahl
Minnesota Monthly
"The Kids Are All Right," "Island Adventure," "Heart Warming"
Patric Kuh
Los Angeles
"Animal Magnetism," "Making Their Move," "Time for a Redo?"
Adam Platt
New York
"Locavorism Grows Up," "Pizza à la McNally," "Chang Heads North"
Food Section of a General Interest Publication: Recognizes excellence in food writing, reporting, and packaging of a regularly-published food section in a non food-focused publication.
GQ, San Francisco Chronicle, The Washington Post
Food-related Feature: Recognizes excellence in a single food- or drink- related article published in any medium that demonstrates enterprise, curiosity, and rigor.
Jonathan Gold (LA Weekly), Dan Koeppel (Saveur), Corby Kummer (Theatlantic.com)
Personal Essay: Recognizes excellence in a first-person essay on any food or drink-related topic, published in any medium. An entry consists of one eloquent essay that demonstrates a unique voice, perceptiveness and style.
Rick Bragg (Gourmet Live), Daniel Duane (Food & Wine), Tom Junod (Esquire)
Humor: Recognizes a single piece of written and/or visual food- or drink-related satire, parody, or other form of humor, published in any medium.
Rosecrans Baldwin (Slate.com) @ruthbourdain, Alice Laussade (Dallas Observer)
Cooking, Recipes, or Instruction: Recognizes excellence and innovation in food service journalism. It honors originality and seeks fresh approaches--both written and visual--to make cooking methods, ingredient knowledge, and recipes accessible to a wide audience.
Sara Dickerman, Harris Salat, and Lonnée Hamilton
Saveur "A Thing of Beauty," "The Beauty of Nori," "Green Goddess"
Amy Thielen
Minneapolis Star Tribune
"A Good Catch," "Low-Tech Wonder," "From the Bean Patch: Plenty"
Cassandra Vires
Feast Magazine
The Cheat: "Duck Confit," "Turducken," "Holiday Leftovers"
Profile: Recognizes a dramatic presentation that brings to life the world of a chef, restaurateur, grower, producer, or other figure or group of significance to food or drink, published in any medium.
Barry Estabrook (NYT Mag), Brian Halweil (Edible Manhattan), Benjamin Wallace (New York)
Food Culture and Travel: Recognizes the importance of place, culture, and history in food journalism. An entry consists of a single piece, or series of related pieces or posts, published in any medium, that makes the connection of food to a community or location.
Bill Addison (Atlanta Magazine), Rick Bragg/Francine Maroukian/Robb Walsh (Garden & Gun), Matt Gross (Saveur)
Environment, Food Politics, and Policy: Recognizes excellence in investigative reporting, analysis, or other public service journalism on environmental, political, or policy-related issues regarding food or drink, published in any medium.
Monica Eng
Chicago Tribune
"CPS Won't Let Kids Eat Their Vegetables"
Barry Estabrook
Gastronomica
"A Tale of Two Dairies"
Carl Safina
EatingWell
"Sea Change"
Health and Nutrition: Recognizes enlightening journalism on food- or drink-related health or nutrition topics published in any medium.
Joe Fassler (Theatlantic.com), Rachael Moeller Gorman (EatingWell), Peter Jaret (Runner's World)
Food-related Columns and Commentary: Recognizes the work of an individual that demonstrates thought-provoking opinion and a compelling style.
Tim Carman (Washington City Paper), Tom Philpott (Grist.org), Lettie Teague (WSJ)
Wine and Spirits: Recognizes distinctive style and innovative approach. An entry consists of a single article on wine, spirits, or other alcohol beverages, published in any medium.
Jon Bonné (Saveur), Jon Fine (Food & Wine), Alan Richman (GQ)
Multimedia Food Feature: Recognizes excellence and innovation in storytelling or communication. Entries consist of an integrated package of one piece, or a series of up to three pieces, on food-or-drink-related topic which integrates multiple tools (such as video, audio, narrative, links, social media), published in any medium which allows for these tools.
Michael Gebert/Julia Thiel (The Chicago Reader), Katherine Shilcutt (Houston Press), Andrew Zimmern (Msn.com)
Individual Food Blog: Recognizes individual enterprise and excellence in a single food-or drink-related blog that is the product of one primary voice, or a small group of regular contributors.
Politics of the Plate, Poor Man's Feast, Red Cook
Group Food Blog: Recognizes individual enterprise and excellence in a single food-or drink-related blog that is the product of a group of regular contributors.
City of Ate, The Epi-Log, Grub Street New York
Publication of the Year: Recognizes excellence in one magazine, newspaper, or website. It is awarded by the Journalism Committee of the James Beard Foundation and is based on nominations presented to them by the full roster of Journalism judges and by former James Beard Journalism Award winners.
Television Program, In Studio OR Fixed Location
Alex's Day Off, Spice Goddess, Top Chef: Season 7
Television Program, On Location
Ace of Cakes, Avec Eric, Bizarre Foods with Andrew Zimmern
Television Segment
60 Min: "Chef José Andrés," CBS News Sunday Morning: Martha Teichner, CBS News Sunday Morning: "Worth a Shot"
Television Special/Documentary
Emeril Green: Emeril's Culinary Adventure: Vermont, Milk War, The Four Coursemen
TV Food Personality
Alton Brown, Bobby Flay, Duff Goldman
Radio Show/Audio Webcast
CBC Ideas: "Pasta: The Long & Short of It," The Canadian Table, Anthony Bourdain/Eric Ripert: Turn & Burn
Video Webcast
Food. Curated., Ozersky.TV, GrapeRadio
American Cooking
The Food, Folklore, and Art of Lowcountry Cooking
by Joseph E. Dabney
(Cumberland House)
The Frankies Spuntino Kitchen Companion & Cooking Manual
by Frank Castronovo, Frank Falcinelli, and Peter Meehan
(Artisan)
Pig: King of the Southern Table
by James Villas
(John Wiley & Sons)
Baking and Dessert
Good to the Grain: Baking with Whole-Grain Flours
by Kim Boyce
(Stewart, Tabori & Chang)
My Sweet Mexico: Recipes for Authentic Pastries, Breads, Candies, Beverages, and Frozen Treats
by Fany Gerson
(Ten Speed Press)
Sarabeth's Bakery: From My Hands to Yours
by Sarabeth Levine
(Rizzoli New York)
Opus Vino
by DK Publishing
(DK Publishing)
Reading Between the Wines
by Terry Theise
(University of California Press)
Secrets of the Sommeliers: How to Think and Drink Like the World's Top Wine Professionals
by Jordan Mackay and Rajat Parr
(Ten Speed Press)
Cooking from a Professional Point of View
Michael Chiarello's Bottega
by Michael Chiarello
(Chronicle Books)
The Modern Café
by Francisco J. Migoya and The Culinary Institute of America
(John Wiley & Sons)
Noma: Time and Place in Nordic Cuisine
by René Redzepi
(Phaidon Press)
General Cooking
The Essential New York Times Cook Book: Classic Recipes for a New Century
by Amanda Hesser
(W.W. Norton & Company)
Heart of the Artichoke and Other Kitchen Journeys
by David Tanis
(Artisan)
Radically Simple: Brilliant Flavors with Breathtaking Ease
by Rozanne Gold
(Rodale)
Clean Start: Inspiring You to Eat Clean and Live Well
by Terry Walters
(Sterling/Epicure)
The Simple Art of EatingWell Cookbook
by Jessie Price & the EatingWell Test Kitchen
(The Countryman Press)
The Very Best Recipes for Health: 250 Recipes and More from the Popular Feature on NYTimes.com
by Martha Rose Shulman
(Rodale)
Cook Italy
by Katie Caldesi
(Kyle Books)
Oaxaca al Gusto: An Infinite Gastronomy
by Diana Kennedy
(University of Texas Press)
Stir-Frying to the Sky's Edge: The Ultimate Guide to Mastery, with Authentic Recipes and Stories
by Grace Young
(Simon & Schuster)
Reference and Scholarship
Encyclopedia of Jewish Food
by Gil Marks
(John Wiley & Sons)
Salted: A Manifesto on the World's Most Essential Mineral, with Recipes
by Mark Bitterman
(Ten Speed Press)
What I Eat: Around the World in 80 Diets
by Faith D'Aluisio and Peter Menzel
(Material World Books/Ten Speed Press)
Good Meat: The Complete Guide to Sourcing and Cooking Sustainable Meat
by Deborah Krasner
(Stewart, Tabori & Chang)
Ham: An Obsession with the Hindquarter
by Mark Scarborough and Bruce Weinstein
(Stewart, Tabori & Chang)
Meat: A Kitchen Education
by James Peterson
(Ten Speed Press)
Empires of Food: Feast, Famine, and the Rise and Fall of Civilizations
by Evan D. G. Fraser and Andrew Rimas
(Free Press)
Four Fish: The Future of the Last Wild Food
by Paul Greenberg
(The Penguin Press)
Peace Meals: Candy-Wrapped Kalashnikovs and Other War Stories
by Anna Badkhen
(Free Press)
Photography
The Blue Chair Jam Cookbook
Photographer: Sara Remington
(Andrews McMeel Publishing)
Noma: Time and Place in Nordic Cuisine
Photographer: Ditte Isager
(Phaidon Press)
Tartine Bread
Photographer: Eric Wolfinger
(Chronicle Books)
Related