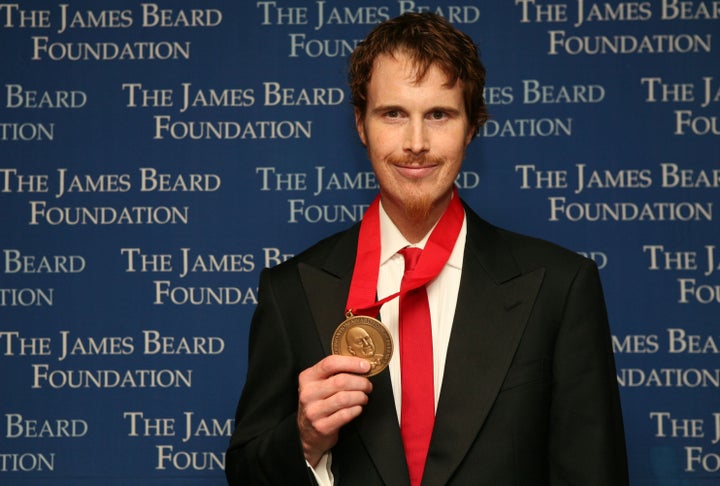 The James Beard Foundation has announced the semifinalists in restaurants and chefs for the 2011 James Beard awards -- including pastry chefs, restaurateurs, wine and spirits professionals, service, and rising star chefs. The semifinalists (available in PDF form here) were selected from a record 28,000 online nominations, and a 550-judge panel will narrow each list down to five finalists in each category. Those final nominees will be announced at the Oregon Culinary Institute in Portland on March 21 and simultaneously live via the Foundation's Twitter page, @beardfoundation.
The final James Beard Award winners will then be announced at the James Beard Foundation Awards Ceremony and Gala Reception, taking place on Monday, May 9, 2011 in New York at Lincoln Center's Avery Fisher Hall (the winners of the Book, Broadcast and Journalism awards will be announced on May 6 at a separate ceremony).
The 2011 James Beard Foundation Awards Restaurant and Chef Award Semifinalists
BEST NEW RESTAURANT
ABC Kitchen, NYC
A-Frame, Los Angeles
Amis, Philadelphia
Bar Agricole, San Francisco
Barbuzzo, Philadelphia
Baru 66, Windsor Heights, IA
Benu, San Francisco
Bootsie's Heritage Cafe, Tomball, TX
China Poblano at the Cosmopolitan, Las Vegas
ChoLon, Denver
Commonwealth, San Francisco
Community Table, Washington, CT
Cook & Brown Public House, Providence
Elise Coastal Dining, Pensacola, FL
Estadio, Washington, D.C.
Girl & the Goat, Chicago
Husk, Charleston, SC
Kushi Izakaya & Sushi, Washington, D.C.
Menton, Boston
Mondo, New Orleans
Nobuo at Teeter House, Phoenix
Piccolo, Minneapolis
Prospect, San Francisco
Recette, NYC
The Refinery, Tampa, FL
Salt of the Earth, Pittsburgh
Shepherd's Pie, Rockport, ME
Staple & Fancy Mercantile, Seattle
Star Noodle, Lahaina, HI
Sugarcane Raw Bar Grill, Miami
Torrisi Italian Specialties, NYC
Uchiko, Austin, TX
Waterloo & City, Culver City, CA
OUTSTANDING CHEF
José Andrés, minibar by José Andrés, Washington, D.C.
Ben Barker, Magnolia Grill, Durham, NC
Gary Danko, Restaurant Gary Danko, San Francisco
Robert Del Grande, RDG + Bar Annie, Houston
Jose Garces, Amada, Philadelphia
Suzanne Goin, Lucques, Los Angeles
Sam Hayward, Fore Street, Portland, ME
Paul Kahan, Blackbird, Chicago
Melissa Kelly, Primo, Rockland, ME
Donald Link, Herbsaint, New Orleans
Tony Mantuano, Spiaggia, Chicago
Michael Mina, Michael Mina, San Francisco
Charles Phan, The Slanted Door, San Francisco
Stephan Pyles, Stephan Pyles, Dallas
Holly Smith, Cafe Juanita, Kirkland, WA
Frank Stitt, Highlands Bar and Grill, Birmingham, AL
Michael Symon, Lola, Cleveland
Jerry Traunfeld, Poppy, Seattle
Marc Vetri, Vetri, Philadelphia
Janos Wilder, Downtown Kitchen + Cocktails, Tucson, AZ

OUTSTANDING PASTRY CHEF
Beth Biundo, Lilette, New Orleans
Joanne Chang, Flour Bakery + Café, Boston
Melissa Chou, Aziza, San Francisco
Patrick Fahy, Blackbird, Chicago
Ken Forkish, Ken's Artisan Bakery, Portland, OR
Michelle Gayer, Salty Tart Bakery, Minneapolis
Carla Gonçalves, KOO ZEE DOO, Philadelphia
Huw Griffiths, Tabard Inn, Washington, D.C.
Maura Kilpatrick, Oleana, Cambridge, MA
Yasmin Lozada-Hissom, Olivéa, Denver
Shuna Lydon, Peels, NYC
Cheryl Maffei and Jonathan Stevens, Hungry Ghost Bread, Northampton, MA
Lauren Mitterer, WildFlour Pastry, Charleston, SC
Dahlia Narvaez, Osteria Mozza, Los Angeles
Angela Pinkerton, Eleven Madison Park, NYC
Aaron Russell, Restaurant Eugene, Atlanta
Mindy Segal, Mindy's HotChocolate Restaurant and Dessert Bar, Chicago
Philip Speer, Uchi, Austin, TX
Erin Stafford, Barbuzzo, Philadelphia
Cynthia Wong, Cakes & Ale, Decatur, GA

OUTSTANDING RESTAURANT
Blue Hill, NYC
Boulevard, San Francisco
Cafe Juanita, Kirkland, WA
Eleven Madison Park, NYC
Fore Street, Portland, ME
Herbsaint, New Orleans
Higgins Restaurant and Bar, Portland, OR
Highlands Bar and Grill, Birmingham, AL
La Belle Vie, Minneapolis
Lola, Cleveland
Magnolia Grill, Durham, NC
The Mansion Restaurant at Rosewood Mansion on Turtle Creek, Dallas
Mélisse, Santa Monica, CA
Palena, Washington, D.C.
Picasso at Bellagio, Las Vegas
The Slanted Door, San Francisco
Spiaggia, Chicago
Tru, Chicago
Vetri, Philadelphia
Vincent on Camelback, Phoenix
Ashok Bajaj, Knightsbridge Restaurant Group, Washington, D.C. (701, Ardeo + Bardeo, Bibiana, The Bombay Club, The Oval Room, and Rasika)
Tom Baron, Big Burrito Restaurant Group, Pittsburgh (Casbah, Eleven, Kaya, Mad Mex, Soba, and Umi)
Roger Berkowitz, Legal Sea Foods, Boston (various locations)
Frank Bonanno, Bonanno Concepts, Denver (Bones, Green Russell, Luca D'Italia, Lou's Food Bar, Mizuna, Osteria Marco, and Wednesday's Pie)
Bruce Bromberg and Eric Bromberg, Blue Ribbon Restaurants, NYC
Myles Chefetz, Myles Restaurant Group, Miami Beach, FL (Big Pink, Prime Italian, Prime One Twelve, Shoji Sushi, and Nemo)
Michael Cordúa, Cordúa Restaurants, Houston (Amazón Grill, Américas, Artista, and Churrascos)
Larry D'Amico and Richard D'Amico, D'Amico & Partners, Minneapolis (Café & Bar Lurcat, Campiello, D'Amico Kitchen, D'Amico & Sons, Masa, and Parma 8200)
Tom Douglas, Tom Douglas Restaurants, Seattle (Dahlia Bakery, Dahlia Lounge, Etta's, Lola, Palace Kitchen, Seatown Seabar & Rotisserie, and Serious Pie)
Steve Ells, Chipotle Mexican Grill, Inc. (various locations)
Sam Fox, Fox Restaurant Concepts, Scottsdale, AZ (The Arrogant Butcher, Blanco, Bloom, Culinary Dropout, The Greene House, Modern Steak, Montana Avenue, NoRTH, Olive & Ivy, Sauce, True Food Kitchen, Wildflower, and Zinburger)
Scott Harris, Chicago (Davanti Enoteca, DiSotto Enoteca, Dough Boys, Fat Rosie's, Francesca's, Osteria Ottimo, Purple Pig, and Salatino's)
Mike Klank and Eddie Hernandez, Taqueria del Sol, Atlanta
Pat Kuleto, Pat Kuleto Restaurant Development & Management Company, San Francisco (Boulevard, Epic Roasthouse, Farallon, Jardinière, Martini House, Nick's Cove, and Waterbar)
Richard Melman, Lettuce Entertain You Enterprises, Chicago (Cafe Ba-Ba-Reeba!, Eiffel Tower, Everest, L2O, Mon Ami Gabi, Shaw's Crab House, Tru, Wow Bao, and others)
Nick Pihakis, Jim 'N Nick's Bar-B-Q, Birmingham, AL (various locations)
Richard Sandoval, Richard Sandoval Restaurants, NYC (Isla, Ketsi, La Biblioteca, La Biblioteca de Tequila, La Hacienda at the Fairmont Scottsdale, La Sandía, Maya, Pampano, Sandoval's Kitchen, Tamayo, Venga Venga, and Zengo)
Stephen Starr, Starr Restaurants, Philadelphia (Alma de Cuba, Barclay Prime, Buddakan, Butcher and Singer, The Continental, The Continental Mid-town, The Dandelion, El Rey, El Vez, Granite Hill at the Philadelphia Museum of Art, Jones, Makota, Morimoto, Parc, Pizzeria Stella, Pod, and Steak 954)
Phil Suarez, Suarez Restaurant Group, NYC (ABC Kitchen, Chambers Kitchen, Gigino Trattoria, J&G Steakhouse, Jean Georges, Lucy, Matsugen, Mercer Kitchen, Perry Street, Prime Steakhouse, Spice Market, and others)
Bill White, Bill White Enterprises, Park City, UT (Chimayo, Ghidotti's, Grappa, Wahso, Windy Ridge Bakery, and Windy Ridge Café)
OUTSTANDING SERVICE
Blantyre, Lenox, MA
Brigtsen's, New Orleans
Canlis, Seattle
Charleston, Baltimore
Charleston Grill at Charleston Place Hotel, Charleston, SC
The Compound, Santa Fe
Emeril's, New Orleans
The French Room at the Adolphus Hotel, Dallas
La Belle Vie, Minneapolis
La Grenouille, NYC
Lacroix at the Rittenhouse Hotel, Philadelphia
Les Nomades, Chicago
L'Espalier, Boston
Marcel's, Washington, D.C.
Michael Mina, San Francisco
Per Se, NYC
Providence, Los Angeles
Restaurant Eve, Alexandria, VA
Topolobampo, Chicago
Vetri, Philadelphia
OUTSTANDING WINE SERVICE
A16, San Francisco, Shelley Lindgren
Annie Gunn's, Chesterfield, MO, Glenn Bardgett
Avenues at the Peninsula, Chicago, Michael Muser
The Biltmore, Coral Gables, FL, Yvonne Roberts
Blackberry Farm, Walland, TN, Andy Chabot
Café on the Green at Four Seasons Resort and Club Dallas at Las Colinas, Irving, TX, James Tidwel
Canlis, Seattle, Nelson Daquip
Charleston, Baltimore, Tony Foreman
Emeril's, New Orleans, Ray Gumpert
Five and Ten, Athens, GA, Steven Grubbs
Frasca Food and Wine, Boulder, CO, Bobby Stuckey
Hatfield's, Los Angeles, Peter Birmingham
The Modern, NYC, Belinda Chang
Patina, Los Angeles, Silvestre Fernandes
Picasso at Bellagio, Las Vegas, Robert Smith
Savona, Gulph Mills, PA, Melissa Monosoff
La Toque, Napa, CA, Ken Frank and Scott Tracy
Tarbell's, Phoenix, Mark Tarbell
Tria, Philadelphia, Michael McCaulley
Troquet, Boston, Chris Campbell

OUTSTANDING WINE AND SPIRITS PROFESSIONAL
Tito Beveridge, Tito's Handmade Vodka, Austin, TX
Sam Calagione, Dogfish Head Craft Brewery, Milton, DE
Ron Cooper, Del Maguey Single Village Mezcal, Ranchos de Taos, NM
Merry Edwards, Merry Edwards Winery, Sebastopol, CA
Alex Golitzin, Quilceda Creek Vintners, Snohomish, WA
Paul Grieco, Hearth and Terroir, NYC
Bobby Heugel, Anvil Bar & Refuge, Houston
David Hirsch, Hirsch Vineyards, Cazadero, CA
Charles Joly, The Drawing Room, Chicago
Ted Lemon, Littorai Wines, Sebastopol, CA
Steve McCarthy, Clear Creek Distillery, Portland, OR
Garrett Oliver, Brooklyn Brewery, Brooklyn, NY
Rajat Parr, Mina Group, San Francisco
Julie Reiner, Clover Club and Flatiron Lounge, NYC
Neal Rosenthal, Rosenthal Wine Merchant, Shekomeko, NY
Jorg Rupf, St. George Spirits, Alameda, CA
Eric Solomon, European Cellars, Charlotte, NC
Todd Thrasher, Restaurant Eve, Alexandria, VA
Julian Van Winkle III, Old Rip Van Winkle Distillery, Louisville, KY
David Wondrich, NYC

RISING STAR CHEF OF THE YEAR
Justin Aprahamian, Sanford, Milwaukee
Andrew Ashmore, The Greene House, Scottsdale, AZ
Benjamin Bailly, Fraîche, Culver City, CA
Sean Baker, Gather, Berkeley, CA
Clayton Chapman, The Grey Plume, Omaha, NE
Sean Ehland, Kaya, Pittsburgh
Eric Gabrynowicz, Restaurant North, Armonk, NY
Kevin Gillespie, Woodfire Grill, Atlanta
Will Gilson, Garden at the Cellar, Cambridge, MA
Sam Gorenstein, BLT Steak at the Betsy Hotel, Miami Beach, FL
Perry Hoffman, étoile Restaurant at Domaine Chandon, Yountville, CA
Casey Lane, The Tasting Kitchen, Venice, CA
Greg LaPrad, Quiessence, Phoenix
Matt Lightner, Castagna, Portland, OR
Aaron London, Ubuntu, Napa, CA
Anthony Martin, Tru, Chicago
Thomas McNaughton, flour + water, San Francisco
Paul Qui, Uchiko, Austin, TX
Dan Richer, Arturo's, Maplewood, NJ
Gabriel Rucker, Le Pigeon, Portland, OR
Jonathon Sawyer, The Greenhouse Tavern, Cleveland
Jesse Schenker, Recette, NYC
Sheldon Simeon, Star Noodle, Lahaina, H
Bjorn Somlo, Nudel, Lenox, MA
Nicholas Stefanelli, Bibiana, Washington, D.C.
Lee Styer, Fond, Philadelphia
Michael Toscano, Manzo, NYC
Christina Tosi, Momofuku Milk Bar, NYC
Sameh Wadi, Saffron Restaurant & Lounge, Minneapolis
Blaine Wetzel, The Willows Inn, Lummi Island, WA
Sue Zemanick, Gautreau's, New Orleans
BEST CHEF: GREAT LAKES
Myles Anton, Trattoria Stella, Traverse City, MI
Zachary Bruell, L'Albatros, Cleveland
Aaron Butts, Joseph Decuis, Roanoke, IN
Michael Carlson, Schwa, Chicago
Craig Common, The Common Grill, Chelsea, MI
Curtis Duffy, Avenues at the Peninsula, Chicago
Dirk Flanigan, Henri, Chicago
David Gilbert, Forest Grill, Birmingham, MI
Anne Kearney, Rue Dumaine, Dayton, OH
Dale Levitski, Sprout, Chicago
Regina Mehallick, R bistro, Indianapolis
Chris Nugent, Les Nomades, Chicago
Steven J. Oakley, Oakleys bistro, Indianapolis
Kent Rigsby, Rigsby's Kitchen, Columbus, OH
Bruce Sherman, North Pond, Chicago
David Tallent, Restaurant Tallent, Bloomington, IN
Paul Virant, Vie, Western Springs, IL
Eric Williams, Momocho, Cleveland
Magdiale Wolmark, Dragonfly Neo-V Cuisine, Columbus, OH
Alex Young, Zingerman's Roadhouse, Ann Arbor, MI

BEST CHEF: MID-ATLANTIC
Andrew Araneo, Drew's Bayshore Bistro, Keyport, NJ
Cathal Armstrong, Restaurant Eve, Alexandria, VA
Pierre Calmels, Bibou, Philadelphia
Jay Caputo, Espuma, Rehoboth Beach, DE
Bertrand Chemel, 2941 Restaurant, Falls Church, VA
Melissa Close-Hart, Palladio at Barboursville Vineyards, Barboursville, VA
Tony Conte, The Oval Room, Washington, D.C.
David Gilberg, KOO ZEE DOO, Philadelphia
Michael Krikorian, The Copper Canyon Restaurant, Atlantic Highlands, NJ
Johnny Monis, Komi, Washington, D.C.
Peter Pastan, Obelisk, Washington, D.C.
Maricel Presilla, Cucharamama, Hoboken, NJ
Dave Racicot, Notion, Oakmont, PA
Dale Reitzer, Acacia, Richmond, VA
Chip Roman, Blackfish, Conshohocken, PA
Adán Saavedra, Paloma, Philadelphia
John B. Shields, Town House, Chilhowie, VA
Michael Solomonov, Zahav, Philadelphia
Vikram Sunderam, Rasika, Washington, D.C.
Cindy Wolf, Charleston, Baltimore

BEST CHEF: MIDWEST
Erik Anderson, Sea Change, Minneapolis
Justin Aprahamian, Sanford, Milwaukee
Isaac Becker, 112 Eatery, Minneapolis
Justin Carlisle, 43 North, Madison, WI
Jennifer Coco, The Flatiron Cafe, Omaha, NE
Gerard Craft, Niche, St. Louis
Timothy Fischer, HoDo Restaurant at the Hotel Donaldson, Fargo, ND
Doug Flicker, Piccolo, Minneapolis
Colby Garrelts, Bluestem, Kansas City, MO
Jonathan Justus, Justus Drugstore, Smithville, MO
Russell Klein, Meritage, St. Paul, MN
Steve Logsdon, Lucca, Des Moines, IA
Tory Miller, L'Etoile, Madison, WI
Kevin Nashan, Sidney Street Cafe, St. Louis
Lenny Russo, Heartland, St. Paul, MN
Jason Simon, Alba, Des Moines, IA
Matt Steigerwald, Lincoln Café, Mt. Vernon, IA
Dan Van Rite, Hinterland, Milwaukee
Jim Webster, Wild Rice, Bayfield, WI
Kevin Willmann, Farmhaus, St. Louis
BEST CHEF: NEW YORK CITY
Michael Anthony, Gramercy Tavern
April Bloomfield, The Spotted Pig
Saul Bolton, Saul
Marco Canora, Hearth
Scott Conant, Scarpetta
Polo Dobkin, Dressler
Wylie Dufresne, wd~50
Gabrielle Hamilton, Prune
Sara Jenkins, Porchetta
Craig Koketsu, Park Avenue
Sotohiro Kosugi, Soto
Mark Ladner, Del Posto
Paul Liebrandt, Corton
Anita Lo, Annisa
George Mendes, Aldea
Missy Robbins, A Voce
Masa Takayama, Masa
Bill Telepan, Telepan
Michael White, Marea
Galen Zamarra, Mas (farmhouse)
BEST CHEF: NORTHEAST
Francesco Buitoni, Mercato, Red Hook, NY
Tim Cushman, o ya, Boston
Krista Kern Desjarlais, Bresca, Portland, ME
Jason Gulisano, The Green Cup, Waitsfield, VT
Gerry Hayden, The North Fork Table & Inn, Southold, NY
Brian Hill, Francine, Camden, ME
Matt Jennings, La Laiterie, Providence
Megan Chase, Penelle Chase, Phoebe Chase, and Ted LaFage, Chase's Daily, Belfast, ME
Serge Madikians, Serevan, Amenia, NY
Evan Mallett, Black Trumpet Bistro, Portsmouth, NH
Tony Maws, Craigie On Main, Cambridge, MA
Daniel Nilsson, DA/BA, Hudson, NY
Peter Platt, The Old Inn On the Green, New Marlborough, MA
Demos Regas, Emilitsa, Portland, ME
Bjorn Somlo, Nudel, Lenox, MA
Champe Speidel, Persimmon, Bristol, RI
Suzanne Stack, Suzanne Fine Regional Cuisine, Lodi, NY
Bill Taibe, LeFarm, Westport, CT
Nathaniel Wade, ¡Duino! (Duende), Burlington, VT
Eric Warnstedt, Hen of the Wood, Waterbury, VT

BEST CHEF: NORTHWEST
Chris Ainsworth, Saffron Mediterranean Kitchen, Walla Walla, WA
Matthew Bennett, Sybaris, Albany, OR
Andy Blanton, Cafe Kandahar, Whitefish, MT
Dustan Bristol, Brick 29 Bistro, Nampa, ID
Seif Chirchi and Rachel Yang, Joule, Seattle
Matt Dillon, Sitka & Spruce, Seattle
Jeff Drew, Snake River Grill, Jackson Hole, WY
Mark Fuller, Spring Hill, Seattle
John Gorham, Toro Bravo, Portland, OR
Christopher Israel, Grüner, Portland, OR
Jenn Louis, Lincoln, Portland, OR
Paul O'Connor, Il Villaggio Osteria, Teton Village, WY
Andy Ricker, Pok Pok, Portland, OR
Daniel Roberts, Q Cuisine, Billings, MT
Gabriel Rucker, Le Pigeon, Portland, OR
Ethan Stowell, Staple & Fancy Mercantile, Seattle
Jason Stratton, Spinasse, Seattle
Ian Troxler, Lone Mountain Ranch, Big Sky, MT
Christopher Vane, Crush, Anchorage, AK
Cathy Whims, Nostrana, Portland, OR
BEST CHEF: PACIFIC
Josef Centeno, Lazy Ox Canteen, Los Angeles
Kevin Chong, Chef Mavro, Honolulu
Michael Cimarusti, Providence, Los Angeles
Josiah Citrin, Mélisse, Santa Monica, CA
Vinny Dotolo and Jon Shook, Animal, Los Angeles
Laurence Jossel, Nopa, San Francisco
Loretta Keller, COCO500, San Francisco
Andrew Kirschner, Wilshire, Santa Monica, CA
Chris Kobayashi, Artisan, Paso Robles, CA
Christopher Kostow, The Restaurant at Meadowood, St. Helena, CA
Mourad Lahlou, Aziza, San Francisco
Corey Lee, Benu, San Francisco
Daniel Patterson, COI, San Francisco
Gayle Pirie and John Clark, Foreign Cinema, San Francisco
Laurent Quenioux, Bistro LQ, Los Angeles
Richard Reddington, Redd, Yountville, CA
Carl Schroeder, Market, Del Mar, CA
John Rivera Sedlar, Rivera, Los Angeles
James Syhabout, Commis, Oakland, CA
Michael Tusk, Quince, San Francisco
BEST CHEF: SOUTH
Zach Bell, Café Boulud, Palm Beach, FL
Scott Boswell, Stella!, New Orleans
Aaron Burgau, Patois, New Orleans
Chris Dupont, Café Dupont, Birmingham, AL
Adolfo Garcia, RioMar, New Orleans
John Harris, Lilette, New Orleans
Chris Hastings, Hot and Hot Fish Club, Birmingham, AL
Scott Hunnel, Victoria & Albert's, Lake Buena Vista, FL
Philip Krajeck, Fish Out of Water at WaterColor Inn & Resort, Santa Rosa Beach, FL
Dean James Max, 3030 Ocean at Marriott Harbor Beach Resort & Spa, Fort Lauderdale, FL
Tory McPhail, Commander's Palace, New Orleans
James and Julie Petrakis, The Ravenous Pig, Winter Park, FL
Hari Pulapaka, Cress, DeLand, FL
Lee Richardson, Ashley's at Capital Hotel, Little Rock, AR
Taylor Bowen Ricketts, Delta Bistro, Greenwood, MS
Philippe Ruiz, Palme d'Or at the Biltmore, Coral Gables, FL
David Solazzo and Torre Solazzo, Ristorante Del Porto, Covington, LA
Stephen Stryjewski, Cochon, New Orleans
Wesley True, True, Mobile, AL

BEST CHEF: SOUTHEAST
Hugh Acheson, Five and Ten, Athens, GA
Billy Allin, Cakes & Ale, Decatur, GA
Ashley Christensen, Poole's, Raleigh, NC
Scott Crawford, Herons at the Umstead Hotel and Spa, Cary, NC
Craig Deihl, Cypress, Charleston, SC
John Fleer, Canyon Kitchen at Lonesome Valley, Cashiers, NC
Damian Heath, Lot 12 Public House, Berkeley Springs, WV
Linton Hopkins, Restaurant Eugene, Atlanta
Scott Howell, Nana's, Durham, NC
Shane Ingram, Four Square, Durham, NC
Anthony Lamas, Seviche, Louisville, KY
Edward Lee, 610 Magnolia, Louisville, KY
Ouita Michel, Holly Hill Inn, Midway, KY
Andrea Reusing, Lantern, Chapel Hill, NC
Keith Rhodes, Catch, Wilmington, NC
Hector Santiago, Pura Vida, Atlanta
Chip Smith, Bonne Soirée, Chapel Hill, NC
Aaron Vandemark, Panciuto, Hillsborough, NC
Ken Vedrinski, Trattoria Lucca, Charleston, SC
Tandy Wilson, City House, Nashville, TN

BEST CHEF: SOUTHWEST
Bruce Auden, Biga on the Banks, San Antonio
Bertrand Bouquin, Summit at the Broadmoor, Colorado Springs, CO
Kevin Binkley, Binkley's Restaurant, Cave Creek, AZ
Bowman Brown and Viet Pham, Forage, Salt Lake City
Bryan Caswell, Reef, Houston
Saipin Chutima, Lotus of Siam, Las Vegas
Tyson Cole, Uchi, Austin, TX
Mitsuo Endo, Aburiya Raku, Las Vegas
Mark Fischer, Restaurant Six89, Carbondale, CO
Ryan Hardy, Montagna at the Little Nell, Aspen, CO
Jennifer James, Jennifer James 101, Albuquerque, NM
Jennifer Jasinski, Rioja, Denver
Kelly Liken, Kelly Liken, Vail, CO
Armando Pomales, Café Central, El Paso, TX
Martín Rios, Restaurant Martín, Santa Fe, NM
Randy Rucker, Bootsie's Heritage Cafe, Tomball, TX
Teiichi Sakurai, Tei-An, Dallas
Silvana Salcido Esparza, Barrio Cafe, Phoenix
Alex Seidel, Fruition Restaurant, Denver
John R. Sharpe, The Turquoise Room at La Posada Hotel, Winslow, AZ
More from the James Beard foundation:
Established in 1990, the James Beard Foundation Awards recognize culinary professionals for excellence and achievement in their fields and continue to emphasize the Foundation's mission: to celebrate, preserve, and nurture America's culinary heritage and diversity. The annual James Beard Foundation Awards honor the best and the brightest talents in the food and beverage industries, celebrating outstanding achievement in each of the following categories: Restaurant and Chef, Restaurant Design and Graphics, Book, Broadcast, Journalism, and special achievement awards. Each category has an individual Awards Committee made up of industry professionals who volunteer their time to oversee the policies, procedures, and selection of judges for their respective Awards program.


How the Restaurant and Chef Awards Work


The James Beard Foundation holds an online open call for entries beginning in mid-October of each year. This year, over 28,000 entries were received, the most in the Awards' history. Independent accounting firm Lutz & Carr tabulates these entries for the Restaurant and Chef Committee. Based on the results and eligibility requirements for each award, the committee then produces a nominating ballot that lists the semifinalists in each of the 19 Restaurant and Chef awards categories, some of which include Outstanding Chef, Outstanding Restaurant, Best Chef in 10 different U.S. regions, Rising Star Chef of the Year, Outstanding Service, Outstanding Wine and Spirits Professional and Best New Restaurant.


The list of semifinalist nominees is then sent to an independent volunteer panel of more than 550 judges from across the country. This panel, comprised of leading regional restaurant critics, food and wine editors, culinary educators and past James Beard Foundation Award winners, vote on specific award categories to determine the final five nominees in each category. The same judges then vote on these five nominees to select the winners. The governing Awards Committee, board of trustees, and staff of the James Beard Foundation do not vote, and the results are kept confidential until the presentation of winners in May.


The annual James Beard Foundation Book, Broadcast & Journalism Awards Dinner, an exclusive event honoring the nation's top cookbooks, culinary broadcast programs and food journalists, will take place on Friday, May 6, 2011 at Espace in New York City. The following Monday evening, the James Beard Foundation Awards Ceremony and Gala Reception will take place at Lincoln Center's Avery Fisher Hall in New York City, during which the Restaurant and Chef and the Restaurant Design and Graphics awards will be handed out, along with a number of special achievement awards, including Humanitarian of the Year, Lifetime Achievement and Who's Who honorees, as well as the five America's Classics award winners. All award winners receive a certificate and a bronze medallion engraved with the James Beard Foundation Awards insignia.
Related