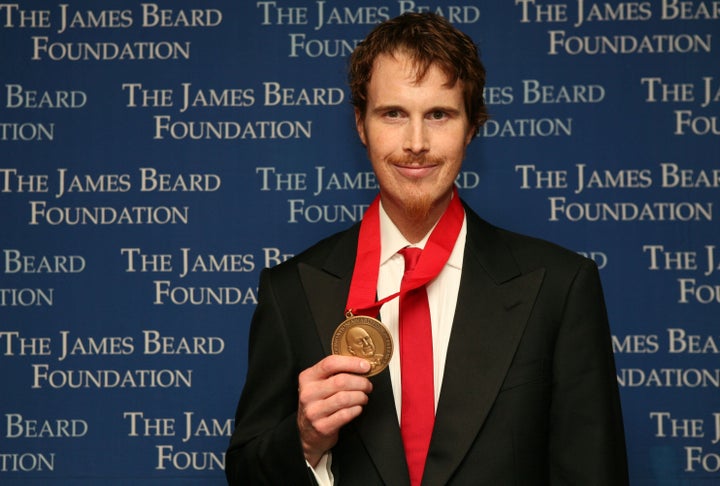 *Scroll down for the complete list of 2011 James Beard Foundation Award winners*
J.M. Hirsch, Associated Press:
Small plates have earned Jose Andres one of the food world's biggest honors.
The man credited with popularizing tapas – the Spanish custom of dining on small, shared plates – was named the nation's most outstanding chef Monday during the James Beard Foundation's annual awards ceremony, the so-called Oscars of the culinary crowd.
Andres has been praised for a string of successful restaurants around the country – most notably Jaleo and minibar by Jose Andres in Washington, D.C. – which challenged the conventional thinking that anything but heaping portions would leave American diners unsatisfied.
Recently, Andres – who grew up outside Barcelona and moved to the U.S. 21 years ago after training with famed Spanish chef Ferran Adria – has become known almost as much for his politics as for what he puts on the plate. He has spoken often – and even lobbied friends in Congress – on issues including school lunch standards, childhood obesity, hunger, subsidies for agribusiness and food marketing.
"Food is the most powerful thing we have in our hands. Not only chefs, but everyone in the food community. The right use of food can end hunger," Andres said Monday after accepting his award. "We have the responsibility to make sure that not only our great nation, but the world will always be better using food in the right way."
The James Beard awards honor those who follow in the footsteps of Beard, considered the dean of American cooking when he died in 1985. The awards ceremony was held in New York, where the Beard Foundation is based. Monday's ceremony honored chefs and restaurants; a similar event on Friday was held for book and other media awards.
Last year's top chef was "Top Chef" judge Tom Colicchio. This year, Andres beat out Gary Danko of Restaurant Gary Danko in San Francisco; Suzanne Goin of Lucques in Los Angeles;Paul Kahan of Blackbird in Chicago; and Charles Phan of The Slanted Door in San Francisco.
The foundation's award for outstanding restaurant went to Danny Meyer's Eleven Madison Park in New York. It is known for its tasting-style menu that lists dishes only by key ingredient and encourages diners to work with the chef to create individualized meals. The restaurant's pastry chef, Angela Pinkerton, got the foundation's honor for most outstanding pastry chef.
"I am so proud of what this team has done ... to have really created a four-star restaurant for the future," Meyer said Monday. "A new kind of four-star restaurant."
Last year, the organization named the restaurant's executive chef, Daniel Humm, the city's top chef. The restaurant has earned a total of five Beard awards.
Best new restaurant went to Jean-Georges Vongerichten's ABC Kitchen in New York, which focuses on local, organic and seasonal foods. Rising star chef of the year went to Gabriel Rucker of Le Pigeon in Portland, Ore., a nod to that city's increasingly robust food scene.
The outstanding service award went to New York's Per Se, owned by the much-lauded Thomas Keller. Outstanding restaurateur went to Richard Melman, whose Lettuce Entertain You Enterprises in Chicago is behind more than 30 restaurants, including that city's Tru restaurant.
During Friday's event, the foundation gave a nod to the power of social media in the food world when it awarded its first humor writing honors to the fictitious online character Ruth Bourdain, an anonymously written mash-up of culinary icons Ruth Reichl and Anthony Bourdain.
Ruth Bourdain became a profanely funny sensation mostly via Twitter, where he (or she?) would joust with and poke fun at the culinary elite. And the anonymity of the character's creator endured despite receiving a major award; no one stepped forward to accept the award.
On Monday, the Beard Foundation also named its top regional chefs around the country: Alex Young of Zingerman's Roadhouse in Ann Arbor, Mich. (Great Lakes region); Michael Solomonov of Zahav in Philadelphia (Mid-Atlantic); Isaac Becker of 112 Eatery in Minneapolis (Midwest); Gabrielle Hamilton of Prune (New York City); Tony Maws of Craigie On Main in Cambridge, Mass. (Northeast); Andy Ricker of Pok Pok in Portland, Ore. (Northwest); Michael Tusk of Quince in San Francisco (Pacific); Stephen Stryjewski of Cochon in New Orleans (South); Andrea Reusing of Lantern in Chapel Hill, N.C. (Southeast); and Saipin Chutima of Lotus of Siam in Las Vegas and Tyson Cole of Uchi in Austin, Texas (Southwest).
The organization's Lifetime Achievement award went to Kevin Zraly, wine educator and author of "Windows on the World Complete Wine Course."
The 2011 chef and restaurant James Beard Foundation Award Winners (winners in bold):
To see the 2011 James Beard Foundation Award winners in books, broadcast and journalism, click here.
RISING STAR CHEF OF THE YEAR Aaron London, Ubuntu, Napa, CA Thomas McNaughton, flour + water, San Francisco Gabriel Rucker, Le Pigeon, Portland, OR Christina Tosi, Momofuku Milk Bar, NYC Sue Zemanick, Gautreau's, New Orleans
OUTSTANDING WINE AND SPIRITS PROFESSIONAL Sam Calagione, Dogfish Head Craft Brewery, Milton, DE Merry Edwards, Merry Edwards Winery, Sebastopol, CA Paul Grieco, Hearth and Terroir, NYC Rajat Parr, Mina Group, San Francisco Julian Van Winkle III, Old Rip Van Winkle Distillery, Louisville, KY
OUTSTANDING WINE SERVICE A16, San Francisco, Shelley Lindgren Blackberry Farm, Walland, TN, Andy Chabot Frasca Food and Wine, Boulder, CO, Bobby Stuckey The Modern, NYC, Belinda Chang Picasso at Bellagio, Las Vegas, Robert Smith
BEST CHEF: GREAT LAKES Michael Carlson, Schwa, Chicago Curtis Duffy, Avenues at the Peninsula, Chicago Bruce Sherman, North Pond, Chicago Paul Virant, Vie, Western Springs, IL Alex Young, Zingerman's Roadhouse, Ann Arbor, MI
BEST CHEF: MID-ATLANTIC Cathal Armstrong, Restaurant Eve, Alexandria, VA Johnny Monis, Komi, Washington, D.C. Peter Pastan, Obelisk, Washington, D.C. Maricel Presilla, Cucharamama, Hoboken, NJ Michael Solomonov, Zahav, Philadelphia
BEST CHEF: MIDWEST Justin Aprahamian, Sanford, Milwaukee Isaac Becker, 112 Eatery, Minneapolis Colby Garrelts, Bluestem, Kansas City, MO Tory Miller, L'Etoile, Madison, WI Lenny Russo, Heartland, St. Paul, MN
BEST CHEF: NEW YORK CITY Michael Anthony, Gramercy Tavern April Bloomfield, The Spotted Pig Wylie Dufresne, wd~50 Gabrielle Hamilton, Prune Michael White, Marea
BEST CHEF: NORTHEAST Tim Cushman, o ya, Boston Krista Kern Desjarlais, Bresca, Portland, ME Gerry Hayden, The North Fork Table & Inn, Southold, NY Matt Jennings, La Laiterie, Providence Tony Maws, Craigie On Main, Cambridge, MA Eric Warnstedt, Hen of the Wood, Waterbury, VT
BEST CHEF: PACIFIC Michael Cimarusti, Providence, Los Angeles Christopher Kostow, The Restaurant at Meadowood, St. Helena, CA Daniel Patterson, COI, San Francisco Richard Reddington, Redd, Yountville, CA Michael Tusk, Quince, San Francisco
BEST CHEF: NORTHWEST Matt Dillon, Sitka & Spruce, Seattle Christopher Israel, Grüner, Portland, OR Andy Ricker, Pok Pok, Portland, OR Ethan Stowell, Staple & Fancy, Mercantile, Seattle Cathy Whims, Nostrana, Portland, OR
BEST CHEF: SOUTH Zach Bell, Café Boulud, Palm Beach, FL John Harris, Lilette, New Orleans Chris Hastings, Hot and Hot Fish Club, Birmingham, AL Tory McPhail, Commander's Palace, New Orleans Stephen Stryjewski, Cochon, New Orleans
BEST CHEF: SOUTHEAST Hugh Acheson, Five and Ten, Athens, GA Craig Deihl, Cypress, Charleston, SC John Fleer, Canyon Kitchen at Lonesome Valley, Cashiers, NC Linton Hopkins, Restaurant Eugene, Atlanta Edward Lee, 610 Magnolia, Louisville, KY Andrea Reusing, Lantern, Chapel Hill, NC
BEST CHEF: SOUTHWEST Bruce Auden, Biga on the Banks, San Antonio Bryan Caswell, Reef, Houston Saipin Chutima, Lotus of Siam, Las Vegas Tyson Cole, Uchi, Austin, TX* Ryan Hardy, Montagna at the Little Nell, Aspen, CO
OUTSTANDING RESTAURANT DESIGN Design Firm: Aidlin Darling Design Designers: Joshua Aidlin, Roslyn Cole, and David Darling Project: Bar Agricole, San Francisco
Design Firm: Bestor Architecture Designers: Barbara Bestor, John Colter, and Cathy Johnson Project: Pitfire Pizza, Los Angeles
Design Firm: Natoma Architects Inc. Designer: Stanley Saitowitz Project: Toast, Novato, CA
OUTSTANDING RESTAURANT GRAPHICS For the best restaurant graphics executed in North America since January 1, 2008
Design Firm: Katie Barcelona Designer: Katie Barcelona Project: L'Artusi, NYC
Design Firm: Love and War Designer: Katie Tully Project: The National Bar & Dining Rooms, NYC
Design Firm: JNL Graphic Design Designers: Donald Madia and Jason Pickleman Project: The Publican, Chicago
OUTSTANDING SERVICE Canlis, Seattle Emeril's, New Orleans La Grenouille, NYC Per Se, NYC Topolobampo, Chicago
OUTSTANDING PASTRY CHEF Joanne Chang, Flour Bakery + Café, Boston Patrick Fahy, Blackbird, Chicago Dahlia Narvaez, Osteria Mozza, Los Angeles Angela Pinkerton, Eleven Madison Park, NYC Mindy Segal, Mindy's HotChocolate Restaurant and Dessert Bar, Chicago
BEST NEW RESTAURANT ABC Kitchen, NYC Benu, San Francisco Girl & the Goat, Chicago Menton, Boston Torrisi Italian Specialties, NYC
OUTSTANDING RESTAURATEUR Bruce Bromberg and Eric Bromberg Tom Douglas Pat Kuleto Richard Melman Phil Suarez
OUTSTANDING RESTAURANT Blue Hill, NYC Boulevard, San Francisco Eleven Madison Park, NYC Highlands Bar and Grill, Birmingham, AL Vetri, Philadelphia
OUTSTANDING CHEF José Andrés, minibar by José Andrés, Washington, D.C. Gary Danko, Restaurant Gary Danko, San Francisco Suzanne Goin, Lucques, Los Angeles Paul Kahan, Blackbird, Chicago Charles Phan, The Slanted Door, San Francisco
To see the 2011 James Beard Foundation Award winners in books, broadcast and journalism, click here.
* Tie -- the eighth in James Beard Award history
REAL LIFE. REAL NEWS. REAL VOICES.
Help us tell more of the stories that matter from voices that too often remain unheard.