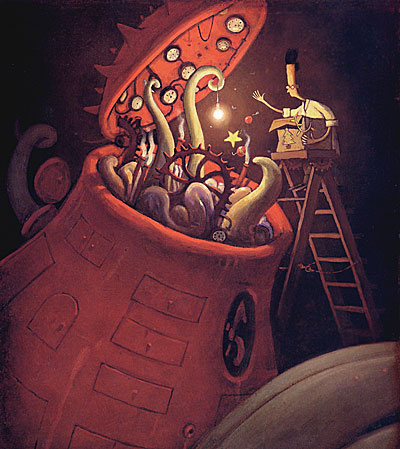 The Lost Thing
There seems to always be a strong field of short animated films for Oscar consideration each year, regardless of what has been selected as short live action and documentaries. Last year's stunning Oscar winner, Logorama, from France, began comedically with corporate and product logos in place of a normal landscape and characters but then morphing into a dark and outrageous collapse of the world we thought we knew. It is profound, imaginative and truly beyond the average animated conception.
Getting closest to Logorama's daring this year is an offbeat, whimsical piece from Australia that winds up with a nice melancholic touch --The Lost Thing. Written and directed by Andrew Ruhemann and Shaun Tan, it depicts a young boy who finds a strange contraption at the beach. It somewhat resembles a wobbly, motorized, orange diving bell with trunks and tentacles that occasionally ooze forth. The co-creators of The Lost Thing comment on the lack of individuality in our lives without laying it on too thick, which is why the inevitable parting between odd object and boy works so very well.
In its attempt to condemn society's consumerism and lack of world consciousness, Let's Pollute by San Francisco's Geefwee Boedoe has all the right intentions but goes about it in all too obvious a manner. As a supposed instructional film, Let's Pollute uses reverse psychology, telling the viewer why rampant pollution and lack of restrictions on industry are wholesome and patriotic; but while never strident, it isn't particularly amusing or original. Brief snippets of song are hard to make out, and once you're 30 seconds in, you've got the entire arc of the film.
Even more disappointing is Day and Night, written and directed by Teddy Newton, who has worked on a number of Pixar features, including the marvelous The Incredibles. Alas, while pleasant enough, Day and Night really has nowhere to go in story, as two outlined figures, looking like ghosts, reveal images of day versus night. Why Newton thinks the neon of Las Vegas should be a dominant image over anything else that happens when the sun goes down is a big mystery. It's short, a little too sweet and could have used more on its mind.
The Gruffalo, a children's fable from Germany and the UK, co-directed by Jakob Schuh and Max Lange, utilizes well-respected British actors like Helena Bonham Carter, John Hurt and Robbie Coltrane to little effect. A tale of a mouse who invents the titular character to scare away predators in the form of a fox, an owl and a snake, The Gruffalo has lovely looking forest backgrounds. But the story is slow -- far too long at 27 minutes -- and repetitious. Worst of all, the character of the Gruffalo looks like a rip-off of Maurice Sendak.
French writer-director Bastian Dubois creates a lyrical picture postcard come to life in Madagascar, Carnet de Voyage. With indigenous, French-influenced zouk music and watercolors animated to reflect the people and landscape, Dubois captures us fully, even inventing a clever collection of tourism images for the closing credits. If either The Lost Thing or this charmer wins the Oscar, you will hear no complaints from this quarter. Otherwise, prepare for grumblings for a less than solid selection this year in the field of animation.
The above shorts are currently in distribution in selected theatres via Shorts International and Magnolia Pictures.
Calling all HuffPost superfans!
Sign up for membership to become a founding member and help shape HuffPost's next chapter