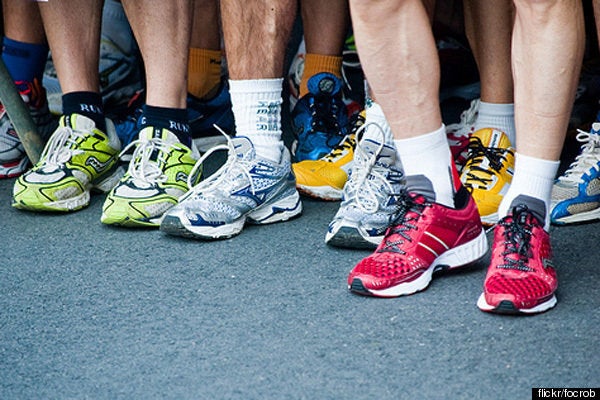 The world's longest certified footrace is happening right now--on a single city block in Jamaica, Queens.
The 15th Annual Self-Transcendence 3,100 mile race entered its 23rd day today. 10 runners, most of whom are disciples of Sri Chinmoy, a deceased Indian spiritual leader, are competing to complete 5649 laps around Thomas A. Edison Career and Technical Education High School in Jamaica, Queens of a .5488 mile course (883 meters) in a timespan of 52 days, according to the race's website.
To break it down, that means runners need to run an average of 60 miles a day in order to complete the race within the 52 day cutoff.
The New York Observer reports that Finnish ultramarathoner Asprihanal Aalto is currently in the lead (most of the runners apparently have spiritual nicknames), followed by Sarvagata Ukrainskyi and Igor Mudryck.
The record for the race is held by Madhupran Wolfgang Schwerk of Germany. In 2006 Madhupran completed the race in 41 days 8 hours, averaging a staggering 75 miles per day.
And why would anyone want to devote nearly a whole summer to running around in a circle in Queens? Disciples of Sri Chinmoy believe, as he did, that "sports can be a powerful means to unlock the true potential of the human spirit." Sri Chimnoy's Marathon Team claims that as recently as August 2007 - less than two months before Chimnoy's passing on October 11 - he succeeded in lifting overhead 800lbs using only his right arm. (Others suggest the guru used an apparatus that did most of the work.)
As The Wall Street Journal puts it, "Chinmoy found running to be a useful way of confronting--and ultimately surmounting--the physical boundaries of the body and the psychic limits of the mind. This race was an outgrowth of that philosophy."
The Journal caught up with the race last year as runners dealt with with "heat, humidity, rain, pedestrians, litter, barking dogs, dog excrement, automobile exhaust, mosquitoes, dust and baby strollers." One man tells the Journal the runners go through an average of 12 pairs of shoes during the race.
Also check out some daily video blogs of the race here.
Related
Popular in the Community