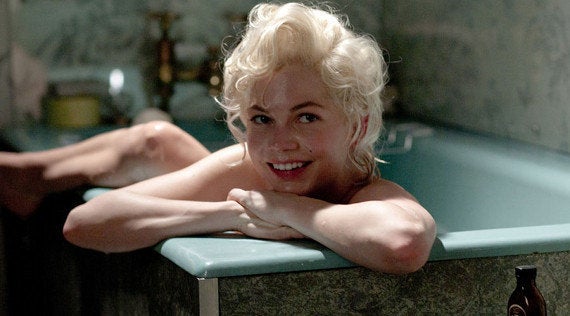 1. Senna (dir. Asif Kapadia) Thanks to more than 15,000 hours of archival footage, expertly edited, this thrilling and complex doc on three-time Formula One driving champion Ayrton Senna has the narrative drive of a scripted feature. A legend in his native Brazil, we see how Senna's religious fervor led to him taking chances on the circuits, leading to political battles within F1 and a tragic death that changed the sport forever.
2. Limitless (dir. Neil Burger) Criminally overlooked, Burger's ingenious science fiction-action- thriller, brilliantly scripted by Leslie Dixon, is a thrill ride with brains. Bradley Cooper shows a depth no one saw coming in The Hangover, as a writer who uses an experimental drug that makes him presumably smarter than everyone. Funny, shocking and unpredictable, it winds up posing deeper questions about the limits of human intelligence and the ability to learn.
3. The Double Hour (La Doppia Ora, dir. Giuseppe Capotondi) A former security guard (Filippo Timi) and a chambermaid (Ksenia Rappoport) begin a romance at a country retreat, where a random robbery turns into a shooting. But Capotondi's film constantly keeps one on edge, with questions about the trustworthiness of each character. Its visual symbolism gives clues to its astonishing finish. Rappoport earns her Best Actress Award from the Venice Film Festival.
4. The Conquest (dir. Xavier Durringer) This wickedly enjoyable depiction of Nicolas Sarkozy's rise to power in France, despite his wife constantly threatening to publicly leave him, manages to balance its wit and drama, while enabling the audience to understand the recent history of French political machinations. A uniformly terrific cast includes Denis Podalydes as the smug Sarkozy and Bernard le Coq as a spot-on Jacques Chirac, proving not much has changed since Versailles.
5. Tabloid (dir. Errol Morris) Morris's most outrageously amusing doc. Former Miss Wyoming Joyce McKinney is the subject, rewriting the facts of her case of abducting and sexual imprisoning an ex-boyfriend-turned-Mormon-missionary. It gets exponentially stranger in fact, and McKinney is alternately a compelling narrator and world class nut case. Morris's visual gags and flourishes put this doc in a sordidly hilarious class of its own.
6. Moneyball (dir. Bennett Miller) Miller takes Michael Lewis's bestseller about Oakland A's baseball G.M. Billy Beane and infuses it with great heart. It doesn't hurt that he's got stellar work from two of our best film scribes, Steve Zaillian and Aaron Sorkin, and subtle, charming work from Brad Pitt and Jonah Hill. Not a sports movie as much as a meditation on the loneliness of establishing a new paradigm against entrenched -- and myopic -- popular wisdom.
7. Win Win (dir. Thomas McCarthy) God bless Paul Giamatti for playing seriously flawed but inevitably loveable characters, especially an attorney and part-time wrestling coach who gets serious payback when he cheats a mentally incompetent client but winds up with his emotionally stunted grandson. Without ever using cheap sentiment, Win Win subtly wins you over and Amy Ryan, Bobby Cannavale and Jeff Tambor are just part of the perfect casting.
8. My Week with Marilyn (dir. Simon Curtis) Everything said about Michelle Williams's portrayal of Marilyn Monroe on the British set of The Prince and the Showgirl is true. She magnificently captures the insecurity, caginess and sultry manipulation of a Hollywood icon. Kenneth Branagh is right there with her, as a delightfully pompous and perplexed Laurence Olivier. Never have so many well-known figures been played by so many well-known figures so well. A great rumination on the price of fame and the difficulty of clashing styles of acting.
9. Margin Call (dir. J.C. Chandor) Writer-director Chandor makes a tremendous bow, with this unflinching drama about a seriously ethically challenged investment bank during the first 24 hours of an economic crash. Kevin Spacey, Jeremy Irons, Zachary Quinto and the rest of the cast are mesmerizing to watch, and the last scene is devastating. Chandor will hopefully be given many more chances to display his considerable filmmaking gifts.
10. Midnight in Paris (dir. Woody Allen) It's more than echoing popular sentiment to agree this is Allen's best film in years. Anyone can have a romantic comedy with time travel. Woody has time travel within the time travel. Owen Wilson's romantic obsession with the City of Light, gorgeously shot, becomes ours immediately as well, and the depiction of Ernest Hemingway and Salvador Dali results in some of the greatest laughs ever delivered in a Woody Allen film.
Highly Recommended: A Dangerous Method, Dumbstruck, Rejoice and Shout, Sarah's Key, Shame, Tinker, Tailor, Soldier, Spy.
REAL LIFE. REAL NEWS. REAL VOICES.
Help us tell more of the stories that matter from voices that too often remain unheard.