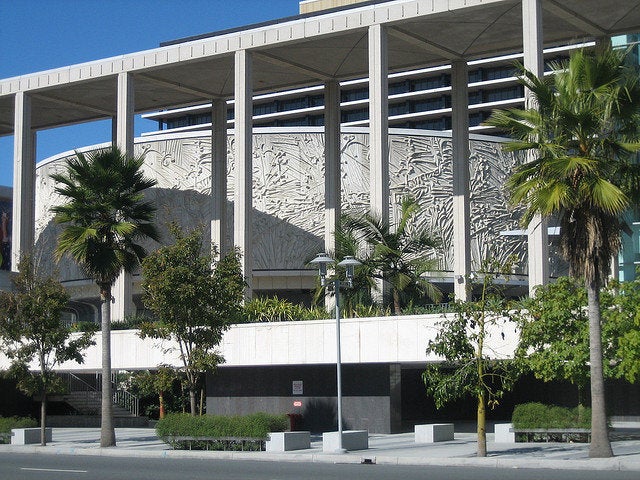 Margo Veil, Odyssey Theatre Ensemble
Bart DeLorenzo directs masterfully Len Jenkins's almost indescribable, thrillingly inventive science fiction-noir mystery. DeLorenzo has assembled actors from his excellent Evidence Room brethren here, including Dorie Barton, Tom Fitzpatrick and Lauren Campedelli, in a tale of transferred minds and bodies that, with the elan of sound designer John Zalewski, takes us to places far beyond the confines of the theatre's four walls.
The Method Gun, Kirk Douglas Theatre, Center Theatre Group
The Austin-based Rude Mechs break the fourth wall themselves in grand style, as director Shawn Sides takes Kirk Lynn's text about a supposed group of performers obsessed with a long-missing theatre guru who try to honor her vision of a radically-condensed version of A Streetcar Named Desire. In addition to intergroup squabbles, we're treated to wild theatrical exercises and even a final, touching interaction, based on written audience responses. There is a special method to Rude Mechs's madness.
The Break of Noon, Geffen Playhouse
Neil LaBute takes the serious business of disturbing his audience to heart more than virtually any other working playwright and The Break of Noon actually creates even more moral ambiguity than most of his other work. A sole survivor of an office massacre (Kevin Anderson), dealing with PTSD, uses his newly found notoriety to try and make a living and reunite with an ex. The intersection of his shock and his manipulations, expertly directed by Jo Bonney, make for an exceptional experience.
Poor Behavior, Mark Taper Forum, Center Theatre Group
How can a play about two couples in a country house be so astounding? Leave it to Theresa Rebeck, who creates a charming rogue (Reg Rogers) who insists he has had an affair with his friend's wife (Johanna Day). Despite her denials, it's clear there is an attraction there and the redemptive and destructive power of love is on display, with the unredoubtable Doug Hughes guiding the cast flawlessly.
A House Not Meant to Stand, Fountain Theatre
Even a lesser play by Tennessee Williams, in the right hands, has an incredible pull for audiences. And there is no better interpreter of Williams than director Simon Levy. He's adroitly created a wondrous environment of dilapidation in 1980s Mississippi in this West Coast premiere, complete with alcoholic haze, recriminations about family and a stunning performance by Sandy Martin as a decimated matron who is haunted by the memory of a son driven from his home.
The Night Watcher, Kirk Douglas Theatre
Essential viewing for anyone considering an autobiographical one-person show. Charlayne Woodard has the physical and vocal gifts to play a host of characters, comedic or dramatic. But what impresses most is the strength of her writing, recounting her relationships with children, be they presumptuous, frightened, joyously free or beaten down by the inequities of life.
Bakersfield Mist, Fountain Theatre
Director-playwright Stephen Sachs has -- inspired by an actual event, the alleged discovery of a Jackson Pollock by a housewife -- created a dynamic two-hander. Jenny O'Hara portrays a Bakersfield trailer park drunk who claims she has a Pollock and Nick Ullett is the effete New York art expert who insists she does not. The husband-and-wife team of O'Hara and Ullett are sensational and Sachs mines the situation for every ounce of theatrical life and plot twists. It's no surprise the play is being mounted in other theatres across the U.S. and has been optioned for the West End and New York.
The Sunset Limited, Rogue Machine
Rogue Machine specializes in its production of intimate, soulful and intense theatre pieces and this past season, it landed two tremendous punches to the theatrical belly, as it were. Cormac McCarthy's The Sunset Limited pits two characters against each other. Black (Tucker Smallwood) has saved White (Ron Botitta) from committing suicide and won't let him leave Black's ramshackle Harlem apartment without an assurance he won't try it again. Rogue Machine Artistic Director John Perrin Flynn sensitively directs, as Bottita's inward desperation and Smallwood grandiloquent rage are beautifully balanced against each other, far more riveting than the HBO version with other actors that followed on the heels of this production.
Blackbird, similarly, is a two-hander, basically, as Ray (Sam Anderson) has a tense meeting in a company break room with a younger woman, Una (Coryn Cummins) and as we learn of their past, the lines between molestation and lust blur. Robin Larson does a fine job directing David Harrower's appropriately harrowing play and these two exceptional actors, asked to play reprehensible yet recognizable losers in life.
When one walks out of a play shaking slightly from its effect, there is an element of criminality in trying to assign it a numerical rating. Thus, all of these works deserve the highest praise, on equal footing.

Popular in the Community