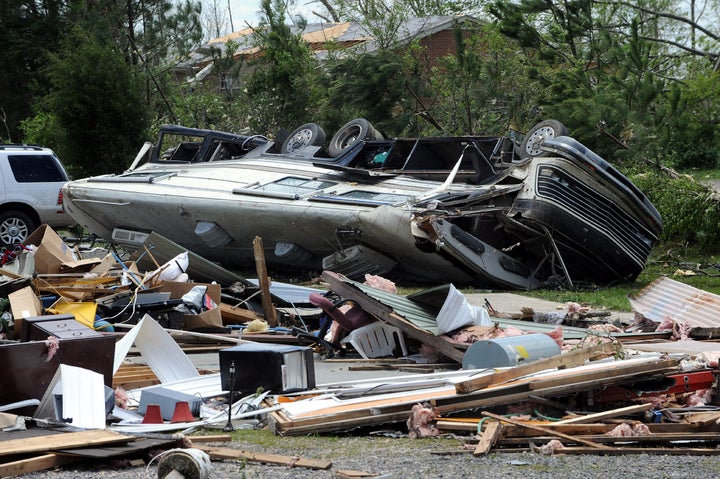 TUSCALOOSA, Ala. (AP) -- Southerners found their emergency safety net shredded Friday as they tried to emerge from the second-deadliest day for a twister outbreak in U.S. history.
Emergency buildings are wiped out. Bodies are stored in refrigerated trucks. Authorities are begging for such basics as flashlights. In one neighborhood, the storms even left firefighters to work without a truck.
The death toll from Wednesday's storms reached 337 across seven states, including at least 246 in Alabama.
The largest death toll ever was on March 18, 1925, when 747 people were killed in storms that raged through Missouri, Illinois and Indiana. The second deadliest day had been in March 1932, when 332 people died, all in Alabama.
The 1925 outbreak was long before the days when Doppler radar could warn communities of severe weather. Forecasters have said residents were told these tornadoes were coming. But they were just too wide and powerful and in populated areas to avoid a horrifying body count.
Hundreds if not thousands of people were injured Wednesday – 990 in Tuscaloosa alone – and as many as 1 million Alabama homes and businesses remained without power.
The scale of the disaster astonished President Barack Obama when he arrived in the state Friday.
"I've never seen devastation like this," he said, standing in bright sunshine amid the wreckage in Tuscaloosa, where at least 45 people were killed and entire neighborhoods were flattened. Hours later, Obama signed disaster declarations for Mississippi and Georgia, in addition to one he had authorized for Alabama.
Tuscaloosa Mayor Walt Maddox called the devastation "a humanitarian crisis" for his city of more than 83,000.
Maddox said up to 446 people were unaccounted for in the city, though he added that many of those reports probably were from people who have since found their loved ones but have not notified authorities. Cadaver-detecting dogs were deployed in the city Friday but they had not found any remains, Maddox said.
During the mayor's news conference, a man asked him for help getting into his home, and broke down as he told his story.
"You have the right to cry," Maddox told him. "And I can tell you, the people of Tuscaloosa are crying with you."
Friday night, Tuscaloosa officials reduced downward the death toll for the city and its police jurisdiction by six to 39, still the most in Alabama. With that change factored in, the state's death toll stood at 246 early Saturday.
At least one tornado – a 205 mph monster that left at least 13 people dead in Smithville, Miss. – ranked in the National Weather Service's most devastating category, EF-5. Meteorologist Jim LaDue said he expects "many more" of Wednesday's tornadoes to receive that same rating, with winds topping 200 mph.
Tornadoes struck with unexpected speed in several states, and the difference between life and death was hard to fathom. Four people died in Bledsoe County, Tenn., but a family survived being tossed across a road in their modular home, which was destroyed, Mayor Bobby Collier said.
By Friday, residents whose homes were blown to pieces were seeing their losses worsen – not by nature, but by man. In Tuscaloosa and other cities, looters have been picking through the wreckage to steal what little the victims have left.
"The first night they took my jewelry, my watch, my guns," Shirley Long said Friday. "They were out here again last night doing it again."
Overwhelmed Tuscaloosa police imposed a curfew and got help from National Guard troops to try to stop the scavenging.
Along their flattened paths, the twisters blew down police and fire stations and other emergency buildings along with homes, businesses, churches and power infrastructure. The number of buildings lost and people left homeless remained unclear two days later, in part because the storm also ravaged communications systems.
Tuscaloosa's emergency management center was destroyed, so officials used space in one of the city's most prominent buildings – the University of Alabama's Bryant-Denny Stadium – as a substitute before moving operations to the Alabama Fire College. Less than two weeks ago, the stadium hosted more than 90,000 fans for the football team's spring intra-squad Red-White Game.
A fire station was destroyed in nearby Alberta City, one of the city's worst-hit neighborhoods. The firefighters survived, but damage to their equipment forced them to begin rescue operations without a fire truck, city Fire Chief Alan Martin said.
Martin said the department is running normally and has since deployed a backup vehicle to serve the neighborhood. "In reality, it's just an extension of what we do every day," he said.
Also wiped out was a Salvation Army building, costing Tuscaloosa much-needed shelter space. And that's just part of the problem in providing emergency aid, said Sister Carol Ann Gray of the local Catholic Social Services office.
"It has been extremely difficult to coordinate because so many people have been affected – some of the very same people you'd look to for assistance," Gray said.
Emergency services were stretched particularly thin about 90 miles to the north in the demolished town of Hackleburg, Ala., where officials were keeping the dead in a refrigerated truck amid a body bag shortage. At least 27 people were killed there and the search for missing people continued, with FBI agents fanning out to local hospitals to help.
Damage in Hackleburg was catastrophic, said Stanley Webb, chief agent in the county's drug task force.
"When we talk about these homes, they are not damaged. They are gone," he said.
Gail Enlow was in town looking for her aunt, Eunice Cooper, who is in her 70s. She wiped away tears as she pointed to the twisted mess that's left of the housing project where Cooper lived.
"Nobody's seen her," she said, trying to hold back the sobs. "She can just barely get around and she would need help."
But in Hackleburg as in Tuscaloosa, emergency workers had more to do than aid suffering victims. People looted a demolished Wrangler jeans distribution center, and authorities locked up drugs from a destroyed pharmacy in a bank.
Fire Chief Steve Hood said he desperately wanted flashlights for the town's 1,500 residents because he doesn't want them using candles that could ignite their homes.
In Cullman, a town about 50 miles north of Birmingham, workers have been putting in long hours to clean up debris and exhausted police officers face the same problems as the people they are sworn to protect. Emergency responders have waiting in hours-long lines with other drivers to get gas at stations without power.
False rumors, meanwhile, were sweeping the town. People were pushing debris from their yards into streets because they heard they were supposed to and filling up their bathtubs with water because they heard the city would cut off the supply.
Kathy McDonald glanced around her damaged town and quietly wept. Her family's furniture store, which sold tables and couches for decades, was torn apart.
"I just can't understand this. Are people coming to help us?" she said. "We feel all alone."
Other states were reeling as well. There were 34 deaths in Mississippi, 34 in Tennessee, 15 in Georgia, five in Virginia, two in Louisiana and one in Kentucky.
The Federal Emergency Management Agency has responded to all affected areas and has officials on the ground in Alabama, Mississippi, Kentucky, Georgia and Tennessee, Director Craig Fugate said. State and local authorities remain in charge of response and recovery efforts, Fugate said.
In the Birmingham suburb of Pleasant Grove, where 10 people died, building contractors used heavy equipment Friday to help clear debris from impassable streets.
Volunteers arrived from as far as Mobile – some 250 miles away – to deliver food, water and fuel and help with search and rescue. The National Guard closed the town to outsiders, trying to keep out gawkers and looters.
Police Chief Robert Knight said perhaps a quarter of the town of 10,000 is wiped out.
"We're having a hard time recovering," he said. But he vowed that residents will rebuild.
"We'll do it. We'll do it," he said. "We just will. People out here are resilient. It's a good city."
Bluestein reported from Cullman. Associated Press writers Holbrook Mohr in Hackleburg, Jeffrey Collins and Chris Hawley in Rainsville, Michael Rubinkam in Pleasant Grove, Michael Kunzelman in Tuscaloosa, John Christoffersen in Birmingham, Phillip Rawls in Montgomery, Kristi Eaton in Norman, Okla., and Maryann Mrowca in Atlanta contributed to this report.
Related
Popular in the Community