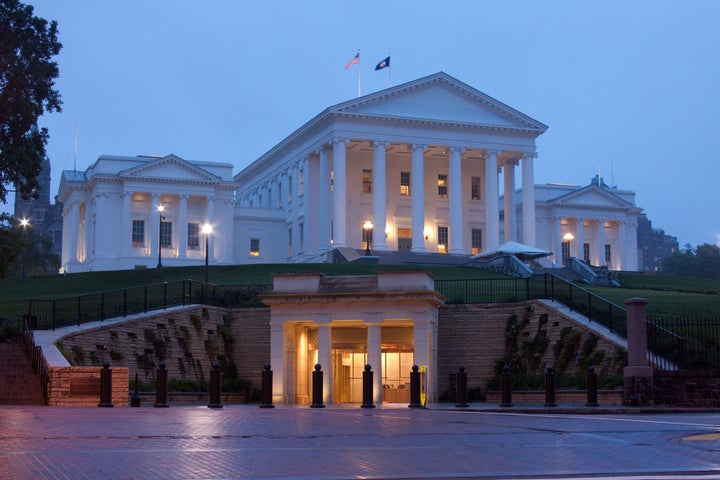 With low turnout across the state on Tuesday, Republicans picked up one Democratic seat and were leading slightly in another, leading to a scenario of a 20-20 split in the legislature's upper chamber, with Lt. Gov. Bill Bolling (R) casting tie-breaking votes.
An evenly divided Senate gives the GOP the upper hand, but will likely yield equal numbers of Democrats and Republicans on Senate committees, which has been a perennial killing ground for most conservative bills for years.
The seat that could determine whether Democrats hold on to a majority is the 17th District, where Democrat Sen. Edd Houck trailed his Republican challenger, Bryce Reeves, by 86 votes. The results fall within the margin required to call for a recount.
The race for this seat remains too close to call. Wednesday morning canvasses have yet to be held, and provisional ballots throughout the district have yet to be counted. Also, there were several significant discrepancies during Tuesday night's tabulation that deserve further attention during the canvassing and certification process. We look forward to monitoring this situation throughout the district to ensure that every vote is fairly and accurately counted, and we expect that Senator Houck will ultimately prevail in the final outcome.
In the Republican-controlled House of Delegates, the GOP picked up at least six seats.
As The Washington Post reports, "going into Tuesday's vote, Republicans had the edge in nearly every other way -- they raised millions of additional dollars, recruited more candidates and benefited from an increasingly unpopular Democratic president and an increasingly popular Republican governor."
Additionally, the new Republicans elected to the Senate are social conservative the Post reports are "eager to revive legislation -- regulating abortion and eliminating environmental rules, for example -- that has stalled or died in the purgatory of a Democratic-controlled Senate."
Gov. Bob McDonnell, an oft-mentioned Republican vice presidential nominee, said in a statement:
Over the course of this campaign, Republican candidates have focused on providing common sense solutions to the challenges facing our citizens. And that is how we will govern in the majority. We will continue to put forward common sense policies that will help the private sector create jobs and reform our government to make it more efficient and effective. I want to thank all the candidates, from both parties, who ran for office. Their commitment to public service is what our Commonwealth and country needs. Now, it is time to come together to govern and make this a true "Commonwealth of Opportunity" for all our citizens.
While the Senate race in the 17th District is still technically unsettled, some Democrats are preparing for a split chamber that gives the GOP the upper hand.
These losses cannot be explained away as the result of "unique local circumstances", election cycles, the Tea Party, the "Republican money machine", or President Obama's current poll numbers. To the contrary, these losses were caused by a series of very avoidable strategic mistakes that certain Virginia Democratic leaders made.
Rousselot said a combination of a "flawed, hyper-partisan Senate redistricting plan combined with very poor candidate recruitment" ultimately undermined the party's chances to hold its ground in Richmond.
Calling all HuffPost superfans!
Sign up for membership to become a founding member and help shape HuffPost's next chapter
BEFORE YOU GO