 CHARLOTTE, N.C. -- On the morning of Aug. 30, Sheelah Kolhatkar, a features editor and national correspondent for Bloomberg Businessweek, made her way into a breakfast fundraiser in Tampa, Fla. Karl Rove was speaking candidly to 70 top Republican donors about the mother's milk of American politics -- money. Of the 15,000 journalists who descended upon Tampa to cover the Republican National Convention, Kolhatkar's presence was notable. She was the only reporter in the room.
Kolhatkar, who primarily writes about Wall Street, headed down to Tampa just a day before, and said she initially "felt overwhelmed by this crush of reporters and outlets" who had already set up shop for days in the city. But her goal was to look for the "real story," which she said isn't found on the primetime stage, but within the "parallel convention going on in all the hotel ballrooms and private clubs around Tampa." She luckily scored an invite from a major Republican donor and attended the event without anyone asking whether or not she's a journalist.
Kolhatkar's piece about the Rove breakfast -- published the following day by a business magazine rather than any of the myriad non-stop news sites and broadcast outlets -- stood out amid reams of convention reporting, punditry, and Clint Eastwood-related tweets. It was an out-and-out scoop, an important window into Rove's role as the Republican Party's Daddy Warbucks, and the only piece Kolhatkar wrote before flying back to New York the next day.
"I think it's an important reminder of what's really driving this entire election," Kolhatkar said. "It gave us a real look at how these guys talk and how they see this whole thing, which is almost a big game they're very determined to win."
Scoops and valuable, legitimate nuggets of insight and information are hard to come by in Conventionland, yet reporters who swarmed the halls en masse in Tampa are all at it again in Charlotte, where the Democrats are set to kick off their election kabuki today.
While there have been questions in past cycles about media organizations pouring too many resources into highly scripted conventions, rumblings only seem to be growing that the current convention model is irretrievably outmoded. Journalists and other veteran politics-watchers now expect the three to four-day political media circuses to be scaled back considerably in the years to come. And those watching at home didn't seem to mind that this year's conventions were shorter than in years past, considering that TV viewership is down considerably from 2008.
Just before most reporters arrived in the Sunshine State, journalism professor Jeff Jarvis estimated that news organizations would drop around $60 million for the 15,000 journalists on hand in Tampa and Charlotte combined, a lot of zeroes for an industry that shed nearly 40,000 newspaper jobs over the last five years.
News organizations haven't only sent large numbers of staff. Some have also set up branded hotspots in each city, such as the "The Bloomberg Link," Politico "Hub," Huffington Post "Oasis," and CNN Grill -- the latter reportedly costing $2 million. Others, like newcomer BuzzFeed, opted to stage lavish parties, including a Tampa Aquarium bash complete with penguins and women dressed as mermaids performing underwater.
But how many iPhone-clutching, lanyard-wearing reporters are really needed to surround RNC chair Reince Priebus several times a day, each reporting, blogging and tweeting the same quote? How many photos can be tweeted of tipsy journalists posing with penguins?
Some veteran political journalists defend convention coverage, arguing that there are intangible benefits to attending, including the opportunity to flag countless members of the Republican and Democratic political establishment and delegates from across the country. By physically being in the convention hall, they argue, you see things you'd otherwise miss on your flat screen: the zeitgeist. Interaction with the party faithful, they say, can help inform coverage going forward.
But others, often after a few drinks at one of the innumerable parties filling the convention weeks, can get downright existential about being part of the massive journalist pack. Many of them end up wondering, "Why are we here?"
"NEVER WAS SO MUCH OWED BY SO MANY TO SO FEW"
So said Winston Churchill. And so said Sam Donaldson one evening at the CNN Grill, the Republican and Democratic convention hangout where media and political types mingle, and where Piers Morgan always has a prime table. Donaldson wasn't referring to the bombardment of London during WWII, but to the small army of scribes descending on Tampa and Charlotte to cover a couple of highly orchestrated political spectacles.
"There's very little point any more at this number," said the ABC News veteran, as former Bush press secretary Ari Fleischer ate dinner one table over and the New Yorker's Ryan Lizza and Mother Jones' David Corn chatted nearby at the bar.
As any reporter from the "Boys on the Bus" days will tell you, the old drama-filled conventions, complete with actual smoke-filled rooms, are a thing of the past. Yet Donaldson -- returning for his 24th and 25th conventions -- said "every news organization still wants to send some of its own to report the same story in its own unique style."
Matt Bai, a political writer for the New York Times Magazine, described the modern-day political convention as an "overblown news event" –- and one that he thinks can be trimmed in the coming years.
"There was a time, before I covered politics, when conventions made decisions," Bai said. "So it made sense to cover them." But these days, he said, they've become a "three or four-day orchestrated pep rally, at the expense of taxpayers."
"There are two things I get out of conventions," said Time's Joe Klein. "One is the journalistic tribal ritual of having dinner with a bunch of friends. The other is to get a sense of how the parties want to present themselves. You can do that in three hours."
Klein, marking his 20th convention in Charlotte, wasn't enjoying this one as much as cycles past. "I used to love conventions," he said, adding, "maybe it's just this year's campaign, which is kind of dispiriting."
Lately, a number of high-profile journalists have appeared to sour on political conventions and, specifically, the 2012 election. At the start of the RNC, The Huffington Post's Howard Fineman described the convention model as "an overburdened, archaic, doomed institution," while NBC's Tom Brokaw suggested shifting to a one-day event. A few days later, The New York Times' Mark Leibovich wrote a much-discussed magazine piece about being "completely depressed" by the current election, and some notable journalists -- members of a profession prone to griping -- talked to Politico Monday about "loathing" this election.
A common complaint among journalists is that the conventions are too scripted, thus allowing for few unexpected on-stage developments. Bai said the most buzzed about convention moment, Clint Eastwood's rambling empty chair routine, may have been the final straw in solidifying that nothing unexpected ever happens again.
"You may have just watched the last unscripted moment at a political convention in America," said Bai. "That one, tiny, unscripted, unapproved speech slipped through the cracks of the Republican Party. Only lesson anyone's going to take is it cannot happen again. Clint Eastwood may have just given the last speech from the heart in convention history."
Several journalists, in conversations with The Huffington Post mostly around the media centers of Tampa and Charlotte, offered a series of positive reasons for their treks to Conventionland.
"Part of it is force of habit," said PBS's Gwen Ifill, co-anchor for the network's convention coverage. "Everybody can't afford to get on the campaign trail and get on a plane and follow a candidate from state to state to state, but everybody can pull themselves together for a big heave to cover this event. It's like covering the Super Bowl when you don't cover the season. In a way, that's what you do."
Other veteran convention-goers agreed.
"This is where the event is," said the Washington Post's Dan Balz. "You can watch it on TV, but you can't talk to delegates if you're watching it on TV. You can't get a feel for the optics in a way that you do if you're watching TV."
David Corn, the Washington bureau chief for Mother Jones, said that while he could cover the entire convention via Skype and Facebook, there is "value in politicos and journalists getting together in what they used to call meatspace."
"Frankly, it's sometimes hard to get people on the phone if you're not The New York Times or Washington Post," Corn added. "But sitting here, particularly in this spot, I'm in a strategic spot at the moment." Indeed, while perched on a small ledge, talking to The Huffington Post, ex-Rick Santorum spokesman Hogan Gidley strolled over to chat.
"This is one really, really big green room," Corn said. "In the green room, everyone's kind of equal."
Sam Feist, the Washington bureau chief for CNN who's covered 10 conventions for the network, defended the media onslaught, arguing that it's a "moment when the public is really beginning to focus on the campaign and the candidates, and this is that one chance, particularly for Mitt Romney, to introduce himself to the American public for the first time when they are paying attention and kick off the campaign."
When asked at a Monday panel about the necessity of covering the conventions, Bloomberg's Al Hunt, a veteran of 20 such events, simply said, "they are old-fashioned and they're wonderful."
Time's Michael Scherer said there's value in physically being on the trail or at the conventions, despite presidential campaigns, by nature, being "incredibly inefficient."
"Could it be more efficient? Definitely," Scherer said. "If we brought in McKinsey and Bain to tell us how to do this for less cost and more bang for our buck, I'm sure we could come up with a better way. But that's the way it is."
Before You Go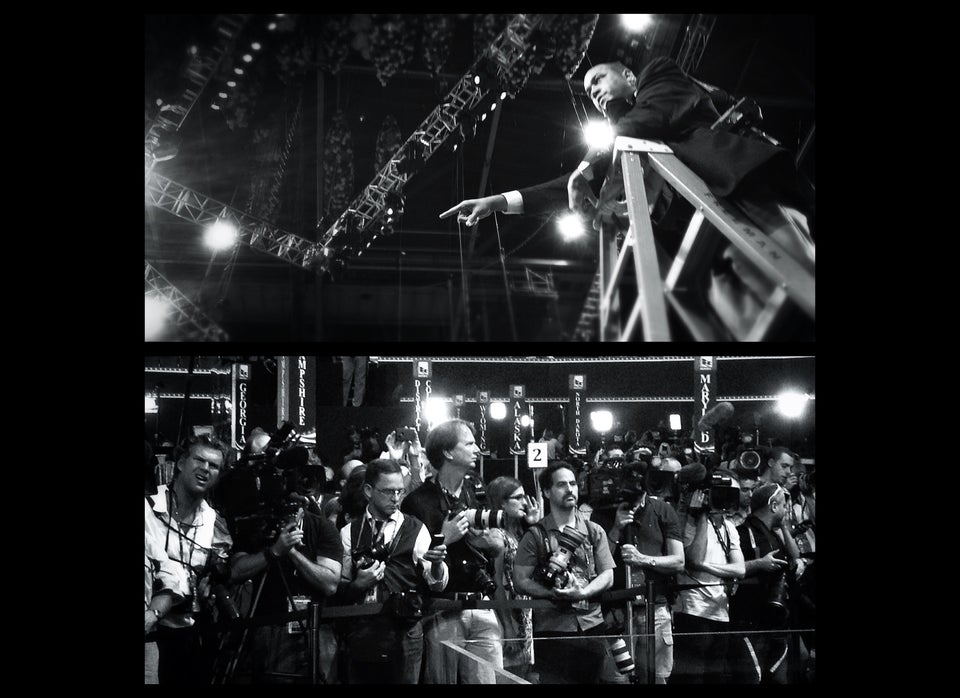 Gallery
Popular in the Community