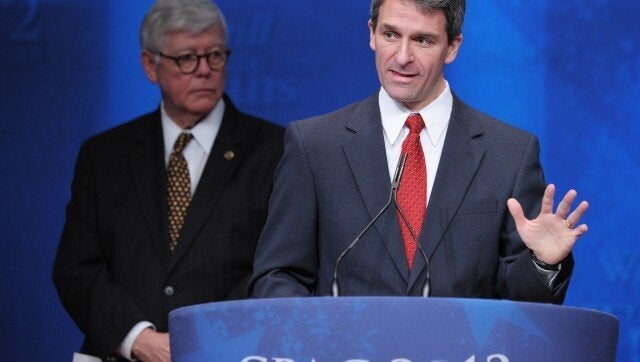 Democrats seeking to convince voters that Attorney General Ken Cuccinelli is too extreme on social issues to be governor are pushing abortion to the forefront of the 2013 statewide campaign.
The latest effort came with the release this week of a video recorded last June, when Cuccinelli, in an address to Christian conservatives in Williamsburg, drew comparisons between the fight to outlaw abortion and the struggle to abolish slavery.
Release of the video, distributed by the Democratic Party of Virginia, comes three weeks before a Board of Health vote on stringent new regulations of abortion clinics -- regulations that the anti-abortion attorney general played a significant role in shaping.
"Over time, the truth demonstrates its own rightness, and its own righteousness," Cuccinelli said in the June 14 video of an event hosted by the Family Foundation and Williamsburg Oak Initiative, another Christian conservative organization.
"Our experience as a country has demonstrated that on one issue after another. Start right at the beginning -- slavery. Today, abortion," he added.
"History has shown us what the right position was, and those were issues that were attacked by people of faith aggressively to change the course of this country," Cuccinelli said. "We need to fight for the respect for life, not just for life but for respect for life. One leads to the other."
The remarks brought condemnation from Democrats, abortion rights groups and even former Gov. L. Douglas Wilder, the grandson of slaves, who said the remarks were "hurtful" and reflected "ignorance."
Democratic gubernatorial rival Terry McAuliffe, who supports abortion rights, also chimed in Wednesday, saying Cuccinelli's remarks in the video "reflect a career-long focus on an extreme ideological agenda that has nothing to do with Virginians' top concern: the economy."
But Cuccinelli supporters were quick to jump to his defense.
Family Foundation president Victoria Cobb called the controversy a "transparently manufactured story about an almost year-old video taken in a church" that reflects "the mean-spirited, misleading, bigoted campaign we can expect from liberals in Virginia this year."
And Cuccinelli campaign spokeswoman Anna Nix did not steer away from Cuccinelli's stance on the abortion issue but said McAuliffe, a former Democratic National Committee chairman, is the one seeking to divide Virginia.
"Ken has always been pro-life," she said. "His top priorities are finding ways to grow Virginia's economy, fighting for middle-class taxpayers, and improving our educational system. Terry McAuliffe does not want to talk about these important issues or creating jobs in Virginia."
With less than eight months until the November election, the issue is not likely to go away soon. Such groups as Planned Parenthood and the Virginia Coalition to Protect Women's Health are lining up behind McAuliffe, while the anti-abortion Susan B. Anthony fund has pledged $1.5 million to back Cuccinelli in the Virginia governor's race.
On April 12, the Board of Health will vote on the proposed clinic regulations, which would require Virginia's 20 existing clinics to comply with building standards for new hospital construction.
Cuccinelli last summer refused to certify an amended version of the rules approved by the state Board of Health that would have grandfathered existing clinics from the construction requirements -- which opponents say are medically unnecessary and entail costs that could force the clinics to close for lack of compliance.
The deadline for public comment on the regulations -- which can be filed through the Virginia Department of Health website -- is March 29.
(c)2013 the Richmond Times-Dispatch (Richmond, Va.)
Distributed by MCT Information Services
Calling all HuffPost superfans!
Sign up for membership to become a founding member and help shape HuffPost's next chapter
BEFORE YOU GO
PHOTO GALLERY
War On Women