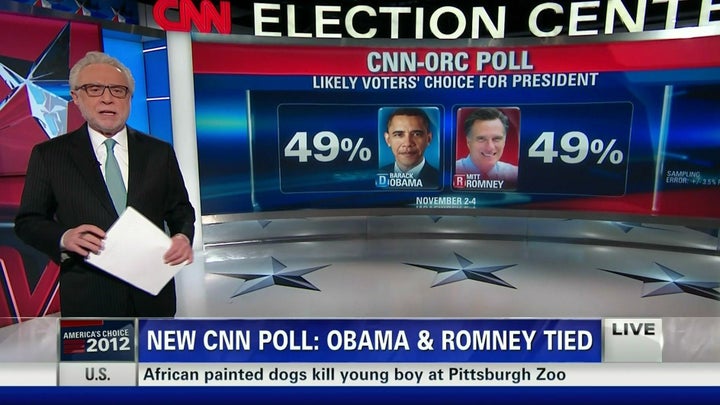 NEW YORK -- At 11 a.m. Tuesday, representatives from five TV networks and the Associated Press will head into the "quarantine room," an undisclosed location with no cell phone or Internet access.
That's where the National Election Pool -- ABC, CBS, NBC, CNN, Fox and the AP -- start sifting through exit poll data provided by Edison Research. Six hours later, staffers will be permitted to start sending data to their respective news organizations, while additional exit polls, especially on the West Coast, keep coming in. While news outlets can begin reporting after 5 p.m. on some general trends they have observed in exit polls, such as whether voters consider the economy the most important issue in the 2012 election, they're not permitted to publish or broadcast any information that suggests which way a state is leaning until its polls close and actual vote numbers start streaming in.
Four years ago, there was no mystery about who would become the 44th president when polls on the West Coast closed at 11 p.m., with all five TV networks and the AP calling the election for Barack Obama, who handily defeated Sen. John McCain (R-Ariz.) in the Electoral College. But executives and editors overseeing 2012 election calls -- like most of the news media -- expect a much closer outcome on Tuesday, resulting in a very long night.
"We might not be able to make a call on election night," said David Pace, the AP's news editor for elections and special projects.
That's not for lack of preparation. The AP has counted votes and declared winners in every presidential contest since 1848 and boasts an election night operation of over 5,000 people, including analysts, researchers, race callers and thousands of stringers in counties and townships across the United States to provide a vote count that's also used by the networks. On Saturday, the AP ran through a full rehearsal using simulated votes, with 40 staffers in the D.C. bureau and race callers around the country.
But as sophisticated as the AP's operation is -- along with the broadcast and cable networks -- executives and editors haven't forgotten past election night debacles. Most notably, the networks and the AP called Florida for Al Gore in 2000, only to either call the state for George W. Bush later in the night or hold off on any final decision, as the AP did, until the Supreme Court rendered its verdict. In 2004, networks were more cautious in not making definitive judgment on whether Bush or Sen. John Kerry (D-Mass.) won until the morning following Election Day.
In addition to premature calls, another concern in 2012 is misinformation spreading on Twitter. As the AP performed its election night dry run on Saturday, editors warned staffers about the pitfalls of tweeting or retweeting other news organizations' Tuesday night calls. However, the AP will be tweeting its own presidential election calls for the first time on Tuesday, just as the results are sent across the wire.
While networks can take home bragging rights for being first to call a state, or the entire election, executives and editors were quick to tell The Huffington Post that they're not competing against one another.
"We don't get any pressure from our bosses to be first here," Pace said. "We get pressure to be right."
CNN Washington bureau chief Sam Feist, who will oversee calls made Tuesday night, said, "It's of no interest to me who's first, second, third, fourth, fifth."
"There may be a rush on the part of others, but there's no rush on the part of CNN," Feist added. "We're in absolutely no rush to make a projection. We're happy to be last."
CNN will not feature holograms on Tuesday -- unlike on election night in 2008 -- but will show off some virtual bells and whistles from the network's new Washington, D.C. studio. For instance, Feist said that John King will have all exit poll data at his fingertips by way of CNN's "Magic Wall," pulling everything from breakdowns of, say, Catholic union voters in Ohio to Hispanic women voters in Florida.
NBC elections director Sheldon Gawiser, who has worked on every presidential contest since 1976, said the network-AP consortium has made some changes this cycle in exit polling, given increased early voting and a focus on battleground states.
For instance, given the huge percentage of early voting in Colorado and Oregon, executives saw less reason to have someone asking questions on the ground at polling sites in those states. While there will be full exit polling in Massachusetts, given its highly competitive Senate race, other states not believed to be in contention for the presidential race will not have such extensive exit polls.
"Why should I put a lot of resources in Utah or Vermont or Rhode Island?" Gawiser asked, adding that the consortium has "put our resources where the stories are and where the states are most important."
News executives expect the quarantine process to prevent exit poll leaks from appearing online before the voting is done in each state. Reports of early exit polls in 2004 wrongly suggested Kerry would win the Electoral College. Provided there are no leaks, viewers won't learn of exit results until the polls close in each state, the earliest starting at 7 p.m.
"After poll closings, we will begin to report what we know and what we're seeing," said Anthony Salvanto, CBS News' director of elections. While exit polls may play a role, Salvanto stressed that the key to making a call is preparation done long before the votes start coming in.
"We try to prepare for all kinds of possibilities," Salvanto said. "We do a lot of research on every state and that includes collecting as much information as we can about the size of precincts, the size of counties, how they have voted in the past -- all the things that go into the model so when we get results, you're prepared to incorporate everything you know."
On Tuesday night, Feist said CNN's responsibility is to provide as much new, relevant information to viewers as it can through the course of the night, rather than broadcasting hours of punditry.
"This is when you want facts," Feist said. "You don't really care about political opinions on election night."
Related
Before You Go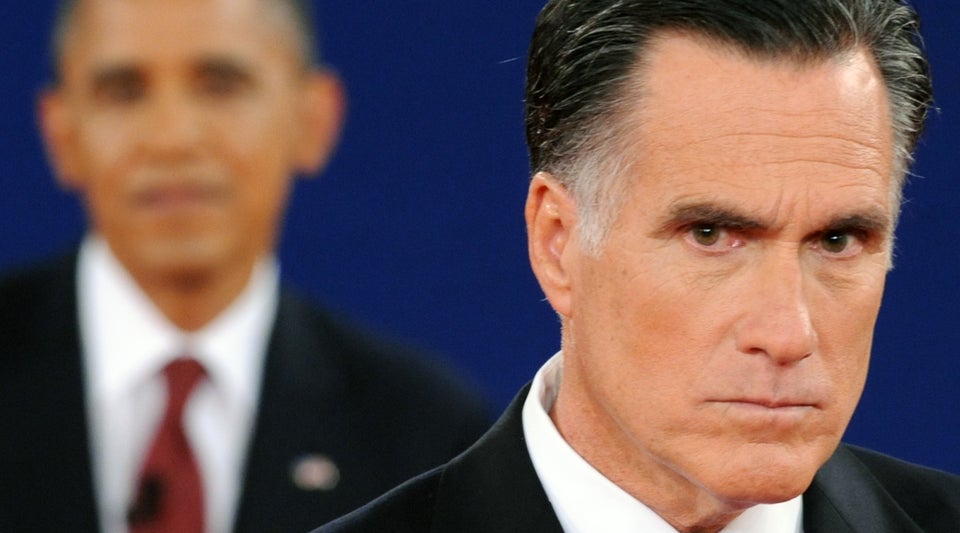 Second Presidential Debate Photos
Popular in the Community