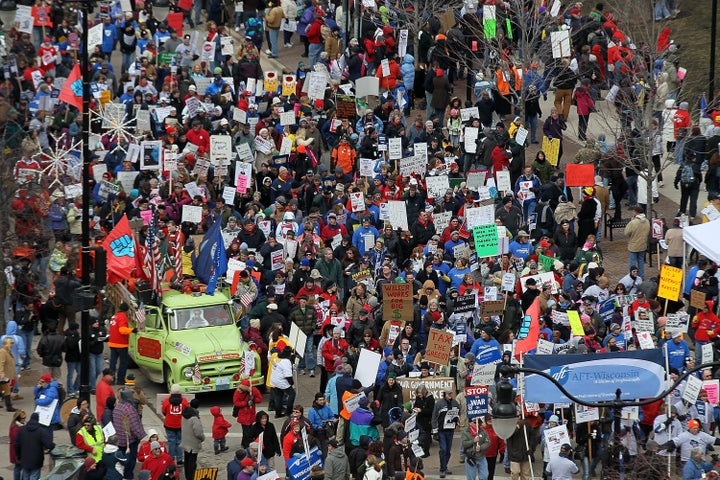 WASHINGTON -- Last year, the Texas State Board of Education became embroiled in national controversy when its efforts to adjust the state's social studies curriculum and textbooks gained widespread notice. The conservative majority on the board, which wielded enormous influence over what the state's children would learn and essentially had the power to rewrite the nation's history, wanted more references to Christianity and conservative figures and fewer mentions of civil rights leaders and liberals.
Many Americans had never heard of Texas' educational standards process until that moment. Social conservatives, however, had been watching it for decades. The effort really kicked into gear in 1994, when the Texas Republican Party recruited conservative candidates to run against the board's moderate incumbents and wealthy donors began pouring tens of thousands of dollars into local school board races.
By 2006, Republicans controlled 10 of the 15 seats. In 2007, Texas Gov. Rick Perry (R) named the far-right Don McLeroy board chairman, cementing the conservative bloc's power and sending a clear signal to progressives that they had some catching up to do.
Progressives are now hoping to chip away at conservative dominance at the local governance level with 2,012 for 2012, a project by the New Organizing Institute and a coalition of left-of-center groups, including Progressive Majority and Rebuild the Dream. The original goal was to recruit 2,012 progressive candidates to run for local office in the 2012 elections, but the response was so overwhelming that the project has increased its goal to 5,000. So far, it has compelled 1,500 progressive candidates to pledge to run.
The effort is being led by Carlos Odio, who served on the Obama campaign and in the White House's Office of Political Affairs.
"[The White House] was a very good vantage point to see that increasingly, in so many of the fights that we were fighting, the battlefields were actually out in the states," Odio told The Huffington Post in an interview. "If we really want to make some progress on all these things that we care about, we not only have to get those decision-makers to be our allies, we have to actually elect our allies as decision-makers."
Groups like the Christian Coalition and the Moral Majority led the way in grassroots organizing in the latter part of the 20th century -- long before George W. Bush became president. They took advantage of local organizations that already existed in church and home-schooling groups and turned them into powerful political constituencies. Activists backed socially conservative candidates at all levels and elevated issues like school prayer to the national stage.
Ralph Reed served as executive director of the Christian Coalition in the 1990s and now heads the Faith and Freedom Coalition. He told The Huffington Post that while progressives may now be looking to stop conservative gains at the local level, conservatives were originally taking a page from the progressive playbook, pointing to politician and presidential nominee Bob LaFollette in Wisconsin, the Democratic-Farmer-Labor movement in Minnesota and Woodrow Wilson in New Jersey.
"They really believed that change and reform would percolate up from the states to the federal level. And that the state, I believe -- to borrow a phrase from Louis Brandeis -- were laboratories of democracy," he said. "So you began by winning control of state legislatures and capitols -- and that's where the first child labor laws were passed, that's where women first gained the right to vote. All the things that we associate with the progressive movement reforms were first done at the state level."
"We did the same," he continued. "Before Newt Gingrich was speaker and George W. Bush was president, you had people like John Engler and Tommy Thompson and Rudy Giuliani who were reforming welfare in their states. And change in America always goes from the state to the national level, not the other way around."
The energy seems to be there for progressives to step it up. In 2008, more than half-a-million supporters responded to an Obama campaign survey; 10 percent of respondents said they would be interested in running for elected office.
Pedro Lopez, 19, has pledged to run for the Cartwright District School Board in Phoenix, Ariz., telling The Huffington Post his community needs progressive leadership now more than over.
"Our community needs equal access to education," he said. "The community needs opportunity in this economy. These are the values that progressive leaders have, and this is what we need here in Arizona especially. We need progressive leadership to lead us out of this bad economy here in Arizona."
"In the military, we had a creed that says nobody gets left behind," said Paul Worley, an Army veteran of the Iraq and Afghanistan wars who earned three Bronze Stars and is running for county commissioner in his native Adams County, Ohio. "I think those progressive values of making sure that everyone has a voice, and we're not just taking care of people who hold influence. We make sure that we're not just giving handouts, we're giving a hand up to those people that need help to make sure that no one gets left behind."
Sabrina Brennan of California hopes that another movement, Occupy Wall Street, will move progressives to run for local office. She ran for San Mateo County Harbor Commissioner in 2010, but narrowly lost her race. She has now pledged to run again in 2012.
"I think we're seeing some new energy from younger people regarding democracy in general," said Brennan. "One example of that would be Occupy Wall Street. I think that what's happening right now is ... that new people are getting more engaged. It's because we're having so many problems in our country right now, so people are feeling called to duty. They want to serve, and they want to figure out how to help their community. I think local issues and local government is the perfect place to do that. That's what got me interested."
All the candidates stressed that they are going to run on the local issues their community cares most about, rather than going after the national issues and legislation being pushed in Washington.
Reed said conservatives employed the same tactic in their organizing.
"When I was at the Christian Coalition and we were recruiting and running people for school board and state legislature, we didn't encourage them to just run on the social issues," he said. "We didn't tell them to run on just abortion and school prayer. Their job was to run on the issues that people cared about, which were jobs and the economy, taxes, spending, health care and education."
The website of 2,012 for 2012 is intended to be a central hub for local progressive candidates to connect them with existing resources, supply guides on the basics of campaigning and provide a place for people to pledge to run, as well as urge others to do so.
One aspect that 2,012 for 2012 isn't taking on is funding local candidates. Odio said that existing groups, such as the Women's Campaign Fund and Emerge America, already provide financial or technical backing.
Progressive Majority is also running a complementary recruitment effort called Run for America, which focuses on recruiting strong progressive candidates in key states. According to Robert Borosage, chairman of Progressive Majority's board of directors, prior to 2010, the effort helped "elect more than 400 progressives, serving to flip six state legislative chambers, and 40 local governments." It now has 500 candidates on its "farm team" to run in 2012 and beyond.
Odio acknowledged that conservatives have been using these tactics for far longer, and it will take progressives quite some time to catch up. Yet he remains hopeful.
"As progressives, we have the ability to do this," he said. "For 10 years now, we have been fighting back. We have been making progress. This is an effort to take it to a whole new level. We have the resources, we have the know-how, we have the opportunities -- we just need to bring it all together. 2012 is a great opportunity to do that."
This story was updated to clarify Emerge America's role.
Popular in the Community