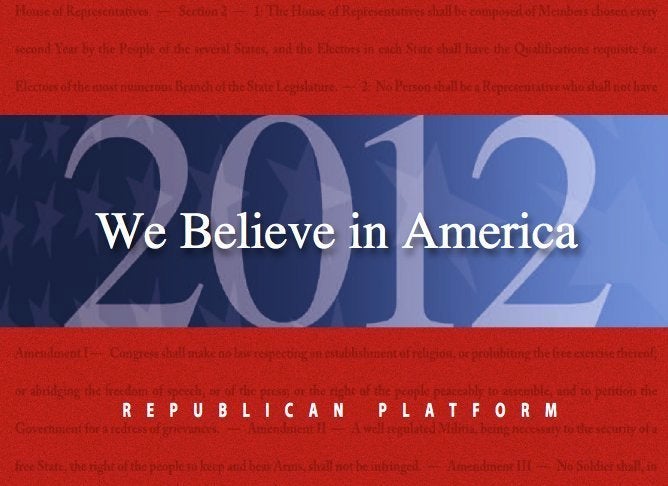 Rejecting a "one size fits all" approach to education, the 2012 GOP education platform advocates providing broad education choices to parents and children at the state and local level -- whether through charter schools, open enrollment requests, college lab schools, virtual schools, career and technical education programs, vouchers or tax credits. According to the platform, consumer rights in education -- choice -- remains the most important force in renewing America's schools.
"If money were the solution, our schools would be problem-free," the platform reads. "More money alone does not necessarily equal better performance."
Accountability on the part of administrators, parents and teachers
Higher academic standards
Programs that support the development of character and financial literacy
Periodic rigorous assessments on the fundamentals, especially math, science, reading, history and geography
Renewed focus on the Constitution and the writings of the Founding Fathers, and an accurate account of American history that celebrates the birth of this great nation
Transparency, so parents and the public can discover which schools best serve their pupils
Flexibility and freedom to innovate, so schools can adapt to the special needs of their students and hold teachers and administrators responsible for student performance
Reiterating its commitment to school choice, the GOP advocates "options for learning," including home schooling, single-sex classes, full-day school hours and year-round schools.
In an effort to ensure that "all students have access to the mainstream of American life," the GOP stands behind the "English First" approach and opposes "divisive programs that limit students' ability to advance in American society."
Broaching the subject of sex education in schools, the Republican platform issues a renewed call for replacing "family planning" programs for teens with abstinence education, as that is the only way to protect against out-of-wedlock pregnancies and sexually-transmitted diseases. Branching off of that, the party opposes school-based clinics that provide referrals, counseling and related services for abortion and contraception. It also rejects the allocation of federal funds to mandatory or universal mental health, psychiatric or socio-emotional screening programs.
Addressing the rising costs of college, the GOP platform recommends a return to higher education programs tied directly to job opportunities; this entails pushing for low-cost alternatives to traditional four-year colleges, such as expanded community colleges and technical institutions, private training schools and online universities.
Finally, the federal government "should not be in the business of originating student loans," according to the platform. Rather, it should serve as an insurance guarantor for the private sector as those companies offer loans to students.
Support HuffPost
The Stakes Have Never Been Higher
Related
Popular in the Community