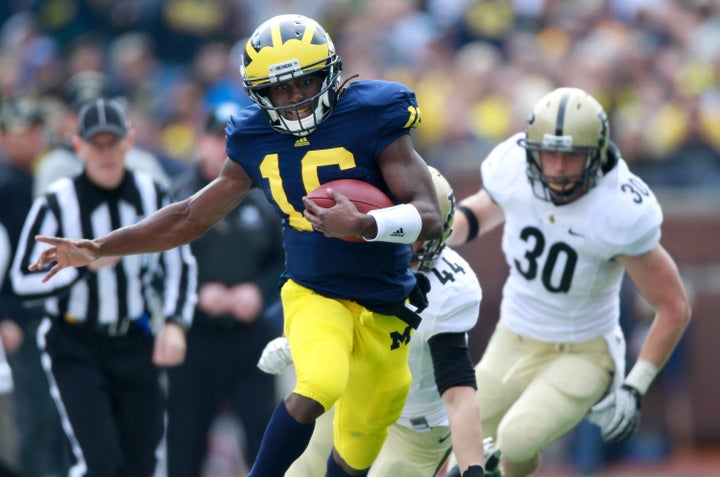 By Dave Miller, National Football Post

Baylor quarterback Robert Griffin III claimed the Heisman Trophy on Saturday evening in New York City after an often-breathtaking 2011 season.
We know that Stanford's Andrew Luck likely won't be back next year, and I think it's safe to assume that Griffin III and Trent Richardson won't be returning to Baylor and Alabama, respectively, either.
Montee Ball, RB, Wisconsin: Ball could declare for April's NFL Draft, but let's assume that he'll return for his senior season. All he does is score touchdowns, and he ranks fourth in the nation in rushing at 135.3 yards per game. If he is able to find the end zone twice against Oregon in the Rose Bowl, he will break former Oklahoma State star Barry Sanders' FBS record for single-season total touchdowns of 39. He may be in a numbers-friendly offense, but there's no denying Ball's impact on this Badgers squad.
Tyrann Mathieu, DB, LSU: Mathieu is finishing just his sophomore season, but he's played like an upperclassman throughout his career on the national stage. He has been the most valuable defensive player on LSU's team despite not being the best cover man, and his punt returns sparked the Tigers in back-to-back late-season games against Arkansas and Georgia. He will be trying to live up to lofty expectations next season because of his incredible campaign this year, but how can we ever doubt the "Honey Badger?" He will, however, need to make similar impacts as both a returner and a defender.
Matt Barkley, QB, USC: I argued in my final NFP Heisman Watch that Barkley deserved a spot in New York after his fantastic junior season. He wasn't the reason that 'SC lost to Stanford, and his only "off" game was the road loss at Arizona State. While the Trojans aren't in the postseason because of NCAA sanctions, Barkley led a BCS-level squad this fall. The major question is whether he returns for a final campaign and bypasses the NFL Draft after completing 69.1 percent of his throws for 3,528 yards and 39 touchdowns against 7 interceptions. He'll have the best receiver combination in the nation in Robert Woods and Marquise Lee, and a ton of starters return on both sides of the ball. My feeling is that he comes back and the Trojans are a preseason Top 5 team in 2012.
Collin Klein, QB, Kansas State: RG3 won it this season, so why can't another dual-threat quarterback from the Big 12 claim the award next year? Klein may have had the most dominant under-the-radar season in recent memory, rushing for 1,099 yards and 26 touchdowns and throwing for 1,745 yards and 12 scores this fall. While the Wildcats' defense was their calling card this year, Klein was often a one-man show offensively. He will get the chance to perhaps claim Big 12 offensive player of the year in 2012 and state his case for an invite to New York.
Denard Robinson, QB, Michigan: Robinson has had no problem generating early-season Heisman hype the last two seasons. But can he sustain that strong play for an entire campaign? He'll have one more chance to put it all together in 2012, but he needs to be able to limit his turnovers (namely the interceptions) and stay on the field (he gets banged-up easily). The Wolverines don't have to necessarily go to a BCS bowl game again — look at Baylor and RG3 — but he must make strides in the passing game to go along with what should be strong rushing numbers. If he can do what he did this year against Ohio State more often — he completed 14 of 17 passes for 167 yards and three touchdowns and had 170 yards and two scores on the ground — he will be in this race all season.
Aaron Murray, QB, Georgia: I would be stunned if Murray left for the next level as a third-year sophomore, because with another year he could cement himself as a Top 10 pick in the 2013 NFL Draft. He led the SEC with 33 passing touchdowns despite losing star receiver A.J. Green to the pros, and new top target Malcolm Mitchell will have a year of experience under his belt. Plus, star running back Isaiah Crowell gives this Bulldogs offense very good balance. Murray has the swagger and could start his campaign with a strong showing against a tough Michigan State squad in the team's bowl game.
Marcus Lattimore, RB, South Carolina: Lattimore's season was cut short because of a knee injury, so we certainly have to keep an eye on whether he is able to come back at 100 percent. Before being shelved, he was a central focus of the Gamecocks' offense — and often the only offense as South Carolina struggled to move the football with Stephen Garcia. If he's healthy, an invite to New York will not be far behind.
Tyler Wilson, QB, Arkansas: Wilson put up very good numbers this fall in his first year as the starter after taking over for the prolific Ryan Mallett. While his talented receiver corps will get hit by graduation, new coordinator Paul Petrino should be able to help Wilson maintain his high level of play, especially with a sound rushing attack led by Knile Davis to complement the passing game. Wilson showed how tough he was in losses to Alabama and LSU — he was beat up in those contests but never lost confidence — and he could be poised for an even better year next season. And that would be truly impressive considering he completed 63 percent of his passes for 3,422 yards and 22 touchdowns against just six picks.
Tajh Boyd, QB, Clemson: Up until the time the Tigers dropped three of four games to close the regular season, Boyd was arguably a dark horse candidate to make it to New York. But turnovers played a key role in Clemson's rough patch before Boyd and the Tigers bounced back in the ACC title game. Next year, Boyd will work behind a new offensive line and likely without tight end Dwayne Allen. But he'll still have receiver Sammy Watkins — already one of the best offensive weapons in the nation — as well as DeAndre Hopkins. The dual-threat should continue to thrive in this Chad Morris offense.
Geno Smith, QB, West Virginia: Smith could begin his 2012 Heisman campaign with a strong showing against Boyd and Clemson in the Orange Bowl. The signal-caller in Dana Holgorsen's spread attack, Smith will have a year under his belt in this scheme and should really thrive next fall. Keep in mind that he passed for 463 yards and two touchdowns against LSU this year. If the Mountaineers could remain competitive in the Big 12 (I don't think the Big East will hold up an early move) and compete for another BCS bowl next year, Smith could be a dark horse contender.
Kenjon Barner, RB, Oregon: Backing up 2010 Heisman finalist LaMichael James this fall, Barner rushed for 909 yards and 11 touchdowns, and those numbers should skyrocket if James decides to move onto the NFL, which is very likely (and why he didn't make this list). Backfield depth didn't hurt the chances of James last season — and he likely would have been in New York if he didn't miss a few games with the elbow injury. So the Ducks' backfield depth won't hurt Barner's numbers next season.
Others to keep an eye on: Alabama RB Eddie Lacy, Arkansas RB Knile Davis, Auburn RB Mike Dyer, Ohio State QB Braxton Miller.
Email dave.miller@nationalfootballpost.com or follow me on Twitter at Miller_Dave
Popular in the Community