Looking back at 2012 it is clear that the jobs market turned in a solid and underwhelming performance. In fact, 2012, was a slightly weaker re-run of 2011 with a significant decline in the headline unemployment rate. The January 4 Employment Situation report from the Bureau of Labor Statistics, BLS, reveals that the unemployment rate remains at 7.8 percent with 155,000 net new non-farm payrolls. We started 2012 with 8.3 percent unemployment and ended the year with 7.8 percent unemployment. The broad inclusive unemployment measure, U-6, was unchanged in December at 14.4 percent. About 40 percent of our unemployed have been out of work for 27 weeks or longer and we saw upticks in adult female (7.3 percent) and African American (14 percent) unemployment. 2012 as a year and the December 2012 report, underline our modest expansion going into tax increases and spending cuts associated with budgeting and the fiscal cliff.
The missing piece of the analysis remains the cumulative damage from years of flat to declining wages, when adjusted for inflation. In 2012 wages rose around 2 percent and the CPI was up 1.8 percent. Wages have just kept up, or failed to keep, up since the recession began. In short, America has not gotten a salary increase in five years. The debt overhang from the period 2002-2008 makes stagnant wages more painful. In addition, recently passed payroll tax increases will more than fully offset the nominal wage gains for the vast majority of working Americans.
This might have been offset if we able to have a dramatic and sustained increase in employment, despite the lack of wage growth. We were not. 2012 adds another year of stagnant wage growth and lackluster job growth. Below find two charts that tell this story. Chart 1 looks at the population not in the labor force. The stubbornness of elevated populations out of the labor force is a long-term concern and limits recovery. Chart 2 looks at the number of unemployed people. Here again we see numbers that remain elevated. Our economy is not raising wages, generating sufficient jobs to utilize new graduates and active job seekers. In addition, we have accumulated a significant pool of people left behind by our recovery. 2012 showed some real recovery. Our recovery remains dramatically underwhelming.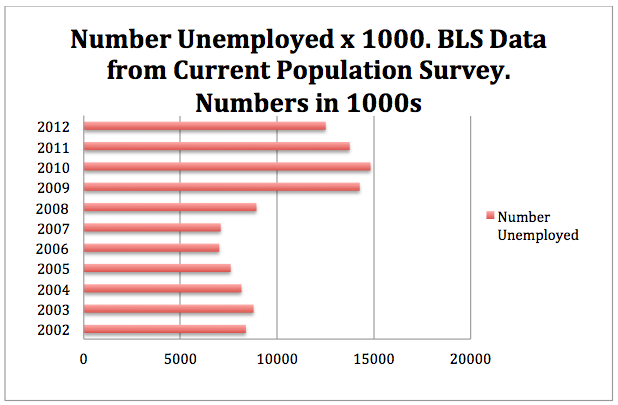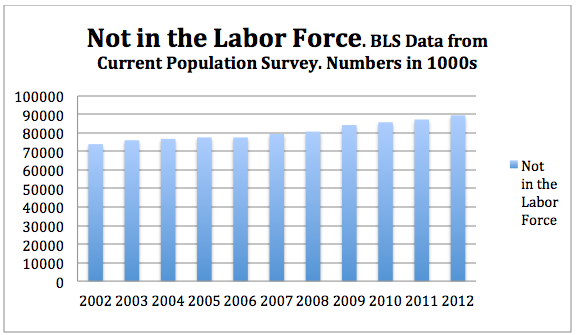 Related
Popular in the Community