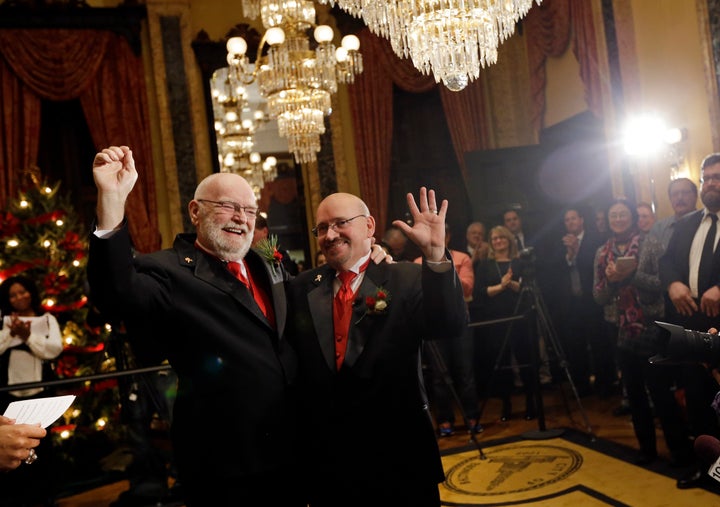 It was unthinkable in my high school years that I, a gay person, could be a successful politician. It was drilled into our heads that we had to be "extras" in the political arena but never star in the leading role. The jobs we could take, if we remained at least semi-closeted, were communications director, political consultant or campaign manager. But the idea of people voting for an open homosexual to lead a city or represent a state was almost unfathomable.
After decades of bitter fighting against implacable foes, the tide finally turned in the remarkable year of 2012. President Obama took a "risk" in backing marriage equality and still handily won reelection, sweeping the majority of swing states, where this issue could have harmed his chances of winning. Wisconsin elected Tammy Baldwin, the nation's first openly gay United States senator. Joining Baldwin in Congress are David Cicilline (D-R.I.), Sean Patrick Maloney (D-N.Y.), Mark Pocan (D-Wis.), Jared Polis (D-Colo.), Kyrsten Sinema (D-Ariz.) and Mark Takano (D-Calif.). Additionally, there is a farm team of openly gay and lesbian state lawmakers, who all have bright futures.
The historic year of 2012 brought victory in four gay marriage referenda (Maryland, Maine, Minnesota and Washington), bringing the total of states with same-sex marriage to nine (plus the District of Columbia). The entire region of New England, except for Rhode Island, is a gay marriage zone. By the end of 2013, all of the West Coast, with the exception of Oregon, could potentially have marriage equality. In the Midwest there is a decent chance that Illinois will join Iowa in marrying gay couples.
In 2012 we saw the unraveling of the so-called "ex-gay" industry. The year started with Alan Chambers, the president of Exodus International, admitting that Exodus had a 99.9-percent failure rate. Dr. Robert Spitzer renounced his infamous 2001 study that said that some highly motivated homosexuals could change from gay to straight. California passed a law prohibiting "ex-gay" therapy for minors, while Rep. Jackie Speier (D-Calif.) introduced a resolution condemning such quack therapy. The Southern Poverty Law Center launched a landmark lawsuit against the "ex-gay" program Jews Offering New Alternatives to Homosexuality (JONAH) for its quack-like practices.
The past year offered an avalanche of celebrities who came out of the closet. The all-star list was led by CNN host Anderson Cooper and ABC weatherman Sam Champion. We saw a professional boxer, Orlando Cruz, a former NFL player, Wade Davis, and several Olympic athletes acknowledge their sexual orientation. Rapper Frank Ocean came out, and the hip-hop world didn't seem to care. The most influential new political figure, New York Times writer Nate Silver, also announced that he was gay. The number of people who acknowledged their sexual orientation in 2012 was so great that for the first time, there are top-50 lists.
The future seems limitless, and gay youth can plan brilliant futures in which their sexual orientation is not an impediment to success. This is not only a time for dreaming but a moment when dreams come true. America electing the first openly gay president is now a distinct possibility within my lifetime.
Meanwhile, our most fearsome foes appear rather feckless. Catholic bishops and fundamentalist Christians repeatedly teamed up to deny LGBT people equal rights. These zealots gave it their best shot and still failed. They will not give up, and we will still have to battle these bigots to achieve full equality. However, we are in a situation where even conservatives like George Will and Newt Gingrich admit that there is no putting the gay genie back in the bottle. Those who still oppose gay rights are increasingly viewed as dead enders, such as the National Organization for Marriage's Brian Brown, and fringe fanatics like Peter LaBarbera, who snoops around gay sex clubs and events and calls his voyeurism "research." Outspoken homophobia is increasingly terrain where reasonable and respectable people will no longer venture.
The LGBT movement will have its good days and bad in the year ahead. Gay people can still be fired in most states because of their sexual orientation. Bullying is an ongoing problem in schools. Society must address the despicable violence and hostility against transgender people.
Still, it is pretty clear that there will be fewer setbacks and more celebrations in the coming years. While the New Year's Eve pyrotechnics are over, the fireworks for the LGBT movement will continue in 2013.
REAL LIFE. REAL NEWS. REAL VOICES.
Help us tell more of the stories that matter from voices that too often remain unheard.