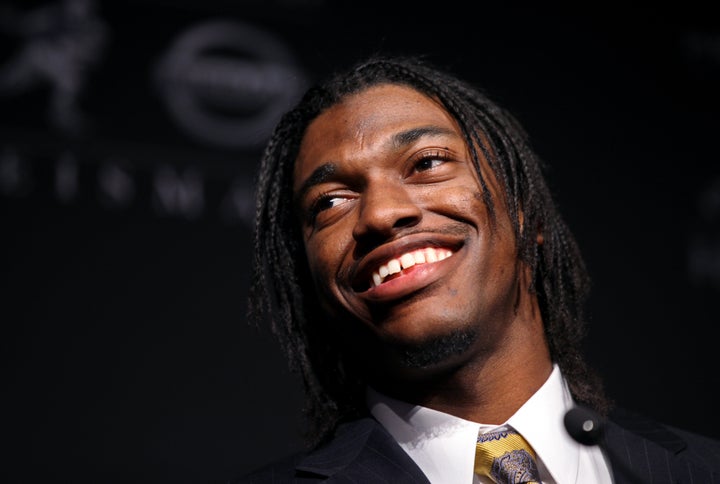 Tonight, as every ESPN viewer can tell you with wearisome certainty, the National Football League's annual draft will take place. The likely No. 1 and No. 2 picks will be quarterbacks Andrew Luck and Robert Griffin III. Both have been analyzed to the last hundredth of a second, their abundant strengths and minor weaknesses tabulated, and their futures calculated with unsettling assurance. It seems that everything that could possibly be said about these young men has been said.
Missing from the official scouting reports and most sports commentary is the factor that would have once determinedly shaped their livelihoods, social relationships -- and yes, their draft order. That characteristic is, of course, their skin colors. Luck is white and Griffin is black. And what makes that fact at all relevant is that Luck and Griffin will soon be playing the most racially divisive position in sports: NFL quarterback.
On television and radio, in periodicals, and on the mainstream web, quarterback skin pigment is usually discussed via indirection, through the euphemistic language of "pass" (white) versus "run" (black) signal callers. But it is a regular topic of conversation and it subtly insinuates itself into the otherwise cheerful banter carried on by carefully balanced panels of white and black sports commentators -- and no doubt into the water cooler conversations that follow.
At least twice in the last decade, the gloves have come off. The first big fight over quarterback skin pigment broke out during Rush Limbaugh's short 2003 stint as on ESPN Sunday NFL Countdown when the conservative talk show host suggested that Philadelphia Eagles' quarterback Donovan McNabb had been puffed up by a media that wished to see black quarterbacks succeed. Amid a storm of outrage, Limbaugh resigned. But tensions persisted and finally boiled over again in 2007 when the beleaguered McNabb (who had by this time led his team to four conference championships and one Super Bowl) told an HBO interviewer that black quarterbacks were exposed to more severe criticism and held to higher standards than their white counterparts.
Since the furor over McNabb's comments subsided, the issue has remained at a steady simmer. Before last year's NFL draft, Hall of Fame quarterback Warren Moon (an African American who experienced six years of record-setting exile in Canadian football before making it on an NFL roster) accused critics of understating Heisman Trophy winner Cam Newton's abilities as a team leader and a discerning pocket passer, while inflating his aptitude for running very fast. The reason, Moon observed, was the fact that Newton (ultimately selected first in the draft) was black.
Moon's lament reflects a broader concern expressed by many African Americans writers and athletes who complain that black quarterbacks are dismissed more quickly and hired more grudgingly than white quarterbacks. Moreover, they contend that when praised, black quarterbacks are applauded for their "athleticism" rather than mental aptitude.
But why do white men care so much about the position? Well into the 1990s, NFL quarterback was a predominantly white position, "stacked" with Montanas, Marinos and Elways when nearly every position was being filled with Paytons, Taylors and Rices. Not until 1990 was a black quarterback selected in the first-round of the NFL draft. But that has changed. And since 2001, three African American quarterbacks have been the first players selected in the entire NFL draft.
Something else has changed. During that same two decade stretch, the proportion of white players in the NFL shrank from 39 percent to 31 percent, a trend that parallels similar demographic changes in basketball and baseball. Middle-aged white men, who had already witnessed the rapid disappearance of similarly pigmented players at the high profile positions of running back and wide receiver now confronted the possibility that the one remaining glamor position in America's most popular sport might soon be inaccessible to anyone who looked like them. And how many sons dream of growing up to be punters?
Of course, an NFL quarterback requires prodigious arm strength and cat-like agility. Yet in a game epitomized by bone-rattling tackles, it is mental acuity, that often distinguishes good quarterbacks from bad. Moreover, the quarterback position is a position of special reverence among fans. Quarterbacks are signal callers. No one on offense moves before they say so. Years ago, most of them even called their own plays. For blacks to "gain" the position is a sanction for black ascendance into leadership positions generally; for whites to "lose" it is to affirm their waning significance in American society.
But why make a big deal about racial differences -- especially when few people are talking about it? That is a good question. But the angst regarding quarterback skin pigment is unlikely to disappear any time soon. Because of black worries about being known for their bodies rather than their mind and white concerns that their bodies will be disregarded altogether, quarterback skin pigment will remain an open wound that reopens during the (half-naked combine) months leading up to the draft, as well as those occasions during the NFL season when white fans scream for the benching of an African American quarterback.
The fact that Andrew Luck has been widely praised for his athleticism and Robert Griffin III for his leadership qualities and comprehension of sophisticated passing schemes may reflect a change in the tormented way that we talk about quarterbacks and race (the conversation may have also been inflected this past year by the unlikely performance of the white, run-first quarterback Tim Tebow during the NFL's last season). So there may be reasons for optimism tonight. But we shouldn't count on this fraught subject disappearing anytime soon -- and we should give some thought to how we can civilly and forthrightly address it.
Support HuffPost
The Stakes Have Never Been Higher
Related
Popular in the Community