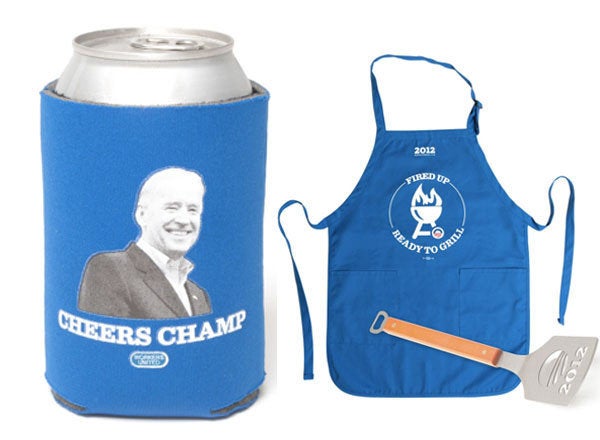 WASHINGTON -- For the politically minded holiday shopper, this season presents a cornucopia of options. Politicians of all stripes are offering backers a chance to purchase campaign-related swag. But few are doing it as brazenly as President Barack Obama.
For $20 the Barack Obama reelection campaign will sell you a soy candle, a cutting board or a baby onesie. For five bucks more, you can get a pint glass or golf ball set, each with the Obama campaign insignia. For $35 you can buy yoga pants with a "2012" print down the right leg. For $65, there is the tailgate pack, replete with an apron bearing the message, "Fired up and ready to grill." And a "limited-edition" rhodium ball ornament is being offered for $40, just in time for the holidays. The website declares that it will "really stand out," in addition to being "a great companion to [the campaign's] glass ornament set." For good measure, the campaign offered free shipping on Black Friday –- "Skip the lines today," the Obama for America email read -- and $5 purchases during Cyber Monday.
Political campaigns are increasingly taking on the tone of the Home Shopping Network. Offering people the opportunity to proudly display their devotion to a candidate, they push overpriced and generally poor quality goods on willing purchasers. In the end, however, it's the candidate who gets the gift: stuffed campaign coffers and the ability to pad the number of "small donors" he or she is able to report.
The use of merchandise as a fundraising tool didn't start with Barack Obama, but he certainly popularized it during his 2008 run for office. Hoping to show extensive grassroots support, the Illinois Democrat's fundraising team counted sales of items like bumper stickers and key chains as individual contributions. The goal was not simply to capitalize on a popular brand, but to make voters feel like they were literally invested in a movement. Half-a-year after the campaign ended, the Wilburforce and Brainerd Foundations (both philanthropic entities focusing on political and environmental activism) released a report that assessed the impact merchandise sales had had on the campaign.
"The campaign extensively tested premiums (a small merchandise item) in association with a donation. These premiums ranged from mugs to t-shirts to car magnets, and they proved to be very lucrative, according to new media staff," the foundations concluded.
Just how lucrative they ultimately were is unknown. Federal election laws don't require campaigns to specify how much money they raise from merchandise. But if the campaign store's current offerings are any indication, Obama's team clearly sees these sales as a major moneymaker. The reelection website is currently selling 110 different items, including dog bandanas ($12), cat collars ($12), cufflinks ($40) and basketball jerseys ($95). Told, facetiously, that Obama campaign salsa might be a winner, a staffer for the reelect responded -- perhaps also facetiously – "not a bad idea."
The presidential candidate with the nearest number of goods for sale is Rep. Ron Paul (R-Texas), who has 79 different items in his online store, ranging from flash cards with Ron Paul facts on them to more standard campaign fare. Mitt Romney is next, offering 20 items (four of which are combo deals), followed by Newt Gingrich, who offers 17 items (two of which are combos), and Rick Perry, who offers 16 items.
But it's not just the sheer number of items that Obama is selling that separates him from the rest of the field. It's the methods through which his campaign is selling them.
When the campaign offered prospective donors the chance to have dinner with the president, there was a fair amount of mockery. But imitation followed and this past Friday Romney's campaign began offering five-dollar donors a chance to "grab a bite with Mitt." As Vice President Joseph Biden solidified his pop culture appeal, the Obama reelection team began selling Biden beer coozies ($10). And as doubts about the president's citizenship verged into the comedic, the campaign announced $20 coffee mugs with Obama's birth certificate emblazoned on the sides. (It recently began selling those once again, for no apparent reason save that they were popular the first time around.)
"It's really about finding a creative path to success with online fundraising when the entire equation is different than last time," said Stephen Geer, who led Obama's email and online fundraising operations in 2008. "Merchandise is one area where creativity and novelty doesn't brush up against the limitations of running as a sitting president or needing the approval of lots of different messaging folks in the White House."
Unlike his Republican opponents, Obama has developed a brand that's hip enough to sell in non-political theaters. And even as that brand has suffered in the public eye these past few years, he's retained the cultural validators that help make him popular. The campaign recently announced a fundraising basketball game that will feature a star-studded cast of NBA players, to take place in Washington, D.C. The campaign will pay for use of the venue, which remains to be determined, but proceeds from ticket sales will go to the reelect.
This week, Obama for America offered more details on a so-called "speaker series" in which tickets to hear a certain lecturer would double as campaign contributions. The big-name supporters signing up to help, according to Politico's Mike Allen, include Warren Buffett, Gloria Steinem, singers Alicia Keys and James Taylor, and actresses Melanie Griffith and Eva Longoria.
It is not illegal to use celebrities, athletes and movie stars for fundraising help. While they may be performing a function for the campaign, which could theoretically count as an in-kind contribution, they are doing so as "volunteers," which makes it kosher.
"This is not only 'technically legal,' but it has been approved by the FEC several times since 1975," explained Larry Noble, a campaign finance lawyer at the firm Skadden, Arps. "In fact, entertainers headlining fundraising concerts for presidential (and other) candidates is relatively common. The rule is that they can perform under the exception applicable to anyone's individual volunteer activity. The theory is that there is no legal distinction between a person volunteering to work 12 hours a day for a campaign making fundraising calls and a singer volunteering to sing for the campaign."
Obama's asset, in this regard, is not just that his fundraising team is more creative in its approach -- it's that he has more cultural icons supporting his reelection.
Calling all HuffPost superfans!
Sign up for membership to become a founding member and help shape HuffPost's next chapter