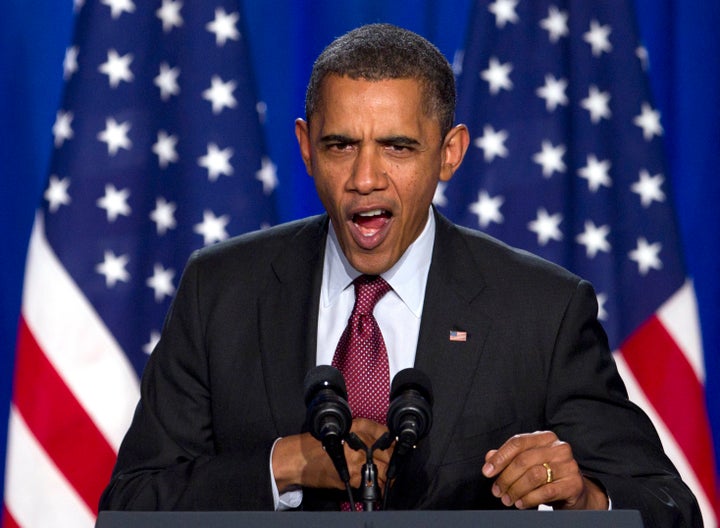 WASHINGTON -- At a briefing with reporters on Tuesday morning, top officials in the Obama campaign outlined five distinct paths that they can pursue to help the president win reelection.
Speaking at the headquarters of the Democratic National Committee, chief strategist David Axelrod and campaign manager Jim Messina pledged to take the same numbers-based approach to the 2012 campaign that former campaign manager David Plouffe famously used in 2008. And in surveying the electoral map, they have gamed out several regional strategies to help them clear the threshold of 270 Electoral College votes.
Sen. John Kerry (D-Mass.) earned a total of 251 electoral votes in 2004, but due to redistricting, the states he won now carry a total of 246 electoral votes. Assuming the president is able to hold on to the states Kerry carried -- a not entirely risk-free assumption -- the campaign could try to follow what Axelrod and Messina are calling the "West Path." If Obama wins Colorado (and its nine electoral votes), New Mexico (five) and Nevada (six) and adds them to Kerry's 246 electoral votes, he would have 266. Add in the six electoral votes from Iowa, where Obama has been leading the polls (but Republicans have been making voter registration gains), and he'd have 272.
The second path for Obama to pursue is the "Florida Path," which would mean winning the Sunshine state and its 29 electoral votes. That total added to Kerry's 246 electoral votes would equal 275.
The third path is the "South Path," which involves winning North Carolina (and its 15 electoral votes) and Virginia (13) to Kerry's total to reach 274.
The fourth path is the "Midwest Path" which involves adding Ohio (and its 18 electoral votes) and Iowa (with its six) to Kerry's total to get to 270 on the nose.
Finally, there is the "expansion path," which has the president losing critical states but still winning the election by bringing others in the fold. Under this scenario, the reelection campaign doesn't hold on to Kerry's wins in Pennsylvania and New Hampshire, losing their 20 and four electoral votes respectively. He also fails to win Ohio and Florida, both of which he won in 2008. But by re-winning Colorado, Nevada, New Mexico and adding Arizona (with its 11 votes), a perhaps more likely proposition than it was in 2008 when Sen. John McCain (R-Ariz.) was running, Obama gets to 272.
Of course, the reelection team isn't tied to a pursuit of one of these paths over the other. And certainly the identity of the nominee who eventually emerges from the GOP primary will affect the campaign's strategy in the months ahead.
In a separate briefing with reporters last week, Axelrod said that the idea of someone with former Massachusetts Gov. Mitt Romney's history in private equity "is going to be a strong compelling candidate in states like Ohio and Pennsylvania is just not true." He conceded, for good measure, that former House Speaker Newt Gingrich would have "less to explain" to those Rust Belt voters. But Romney would play well in a state like Michigan, where he grew up and his father served as governor. None of the Obama campaign's five potential paths to victory took the prospect of losing Michigan and its 16 electoral votes into account.
The point, in the end, is that the map is malleable. But the Obama campaign does have more conceivable paths to victory than conventional wisdom would suggest.
This article was updated to further reflect differences between the 2004 and 2012 electoral maps.
Popular in the Community