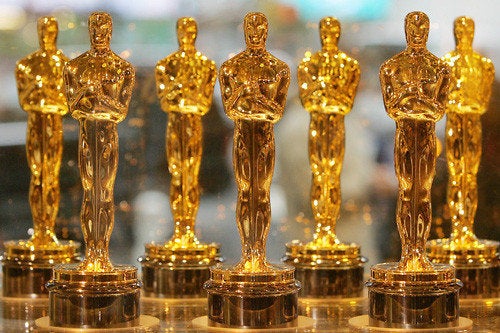 If the numbers hold true, look for the wealth to be spread around at the Oscars this year.
I have created a statistical model to predict the Oscars, using numerical data from critic scores, other awards shows, and guild awards over the past 15 years. This method is entirely mathematical: no personal hunches are taken into account. Last year, my model correctly predicted all eight of the major categories.
This year's final tallies show that six movies will take home multiple awards this Sunday. On the flip side, no movie will win more than three for the first time since 2005. The "big winner," if any movie even deserves that title, will most likely be Argo, claiming Best Picture, Best Adapted Screenplay, and Best Film Editing.
In a very tight Best Director race, Ang Lee (Life of Pi) is the slight favorite. However, Life of Pi is only expected to win two other awards -- Best Original Score and Best Visual Effects -- despite its 11 nominations.
The acting awards are not as close, mathematically speaking. Check off Daniel Day-Lewis (Lincoln), Jennifer Lawrence (Silver Linings Playbook), Tommy Lee Jones (Lincoln), and Anne Hathaway (Les Miserables) on your Oscar ballots without too much worry.
The biggest lock goes to an often overlooked category. Searching for Sugarman is expected to win Best Documentary with 80 percent, the best odds for any nominee this year.
Other races will be a lot closer. Skyfall, at 30 percent, leads Best Cinematography over Lincoln (29 percent) and Life of Pi (27 percent) by the slimmest of margins. Don't get up for more popcorn during that award. And Anna Karenina, expected to win for Best Production Design and Best Costume Design, is similarly unsafe in both of those categories.
Popular in the Community