WASHINGTON -- A new national poll showing President Barack Obama with a slight edge over Republican nominee Mitt Romney may give Democrats some cheer Monday morning, but its results largely confirm what other surveys have reported over the last week: Voter preferences are very close nationwide, with Obama retaining a narrow but persistent edge in key electoral vote battleground states.
The latest Washington Post/ABC News survey shows Obama leading Romney among likely voters by a 49 to 46 percent margin that ABC said fell "within the survey's margin of error" and the Post described as a "virtual dead heat."
The new result was also essentially unchanged from a 49 to 47 percent Obama edge on the last Post/ABC survey. Other national polls released over the last week have reported either a dead-even race or have given Romney a slight edge. These include the Gallup Daily tracking, which as of Sunday showed Romney with a 2-point advantage (49 to 47 percent).

The Gallup Poll, like Post/ABC, uses live interviewers and calls samples of both landline and mobile telephone numbers. Other recent surveys yielded a similar range of results although the others used either automated telephone or newer internet-based methods.
The Post added the caution, however, that "Democrats outnumber Republicans by nine percentage points among likely voters" on their latest survey, a more favorable margin than the "three-, six- and five-percentage-point edges for Democrats" among likely voters on their last three polls. While noting that "partisan identification fluctuates from poll to poll" due to both random sampling error and shifts in "basic orientations," they warned that had their latest poll shown a partisan balance like the three previous surveys, "the presidential contest would now be neck and neck nationally."
On other questions, despite the partisan shift, the Post/ABC survey yielded evidence of growing enthusiasm for Romney, particularly among Republicans. The percentage of Romney supporters who said they are "very enthusiastic" about their candidate grew 10 percentage points (from 52 to 62 percent) since the first debate. Twice as many voters said their impression of Romney had gotten better (35 percent) rather than worse (14 percent) as a result of the debate, and the positive reaction was strongest among Romney supporters (70 percent improvement).
The tracking model's national popular vote estimate takes into account polling data compiled at the state level, where surveys reported over the past week continue to give Obama very slim leads in the most crucial battleground states. Obama holds narrow but statistically meaningful leads of 2 percentage points or better, as of this writing, in Wisconsin, Ohio, New Hampshire and Nevada, along with the other states where he leads by wider margins -- enough to net 281 electoral votes, 11 more than the 270 needed to win. The model also shows Obama leading by just over 1 percentage point in Colorado, which would bring his electoral vote total to 290.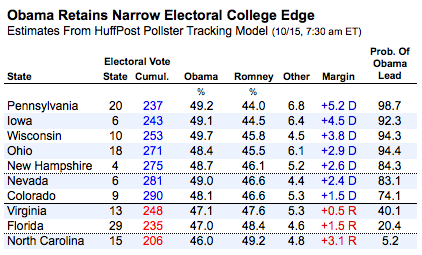 Although the national vote estimate has been slightly narrower over the past week and has tipped slightly to Romney at times, Obama has maintained an advantage in these crucial battleground states.
The Post/ABC poll indicates another area of tactical advantage for the Democrats: In swing states, voters were more likely to say they had been personally contacted, "by phone in person or online asking for your support," by the Obama campaign (37 percent), than they were to say that had been personally contacted by the Romney campaign (27 percent).
As the ABC News analysis points out, support for both candidates has remained relatively constant with neither candidate exceeding 50 percent, which suggests a "get out the vote election," in which motivation and turnout may decide the winner.
*************************
What's happening in your district? The Huffington Post wants to know about all the campaign ads, mailers, robocalls, candidate appearances and other interesting campaign news happening by you. Email any tips, videos, audio files or photos to openreporting@huffingtonpost.com.
Calling all HuffPost superfans!
Sign up for membership to become a founding member and help shape HuffPost's next chapter
BEFORE YOU GO
PHOTO GALLERY
2012 Swing State Polls