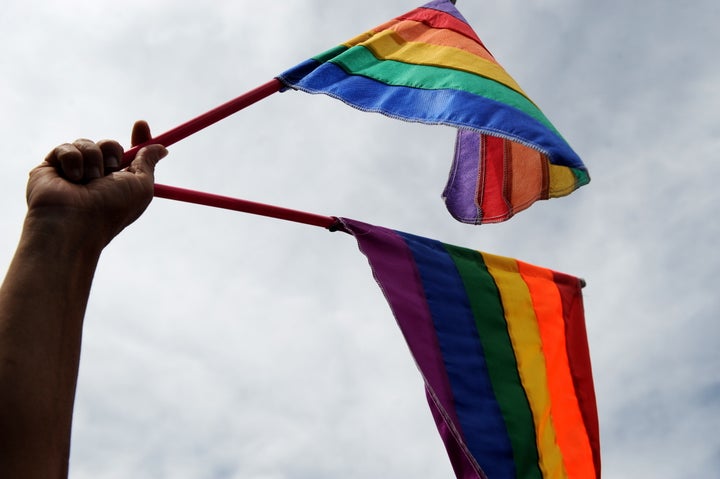 This year has seen a big push for equality and equal rights for all LGBT Americans, including for the transgender community. As an African-American transgender woman, I have faced much discrimination and injustice in my life. Transgender people of color continue to fight for basic human rights in the justice system, but today we have achieved broader awareness and understanding of our issues. I believe equality is a right for all American citizens regardless of economic status, race, ethnicity, sex, sexual orientation or gender identity.
As young kids, we all learned about the Declaration of Independence in history class. I believe our founding fathers spoke to equality and human rights in the very beginning while establishing our country. The United States' Declaration of Independence, adopted in 1776 by Congress, speaks to the equal rights of all humans by saying, "We hold these truths to be self-evident, that all men are created equal, that they are endowed by their Creator with certain unalienable Rights, that among these are Life, Liberty and the pursuit of Happiness." This statement became the foundation and the underlying principle that the United States was to strive for and stand for.
In no particular order, here are five organizations pushing for equality and human rights for all LGBT people:
The National Center for Transgender Equality (NCTE), led by Mara Keisling, achieved four major results for transgender equality in 2012: The U.S. Department of Housing and Urban Development (HUD) announced the end of discrimination based on gender identity and sexual orientation in all public or public-funded housing programs and homeless shelters; prison regulations included better recommendations for treatment of trans prisoners; the Federal Aviation Administration (FAA) updated its medical requirements to reduce the burden on trans pilots; and the TONI project, a resource for trans students to connect, share information and organize for trans equality on college campuses, was released.
Equality California, the largest statewide LGBT advocacy organization in California, is working to secure long-lasting equality for LGBT people. The new executive director, John O'Connor, is pusing for the equality of all LGBT persons. Equality California has successfully passed more than 90 pieces of civil rights legislation for the LGBT community and six bills in 2012.
Proudtobeout.org releases the first issue of Proud to be Out: The Magazine on Jan. 2, 2013. The magazine, founded by Theresa Goss, will speak to the happiness and equality of the LGBT community, especially those sometimes forgotten even by many within the LGBT community. The goal is communicating that finding truth in oneself can bring happiness and self-esteem. Speaking the truth will indeed set you free and put you on a course that leads to happiness and freedom.
The Trans People of Color Coalition (TPOCC), led by transgender attorney and activist Kylar Broadus, seeks to break the cycle of discrimination "and empower our community by building a pipeline of activists and advocates to engage and connect with one another to create a holistic movement of support, resources, and education by and for transpeople of color." The Trans People of Color Coalition is the only national social justice organization that promotes the interests of trans people of color.
The National Black Justice Coaltion (NBJC), led by Executive Director Sharon J. Lettman-Hicks, is a civil rights organization "dedicated to empowering black lesbian, gay, bisexual and transgender people." NBJC's mission is to end racism and homophobia. NBJC is focused on federal public policy and striving for racial justice and LGBT equality.
As 2013 approaches, we must all accept each other's differences and learn from one another. Hate and discrimination eat away at human rights and equality and hurt our society. Education and knowledge always fight discrimination and homophobia. I firmly believe that if we continue to educate and inform each other, we can achieve equality and human rights for all persons regardless of economic status, race, ethnicity, sex, sexual orientation or gender identity. God has made us all equal beings, each with our own will, so let's end discrimination, homophobia and transphobia by choosing to love, not hate.
Happy holidays, and God bless you all in 2013.
REAL LIFE. REAL NEWS. REAL VOICES.
Help us tell more of the stories that matter from voices that too often remain unheard.