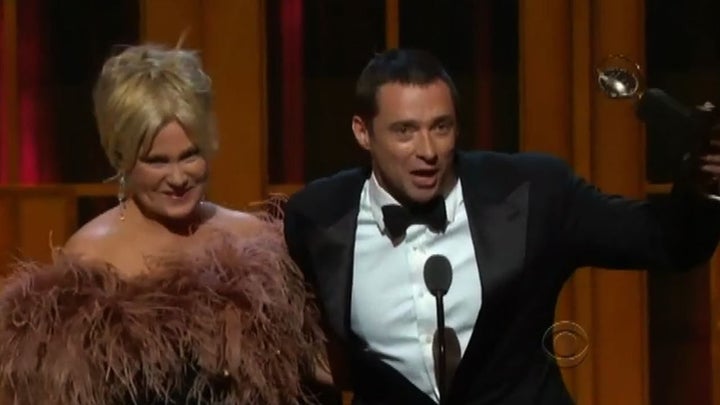 Hugh Jackman got a massive surprise at the "2012 Tony Awards" (Sun., 8 p.m. ET on CBS) Sunday night.
After telling him she was going to the bathroom, his wife Deborra-Lee Furness walked out on-stage and announced that she was presenting him with a special award honoring his work as a performer and humanitarian.
Jackman's been away shooting the movie version of "Les Miserables" with Russell Crowe and Tom Hooper, and Furness quipped "there's nothing more romantic after not seeing your husband for four months than to have our first night back together, on a Broadway stage, with 12 million people watching."
A visibly emotional Jackman said, "Why any of this means anything, that is because my incredible wife and my kids support me."
Turning to Furness he told her, "I love you with all my heart. I know how much you hate public speaking. This is probably the greatest thing you've ever done for me."
And then the pair shared a passionate kiss before Jackman thanked the audience.
TV Replay scours the vast television landscape to find the most interesting, amusing, and amazing moments - and delivers them right to your browser.
Popular in the Community