A new report by Charles Stewart III, a professor of political science at the Massachusetts Institute of Technology, shows that non-white voters faced longer average wait times at the polls than white voters did in November.
Viewed nationally, African Americans waited an average of 23 minutes to vote, compared to 12 minutes for whites; Hispanics waited 19 minutes. While there are other individual-level demographic difference present in the responses, none stands out as much as race. For instance, the average wait time among those with household incomes less than $30,000 was 12 minutes, compared to 14 minutes for those in households with incomes greater than $100,000. Strong Democrats waited an average of 16 minutes, compared to an average of 11 minutes for strong Republicans. Respondents who reported they had an interest in news and public affairs "most of the time" waited an average of 13.2 minutes, compared to 12.8 minutes among those who had "hardly any" interest.
The study points out that the findings don't suggest discrimination on an individual basis, but rather a failure by precincts with high levels of minority voters, typically in urban areas, to appropriately address the issue of long lines. For example, the difference in wait times between black and white voters in the same zip code was less than a minute on average.
According to Stewart, this worrisome demographic trend is just one sign of an overburdened national voting infrastructure that hasn't been improved, despite its highly publicized shortcomings. While nationwide average wait times dropped between 2008 and 2012 -- from 17 minutes to 13 minutes -- respondents who said they waited for over an hour to vote experienced average wait-times of 110 minutes in 2012, a slight uptick from 2008.
Perhaps unsurprisingly, considering Election Day reports and coverage, voters in Florida experienced the longest average wait-times of 39 minutes. Those casting ballots in Vermont waited the shortest amounts of time, reporting wait-times of less than two minutes on average.
But Stewart notes that the problem of long voting lines is highly complex and reliant on a number of factors, some of which are not affected by election law. Congressional lawmakers sought to dig deeper into these factors earlier this month, asking the Government Accountability Office to study the "underlying causes" that led to the long lines and wait-times.
While Stewart acknowledges that there isn't one simple way to reduce wait times, he lays out a number of suggestions that could serve as starting points.
1. The number of in-person voters is reduced, through absentee voting. (As a corollary, Election Day lines should be reduced as early voting options are expanded.)

2. The number of poll books and the utilization are of electronic poll books are increased.

3. The number of voters per polling place is decreased.

4. The number of physical polling sites is increased.

5. The number of poll workers is increased.

6. The number of voting machines is increased.

7. The length of ballots is decreased.

8. The amount of information provided to voters ahead of the election is increased (so as to
reduce the amount of time spent reading the ballot in the voting booth).
According to Stewart, the data was culled from responses to the Survey of the Performance of American Elections and supplemented by responses to the common core of the Cooperative Congressional Election Study, nationwide surveys conducted both in 2008 and 2012.
Before You Go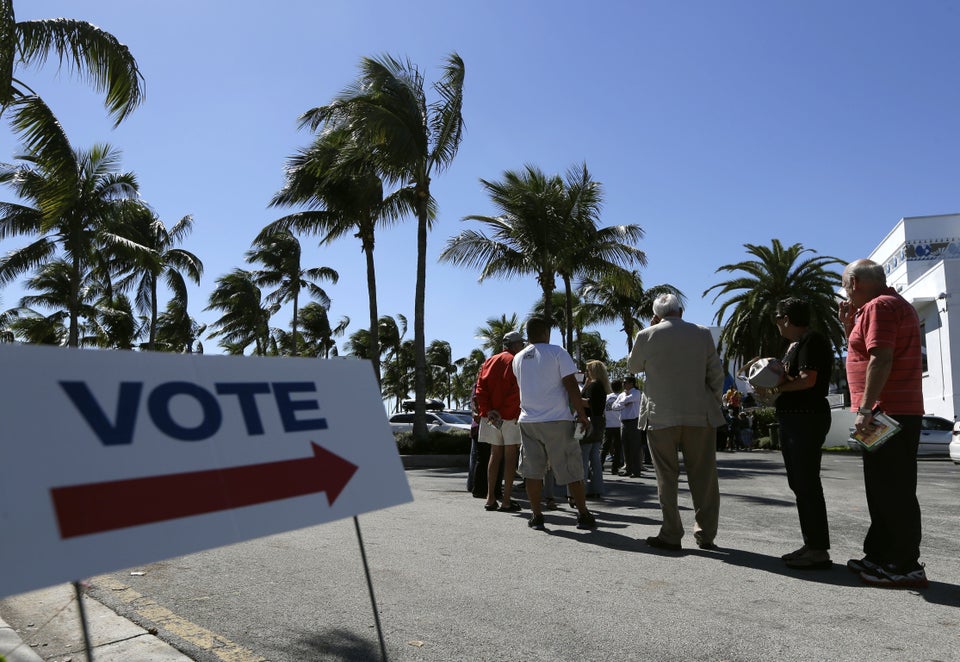 Long Lines For Miami Early Voting
Popular in the Community