In another life, Meryl Streep would've made a great accountant -- she sure knows her numbers.
Presenting at Women In Film's Crystal + Lucy Awards Tuesday evening at the Beverly Hilton hotel in Los Angeles, Streep gave it to them frank. Five films aimed at women in the last five years have generated $1.6 billion dollars for Hollywood, she said. So why aren't more studios backing female-focused films?
"Don't they want the money?" she asked of the industry, laughing.
The five films were "The Help" (2011), "Bridesmaids" (2011), "The Iron Lady" (2011), "Mamma Mia" (2008) and "The Devil Wears Prada" (2006). While we think that the obvious common denominator in that list is Streep herself (she's in three of them), her point came through loud and clear in the room full of industry executives, actors, producers, writers and directors.
The annual awards ceremony, hosted this year by Jenna Elfman, honors women in the industry for their excellence in creativity and business. Attendees included Viola Davis, Christina Applegate, Chloe Moretz, Ed O'Neill, Marcia Gay Harden and Bill Paxton. O'Neill presented Christina Applegate, who played his daughter on "Married With Children," with an award for her work in breast cancer prevention, and Applegate's acceptance speech was the highlight of the evening. She brought some in the audience to tears as she remembered being by her mother's side as she survived cancer and then facing breast cancer herself recently.
The young actress Chloe Grace Moretz, best known for her roles in "Hugo" and "Kick Ass," received the Face of the Future Award. She spent most of her speech giggling and gushing over Meryl Streep, who was just feet away. In the best placed advertisement of the evening, Moretz told the room what she and Streep once bonded over at a luncheon: an oven. Having stayed in the same flat in England after Streep, Moretz divulged that the two instantly agreed that the Aga is the "oven that makes everything taste better."
Streep took the stage at the end of the evening to present her close friend, Oscar-nominated actress Viola Davis, with a Crystal Award, which honors outstanding women who have helped to expand the role of women in the entertainment industry through their endurance and the excellence of their work. Davis spoke of the women in her family whose dreams were "in the graveyard," and said she has worked for her whole life to become something greater than that.
"The privilege of a lifetime," Davis said, "is being truly who you are."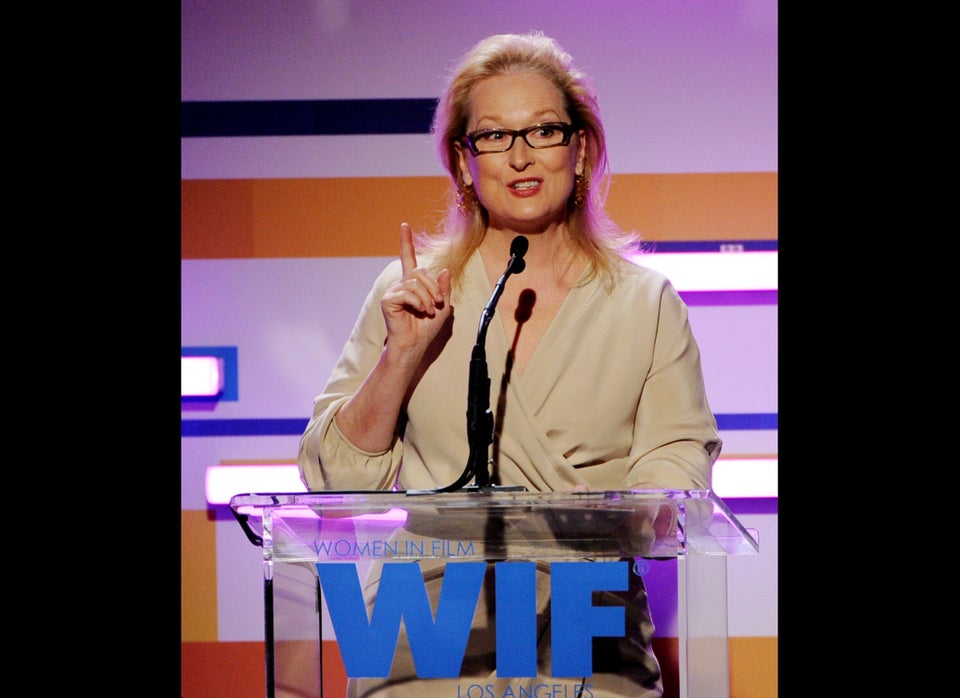 2012 Women In Film Crystal + Lucy Awards
Popular in the Community