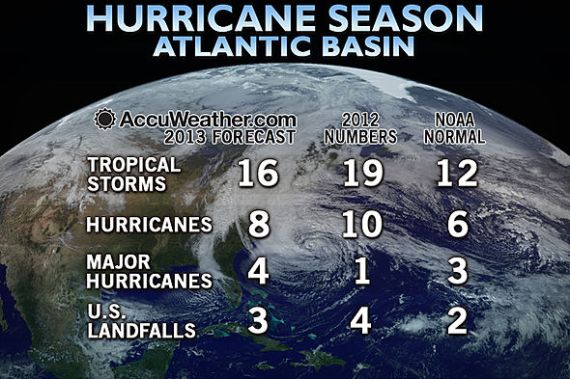 After a devastating blow to the East from Superstorm Sandy in October of 2012, residents and homeowners on the Atlantic coast should anticipate another active season in 2013.
AccuWeather.com's long-range team predicts 16 named tropical storms, eight hurricanes and four major hurricanes for the 2013 Atlantic hurricane season. Of these, three are predicted to make landfall in the United States.
Atlantic Hurricane Season Key Points:

1. The season may begin quickly this year with development in the Caribbean in June.
2. AccuWeather.com is predicting strong storms this year with a strength of category 2 or higher.
3. Areas along the East coast to the Gulf of Mexico are at risk for impacts from a tropical system.
Warm water across the Atlantic and Caribbean, paired with less frequent wind shear, may result in an above-normal number of storms. The normal number of named tropical storms in a given year is 12, according to NOAA.
Additionally, 2013 could set the stage for stronger storms than were seen in 2012.
Episodes of Saharan dust, a factor that can stifle a storm's development, may be less frequent this season. The reduced amount of dust may allow storms with a strength of category 2 or higher to develop.
The season is predicted to be normal in development, compared to last year when two storms were named before the official start of Atlantic hurricane season, June 1.
Should storms brew early in the season, from late May to early June, the season total for storms may be even higher than originally forecast.
Last year's early storms were an "anomaly," AccuWeather.com Expert Senior Meteorologist Dan Kottlowski said. "We think that this year will be more in line with a typical active season."
The biggest concerns for the upcoming season include development in the Gulf of Mexico, an impact in Florida and also another East Coast impact.
Florida is long overdue for a direct hurricane hit, Kottlowski said. Though they have been impacted by named tropical storms in the last couple of years, a direct hit by a hurricane has not occurred since Hurricane Wilma in 2005.
Concern is high for the East because of the remaining devastation as a result of the October 2012 landfall of Superstorm Sandy.
"It would be very difficult for a storm to hit right where Sandy hit," Kottlowski said. However, impacts such as storm surge, strong winds and heavy rain are possible as far as a few hundred miles from a storm, he explained.
The areas impacted by Sandy remain vulnerable as powerful storm surge wreaked havoc on the dune systems that were in place along the coast. Without dunes, there is increased potential for severe inland flooding.
Overall, however, the exact areas to be directly impacted this season and the severity of those impacts remain unclear.
"Those are very, very difficult to compute early in the season," Kottlowski said. "As we get into the season and see how things are setting up, then it becomes a little bit more noticeable."
Before You Go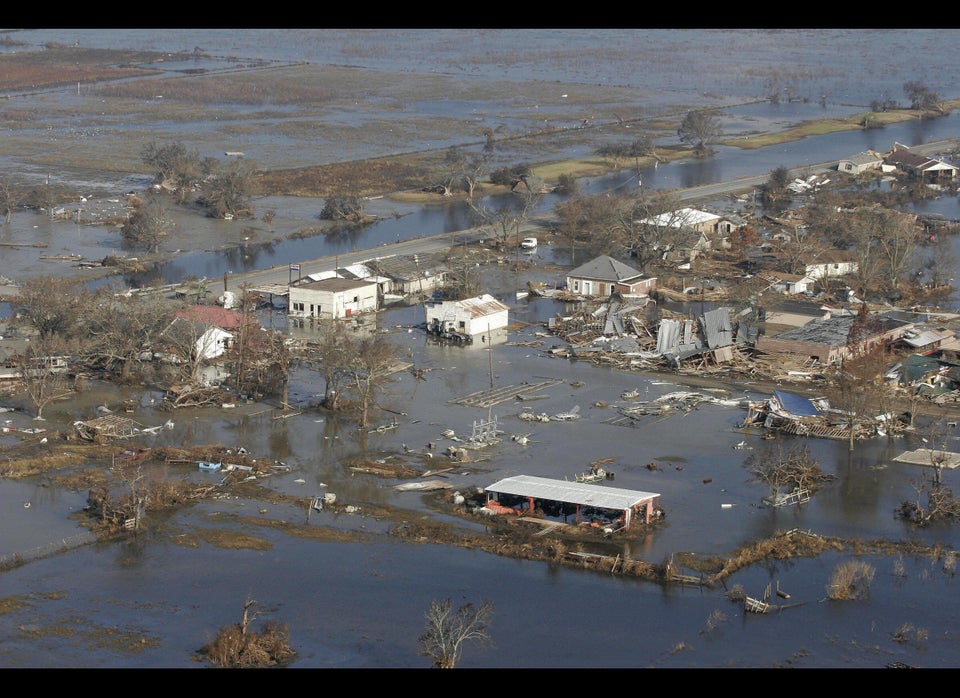 Top 10 Costliest U.S. Hurricanes
Popular in the Community