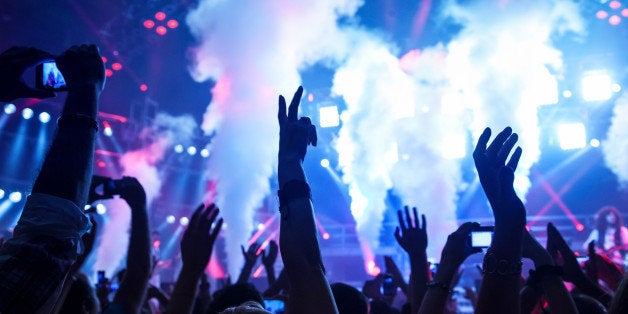 When you think of the top nightlife destinations in the U.S., what comes to mind? Most people would probably say New York, Miami and Las Vegas. Chicago is perhaps one of the most underrated cities when it comes to nightlife.
2013 was a huge year for Chicago. We've seen multiple venues resurrected such as Dolphin, Underground and Castle (formerly known as Excalibur). The electronic dance music (EDM) scene in Chicago is undoubtedly seeing an explosive growth. The music festivals have become more extravagant, and nightlife venues are booking some of the best talents out there. 2013 was a monumental year for Chicago. Below, I listed some of the top 10 events that occurred this year, in no particular order.
Kaskade Atmosphere Tour @ Navy Pier
Kaskade, originally a Chicago native, spared no expense during his October 12 show at Navy Pier. This event was the first EDM show that was ever held at Navy Pier so no one had any expectations of what would ensue. Upon entering, the bones of the show quickly became apparent. A warehouse style event with a gigantic oval truss with two DJ booths -- one in the middle and one in the front. Kaskade secretly "teleported" himself between the two locations throughout the show and he ended it with a massive confetti shower with fans desperately trying to Instagram the moment.
Eric Prydz ended his Epic 2.0 tour in Chicago during Thanksgiving weekend. So what makes this show so special? For beginners, the show opens up with two of the hottest up and coming DJs: Jeremy Olander and Fehrplay. They were featured on the cover of DJMag and have completed their Pryda Friends tour. Epic 2.0 was a concept show. Aside from the massive amounts of lasers and lights that made this show a true spectacle, Epic 2.0 was a show that didn't operate on a pre-recorded set or a preprogrammed animation. Instead, the lighting/visual team was responsible of figuring the appropriate visualizations on the fly that coincided with Eric Prydz's song selections. This meant that no two shows were identical. Ridiculous holograms were the highlight of the night along with some of the craziest lasers that lit up Aragon Ball Room.

Electric Daisy Carnival Chicago
This was the first year that EDC was held in Chicago, and based on current rumors, EDC is not expected to return to Chicago in 2014. Approximately 65,000 party-goers attended this three-day event with 21,000 fans braving the adverse weather on the third and final day. Throughout the three days, fans were immersed with breathtaking installations, carnival rides, over the top costumes, and a surprise air show from Red Bull skydivers. EDC Chicago was the first EDC event where it included an on-site campground, similar to Tomorrowland/TomorrowWorld.
Wavefront Music Festival was perhaps one of my favorite events in 2013. If you're looking to hear bass drops and build ups, Wavefront isn't for you. Most festivals these days capitalize in bringing the top tier DJs to headline the events. Wavefront, with a few exceptions, focused primarily on bringing house/techno DJs. During the day, fans were able to stuff their faces in with plenty of food trucks and relax on the beach. The evening is when the festival really came alive. Fans started to fill every single stage and danced the entire night away with a never ending firework display at the end.
Calvin Harris @ American Junkie
Calvin Harris highlighted Techweek's event at American Junkie. By far, this was the most absurd parties at American Junkie this year. American Junkie brought in external speakers that literally rattled the roof of the venue. CO2 and confetti canons were brought in for this event and LED batons were being thrown from the rooftop. Unfortunately, this event was strictly for Techweek attendees and many people were denied at the door.
Spybar Thanksgiving Weekend
Spybar was voted #9 best dance club in America. I have never witnessed such an amazing line up during Thanksgiving in Chicago until this year. Spybar pulled off the unthinkable: hosting four nights with four world class DJs back to back. For all the house and techno music lovers, this was a dream come true. On Thanksgiving Day, Black Friday shopping was nowhere on the agenda for Chicagoans. Instead, they flocked to Spybar and braved the frigid temperatures to be part of an unforgettable night. Never has Chicago witnessed four world class DJs in four days at one venue, until now.
Swedish House Mafia- One Last Tour
Held in the colossal United Center, Swedish House Mafia made their pit stop in Chicago in February. Their production consisted of some of the best preprogrammed light shows. Swedish House Mafia took over the United Center to play in front of a sold out crowd and played all their biggest hits. The concert was held on a Wednesday night, but judging from the crowd, I'd assume most of them took the next day off of work.
Tragic Kingdom @ MID by Bam Creates
The masterminds behind Bam Creates threw one of the biggest Halloween parties in Chicago. They transformed the MID into a Disney-themed kingdom with outrageous acts and spectacles throughout the night. The DJ booth was placed right in the middle of the dance floor for everyone to see with a steel cage octagon hovering in the air behind the booth. Patrons took Halloween to another level at this event, unveiling some of the craziest costumes Chicago has ever seen. They were covered in malevolent face paint, brought special props to accompany their costumes, and some even coordinated different acts to complement the show.
Spring Awakening Music Festival
Tens of thousands of party goers packed Soldier Field this summer to partake in one of the biggest summer festivals in Chicago. This year's event was headlined by some of the biggest names in the EDM industry such as Moby, Calvin Harris and Dirty South. One of the best things about Spring Awakening is that it caters to almost every single EDM sub-genre -- electro, house/techno, dubstep, and trap. Unlike many other music festivals, Spring Awakening never felt too cramped. They had four different stages all in close proximity of each other and restrooms were easily accessible (huge plus).
NYE 2014 - To be Determined
Lastly but not least, we'll save this one for the last party of 2013. As we reflect back on 2013, it's without a doubt that Chicago has witnessed some of the most outlandish parties we've ever seen. There aren't too many EDM focused parties in Chicago for NYE with the exception of the sold out show at the Aragon Ball Room with Zedd. Y Bar Chicago is ringing in the New Years with Size Records' Tim Mason which should be a night to remember.
So as we say goodbye to 2013, we'll have pretty high expectations for 2014. Thank you Chicago for a memorable year.
Related
Popular in the Community