As the Emmys honored the best in television last weekend, gifting suites in honor of television's best popped up all over Los Angeles from from Hollywood to Beverly Hills to Century City. Below is a sample of some of the gifting lounges that celebs attended and the type of goodies and treatments they indulged in while raising money for charity.
GBK's ANNUAL PRE-EMMY CELEBRITY GIFT LOUNGE at the W Hotel Hollywood:
Helzberg Diamond handed out various pieces from its Infinity X Infinity collection inspired by the ABC television series Revenge. Action Flipbooks provided a mobile animated flipbook studio for celebs to custom-make their own video flipbooks.
St. Regis Resort was very popular with celebs as both the Aspen and Bora Bora locations gave out gift certificates for multiple night stays. Caribbean Living and Palace Resorts gifted all-inclusive four night stays at Cancun's Grand Moon Palace.
Tidy Cats debuted its LightWeight 24/7 Performance cat litter and for every celeb who "tossed" a liter jug of the cat litter, Tidy Cats donated $100 to SPCA LA. BarkBox gifted their online subscription service of dog toys and treats to attending dog parents.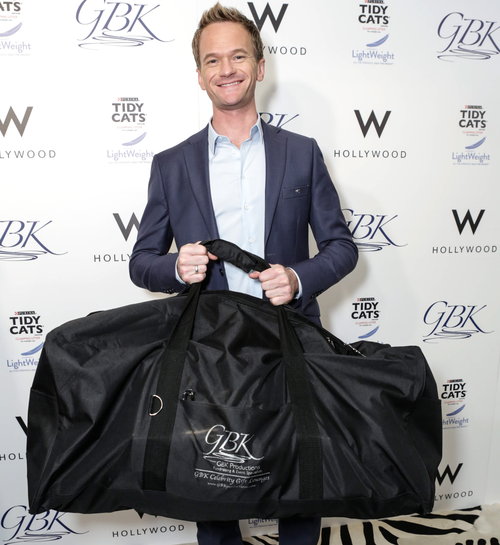 Emmy host Neil Patrick Harris attends GBK's gifting suite.
On the beauty side, Pelo Hair Los Angeles had various hair extensions and clips for celebs to choose and visitors could indulge in on-site manicures by imPRESS Press On Manicure by Broadway Nails. Urban day spa The Sweat Shop L.A. -- specializing in detoxing, anti-aging and weight loss -- gifted infrared sauna sessions and vitamin/amino acid injections at its Hollywood location.
Among the food and beverage goodies were a year of free cookies from Cookie Daddy and a year of hummus delivery from Oasis Mediterranean Cuisine. Also on-site were candy apples by Apple Revolution and gluten-free, non-GMO fruit and caramel chews by Lovely Candy Co. They all paired nicely with lightly bubbled white and rose wines from Sequin Wines and sustainably farmed wine from Total Wine & More and Truett Hurst.
DEBBIE DURKIN'S 7TH ANNUAL ECO-EMMYS 'EMPOWERING WOMEN' PRE-EMMYS PARTY held at the Pickford Mansion in Hancock Park.
Wanna go 'glamping' with Under Canvas Group? Celebs received three night luxury camping trips from Yellowstone Under Canvas and Moab Under Canvas. Recipients will "glamp" in Yellowstone National Park or Moab, Utah in deluxe tents that have private bathrooms, bedroom wings and lounge areas, not to mention spectacular views while indulging in day time activities that include hot-air balloon trips or scenic flights.
Other luxurious accessories at the suite included luggage from Traveler's Choice Travelware, Serengeti Eyewear, blankets by Minky Couture and leather shoes handmade in Turkey from Marjorie's Bazaar. There were also gift certificates for massages by The Neck Work Expert.
MK Marisa Kenson Collections displayed racks of its day and evening wear, including its famous Invisible Belt Dress. Santa Monica based IOBELLA gave out gift certificates for a visit to its body-shaping spa that includes a 30 minute workout in a temperature controlled heated pod followed by a spa session in a triple oxygen cabin to hydrate the skin and eliminate toxins.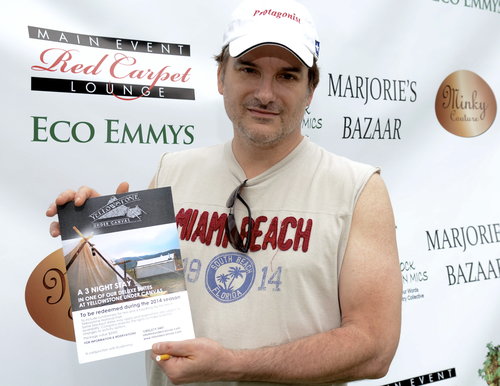 Writer-director Shane Black attends the Eco-Emmys.
Pets received a lot of love as well. There were dog treats from Canine Caviar, billed as the only alkaline-based dog food in America. The Lucy Pet Foundation - created by New Balance Pet Foods Founder Joey Herrick - debuted it's first ever national free mobile spay/neuter and adoption clinic at the event. The goal is to have the mobile clinics all across the country to help reduce pet overpopulation and find homes for dogs and cats.
THE WOUNDED WARRIOR PROJECT STYLE & BEAUTY SUITE held at the Avalon Hollywood to connect television stars with our nations wounded service members.
The Ritz Carlton Marina del Rey's Spa del Ray set up a mini-lounge within the event where guests could indulge in everything from massages to hand-treatments to hydra facials.
Footwear and apparel included vintage sports t-shirts by Original Retro Brand and rain boots by Roma Boots, which Romanian-born founder Samuel Bistrian described as the Tom's Shoes of boots - for every pair sold, a brand new pair is given to a child in need.
Shoe company iiJin, best known for its invisible wedge, handed out various styles of shoes from flip-flops to gladiator sandals. It also had racks of clothing ranging from flirty dresses to cool jackets and blazers for guests to browse through and pick-out.
Other gifting items included solid wood acoustic iPhone amplifiers by Koostik which uses natural, energy-free amplification, tote bags by Vine Street Market USA (the stars and stripes design proved very popular!) and toys such as Tonka trucks and My Little Pony plush animals by Funrise toy company.

Spa del Rey inside the Avalon.
The Zumer Sport team gifted products such as duffel, toiletry and drawstring bags made from materials using your favorite sports ball including tennis, basketball, football, soccer and others. DiaNoche Designs gave out illuminating wall art and 100% Gumdrops had custom made necklaces saying "hope" and "courage."
Guests left with giftbags packed with items including Wounded Warrior-emblazoned ties and handkerchiefs from Vineyard Vines, luxury baby blankets from Bebe Bella Designs, hair products by Surface, detangling hair brushes from Knot Genie, pet grooming products from John Paul Pet, wallets by HuMn, eyeshadow palettes by Shany Cosmetics, Kai perfume oil and more.
SECRET ROOM EVENTS RED CARPET STYLE LOUNGE honoring the Emmys and benefiting Children's Hospital Los Angeles held at the Hyatt Regency Century Plaza Hotel.
The event had two mini-lounges inside including a Wolfgang Puck food and beverage lounge. There was also the Cheerios Baby and Kids Lounge which included a Cheerios activity center and a smorgasbord of candy from KCee's Candy Buffet.
Other products within the Cheerios lounge were The Zelf toys (an updated version of those popular crazy-hair troll figurines), diaper bags by Petunia Pickle Bottom and beanbag chairs, ottoman and cubes from Majestic Home.
Labeling company Kidecals was handing out an assortment of labels for any occasions including decorative keycals for the computer keyboard (zebra patterns, rainbow colors, unicorn designs, etc) and chalkboard labels for those DIY'ers, canners and kitchen organizers. Guests also received gift certificates for personalized labels.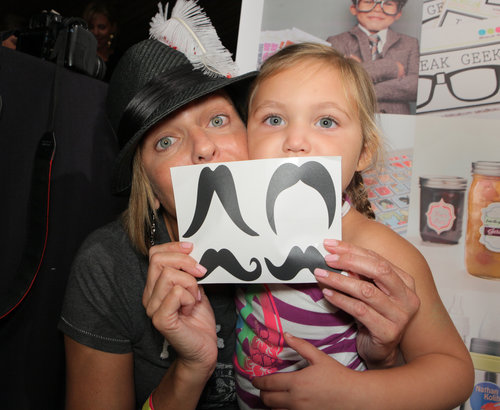 Days of Our Lives actress Arianne Zucker and her daughter at Kidecals.
The HoverCam gifted its pocket-size camera scanner, the Mini 5, that plugs in your computer's USB port and is ready scan, organize and archive everything from business cards to receipts to documents. The device has a motion sensor timer to flip and scan 30 pages per minute. It also records HD video and is perfect for web conferencing. And yes, it truly does fit in your pocket!
Vintage jewelry manufacturer 1928 Jewelry Company gifted celebs with their newest Downton Abbey jewelry collection featuring an array of earrings, bracelets, necklaces and other baubles designed with motifs of the late Victorian and Edwardian eras.
Cecy Alcala from Bella By Design was creating hairstyles and braids with her hot tools, while Melrose Place based Le'a was doing on-site eyelash extensions and gel manicures. Regenca Worldwide handed out its RegeneSlim appetite control capsules and RegeneBlend anti-oxidant beverage blend.
Guests left with a goodie bag full of products including non-GMO candles from Vance Family Soy Candles, non-toxic and non-chemical nail polish for kids from European-made Snails, a tennis ball-shaped sonic personal massager from Revel Body that's battery free but charges with a USB. There were also doggie treats by St. Francis Pet Treats, a company that takes its name from the patron saint of animals.
KARI FEINSTEIN'S STYLE LOUNGE at the Andaz Hotel in West Hollywood.
Vape Revolution set up a "bar" where it handed out electronic cigarettes in their own self-charging traveling cases. Guests could choose from an array of nicotine-infused or nicotine-free flavors ranging from Cookies and Cream, Pink Lemonade and Icy Peach among others.
Kneady Bakery not only had such fresh-baked desserts as New York Cheesecake Bon Bons and Baked S'Mores bars, but also gift certificate for a dessert-catered party for up to 75 people. Caribbean Living Magazine gave out 4 day vacations to the Moon Palace Golf & Spa Resort in Mexico.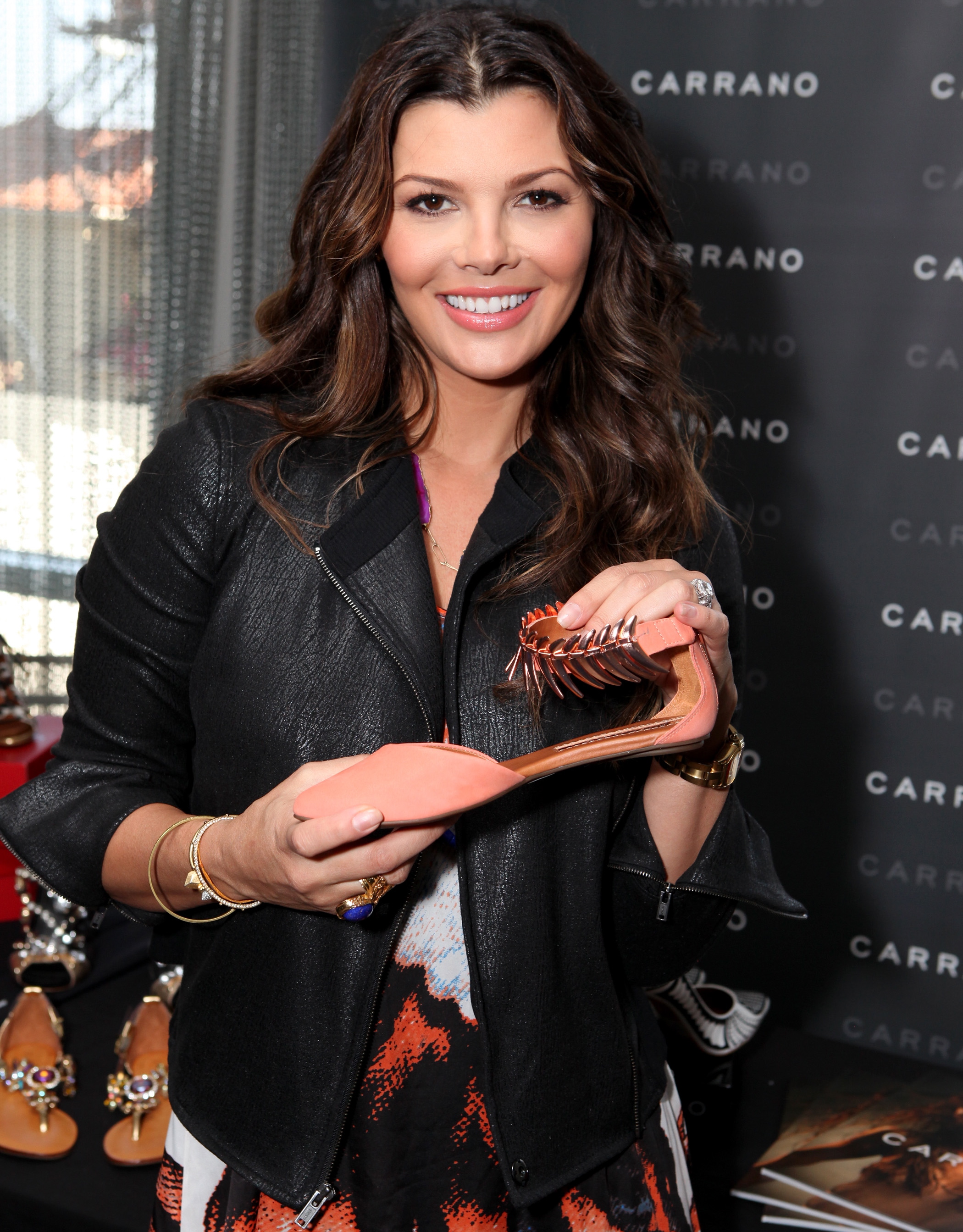 Aly Landry with Carrano shoes.
Beth Miller and her Chic to Chic accessories displayed one-of-a kind jewelry from around the world. Guests left with gorgeous traveling leather cases with various zip-up compartments. Britta Aragon's CV Skinlabs handed out products for sensitive skin as a result of cosmetic laser treatments, sun exposure, chemotherapy, waxing/shaving or every day wear and tear.
Crystal Light gave out their liquid drink mixes in flavors such as Blackberry Lemonade, Peach Bellini and Mango Passionfruit, along with its new Shake & Go tumbler featuring an autoclose technology that lets you shake and mix without spilling and leaking. L.A. Colors was doing on-site manicures and guests left with gift set of make-up including a 16 color eyeshadow palette, nail color, lipsticks, liner and more.
Lynx Live was signing up celebs to its brand new streaming video network so they could stream video whenever they want, share with fans, build their brand and begin to monetize with ads, video pre-rolls and pay-per-view.
DORIS BERGMAN'S FOURTH ANNUAL EMMY STYLE LOUNGE AND PARTY held at the Fig & Olive Restaurant on Melrose Place in Hollywood:
The event was presented by Whitening Lightening at home teeth bleaching products and Nature's Flavors, which featured actor Ed Begley's latest environmentally sound product, Begley and Bill's all natural soda.
Visitors received items such as the Scytodes security glove, a hands-free pepper spray. There were plenty of jewelry vendors including blessing bracelets from My Saint My Hero that includes the medal of St. Benedict, whose cross is said to be one of the most powerful symbols of divine protection in the Church.
Other goodies included volumizing alcohol-free spray gel Sudzz, make-up setting spray by Model in a Bottle and Orchid scented candles from Bon Bon. Fashion items included flirty and flowy dressed by Single Dress and sexy lingerie by The Classy Sachet.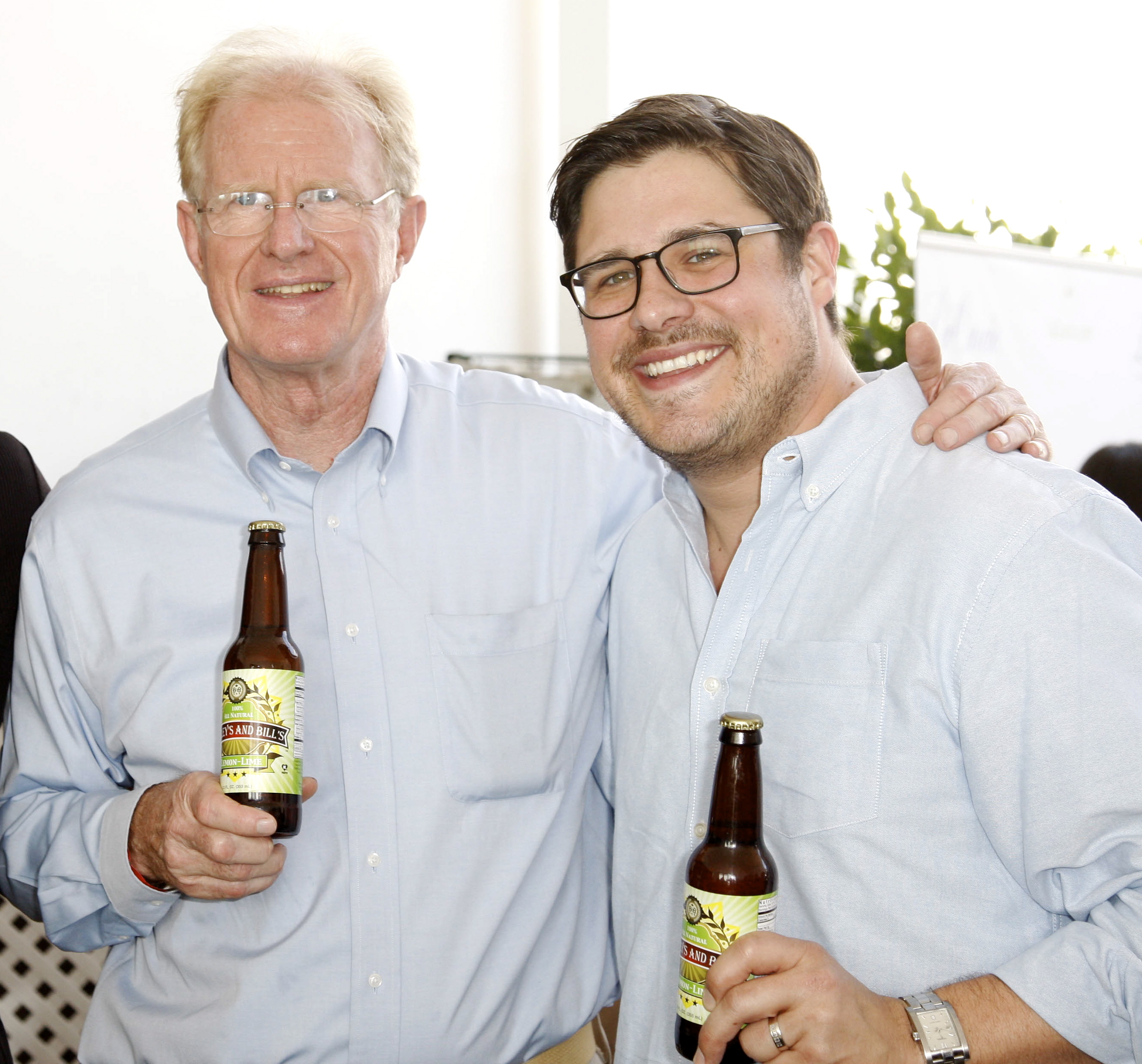 Ed Begley Jr. with Mad Men's Rich Sommer
Guests left with an additional bag of goodies that included more products from My Saint My Hero (you can never have enough protection, especially in the shark-filled land of Hollywood!) and shock absorbing footwear from Telic with cushioning that produces a "bounce back" effect, making it a terrific recovery sandal for the active and sporty.
Also included in the gift bags were all natural non-electric cup warmers by Mug Hugger, make-up brushes from Beauty By Rudy, organic shoe care products by Collonil Organic and jars of truffle honey from La Boutique de la truffe among numerous others.
WOW CREATIONS' LIFESTYLE GIFTING SUITE at the Luxe Hotel on Rodeo Drive in Beverly Hills.
The most coveted item at the event was the Lance Daypack from ECBC. The sleek, water-repellent backpack has the most interior storage space of any ECBC product, all organized in separate compartments. The backpack can fit a laptop that's up to 17 inches in a TSA-compliant foldout "FastPass," that unzips and lays down flat for going through security, which means you don't have to go through the hassle of removing your computer from the bag.
Beauty and health products included melatonin infused night cream from Life Extension, tubes of 3-Minute Precision Peel from Real Chemistry and anti-aging products from Daisy Skin Institute.
There were gift certificates for a semi-permanent beauty mark by Long-Time-Liner Conture Make-up, hair thickening products by Sure Thick and haircuts at Lance Christopher Hair Design.
Gourmet treats included fully edible chocolate framed photos by Niagara's Honeymoon Sweets, fancy peanut butter from PB Crave in flavors like Razzle Dazzle and Cookie Nookie and jumbo-sized lollipops from Original Gourmet.