When Emmy Award nominations are unveiled Thursday morning at 8:35 a.m. ET, Netflix's new House of Cards will become the first web-based series to compete in a top category, according to the predictions of 15 top media experts polled by GoldDerby. They believe it will be nominated for Best Drama Series along with Breaking Bad, Downton Abbey, Game of Thrones, Homeland and Mad Men. Breaking Bad and last year's champ Homeland are tied with the best racetrack odds to win (27 to 10).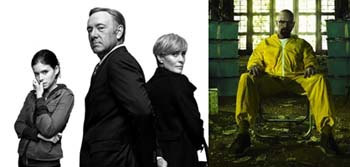 The experts are sharply divided over whether or not Netflix's Arrested Development will make the list for Best Comedy Series. Seven say it will be nominated: Debra Birnbaum (TV Guide Magazine), Mike Cidoni and Lynn Elber (Associated Press), John Kubicek (Buddy TV), Ken Tucker, Paul Sheehan (Gold Derby) and me. However, eight gurus don't place Arrested Development in their rankings: Robert Bianco (USA Today), Pete Hammond (Deadline Hollywood), Daniel Manu (Television Without Pity), Steve Pond (TheWrap), Lynette Rice (Entertainment Weekly), Matt Roush (TV Guide Magazine), Sasha Stone (Awards Daily), Glenn Whipp (L.A. Times). When all of their predictions are combined, they say that the comedy contenders will be 30 Rock, The Big Bang Theory, Girls, Louie, Modern Family and Veep. Modern Family gets the best odds (2/1) to prevail for a fourth year in a row, followed by The Big Bang Theory (4/1), which has never won.
When sizing up the acting races, the experts foresee many first-time nominees: Kerry Washington (Scandal), Kaley Cuoco (Big Bang Theory), Parker Posey (Louie), Monica Potter (Parenthood), Morena Baccarin (Homeland), Corey Stoll (House of Cards).
Lots of past champs are forecast to win again: Julia Louis-Dreyfus in Veep (Best Comedy Actress), Jim Parsons in The Big Bang Theory (Best Comedy Actor), Bryan Cranston in Breaking Bad (Best Drama Actor) and Claire Danes in Homeland (Best Drama Actress).
REAL LIFE. REAL NEWS. REAL VOICES.
Help us tell more of the stories that matter from voices that too often remain unheard.