 As it turns out, however, tap water was on the menu even before organizers publicly acquiesced to D.C. Water's request, according to a source familiar with Inauguration planning who asked not to be identified by name. (The same source said that tap water would be served to all luncheon guests as a matter of course.)
Which leaves open just one last concern: Will inaugural guests like D.C. tap water?
That question couldn't be answered by experts with insider knowledge. And so, on a recent evening, three humans and one corgi gathered in the Dupont offices of a D.C.-based free market-oriented think tank to conduct an experiment.
The experiment: Two tap waters (one from a Congressional cafeteria and one from a kitchen tap in Old Town Alexandria), and one bottled water (Volvic Natural Spring Water, purchased from a Dupont market), were put into identical glass bottles. The water would be served to participants, who -- without knowing which water they were tasting -- would be asked to describe the water's taste, to rank each water on a scale of least favorite to most favorite and to recommend if the waters tasted appropriately inaugural.
The participants: My patient husband Ray Lehmann, a government attorney who asked to be identified as "Astrid," documentary filmmaker Rob Montz and Montz's corgi Bronson (who, unfortunately, ignored the three water-filled bowls put in front of him and so provided no useful data).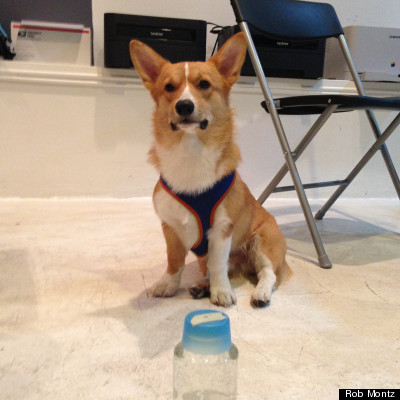 First up: The bottled water.
Lehmann wasn't a fan. It "has a vague toothpaste taste," he said.
"Really clean," said Montz, who liked it better.
Astrid took the middle ground. "I don't think this water tastes good," she said, "But I don't think it tastes bad, either."
Montz and Astrid both said that this water was good enough to be served at an inauguration. Lehmann was stuck on toothpaste. "It's not very swampy or metallic," he said. "But I taste a little bit of a fluoride taste."
Next was tap water from Old Town Alexandria, which Astrid said she liked "slightly less."
"But it still has a pretty clean taste," she said, "There's nothing that's bad about it."
"I think I like it slightly better. Less toothpasty," said Lehmann, which is good, since unbeknownst to him the water came from our kitchen tap. "Not as good as Newark. But clean. Solid."
Lehmann is originally from Newark, and has "yet to experience any water as tasty as that."
Montz noted that the Old Town water seemed "less filtered," but would still be appropriate for the Inauguration. "My standard is just don't be offensive," he said. "You don't want an ambassador drinking water that seems like it's got steel residue in it."
Montz preferred the third water, which was tap water from the Congressional cafeteria. This sample is most like the D.C. tap water that will be served to Inauguration guests (the Inaugural Luncheon will be held in the U.S. Capitol's National Statuary Hall).
"I'd guess it's the bottled water. It's the cleanest of the bunch," Montz said.
"I don't like this one. It's not terrible," said Astrid. "But this one does have a little bit of an aftertaste to me."
"I think it's the bottled water but also my least favorite," said Lehmann. "I agree there's an aftertaste and I think it's kind of a plasticy aftertaste."
In the end, the corgi showed no interest in any water whatsoever. Lehmann, meanwhile, ranked Old Town Alexandria tap water as his favorite, bottled water as his second favorite and D.C. tap water as his least favorite.
Montz ranked bottled water as best, D.C. tap water as second best and Old Town Alexandria tap water last, but said he experienced "no massive separation between them."
Astrid also liked bottled water best. She thought Old Town Alexandria water was second-best and liked D.C. tap water -- which she drinks at home filtered through a Britta -- the least.
"I guess my final thought is that I have expensive taste," she said at the end, once the waters' identities were revealed. "And I really do prefer the bottled water."
But then she expressed another final thought -- that D.C. tap water is perfectly acceptable to serve at the Inaugural Luncheon.
"No one's too good for this water," she said.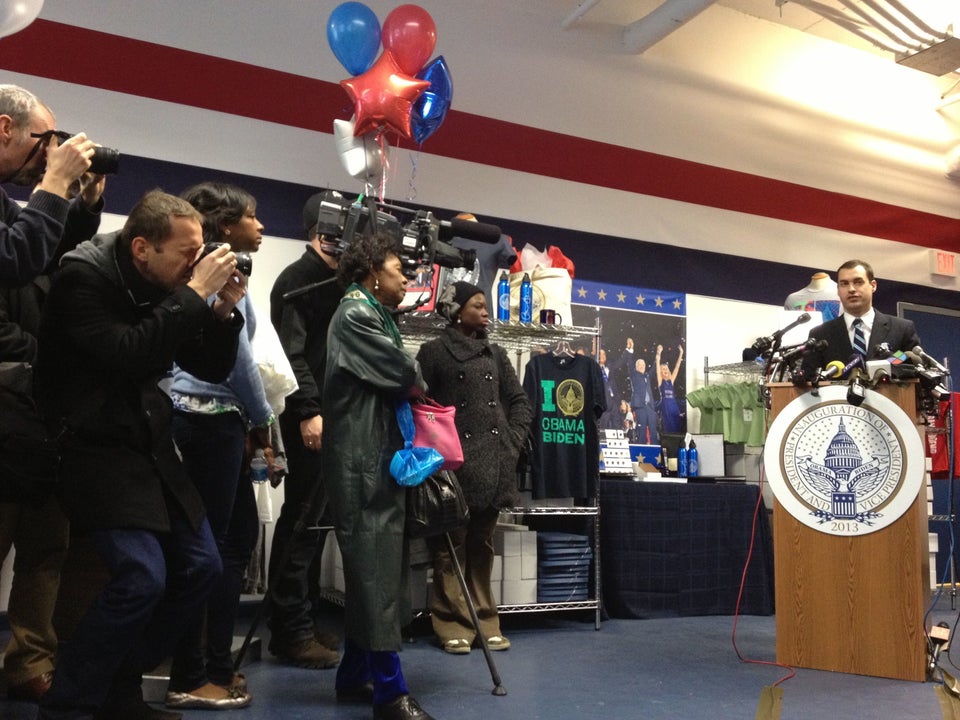 Inauguration Store Opening
Related
Popular in the Community