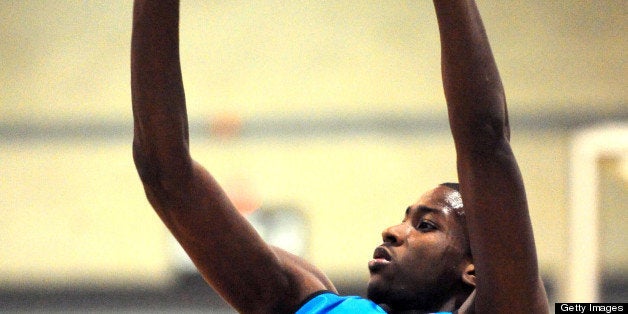 NetScouts Basketball was at the Jordan Brand Classic this past week in New York for practices and at the Barclay's Center in Brooklyn Saturday for the three All-Star games. Since we're most interested in the international players we'll start with that game.
The international game at the Jordan Brand features the best U17 players in the world. Most are 16 years old and freshman or sophomores in high school. The Black International team beat the White team 76-72 as four players scored in double-figures. The Black was led by 12 points each from 6'8 Lorvo Mazalin (Croatia, 1997) and Thon Maker (7'0, Australia, Carlisle School - VA, 1997). Andrea Latorre (6'6, Italy, 1997) and Luc Loubaki (6'3, France, 1997) added 10 points each. Jamal Murray (6'4, Canada, 1997) led the game in scoring for the White team with 24 points.
Of the players that participated we were most impressed with Murray, Ben Simmons (6'9, Australia, Montverde Academy, 1996), Maker, Mazalin, Latorre, Cheick Diallo (6'9, Mali/Our Savior New American, 1996) and Georgios Papagiannis (7'0, Greece, 1997).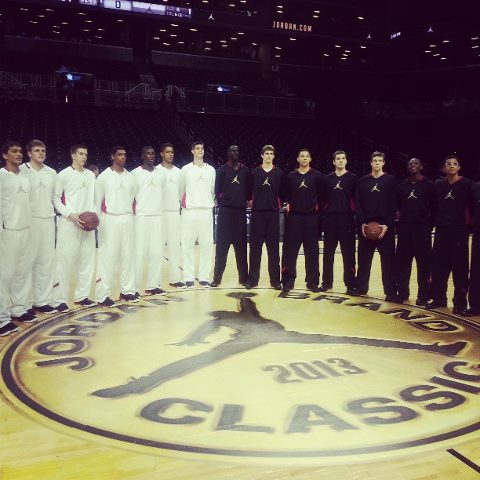 Murray was able to get wherever he wanted on the floor, showed a solid shot with range and has good size for a point guard with good rebounding ability (seven boards). As with most kids his age he needs to add strength and make better decisions but that will likely come in time. He's a very high level prospect. Maker relocated to Australia from South Sudan when he was five years old. He's very thin and our main concern for him is whether he has the frame to add strength and some width. He's also likely not done growing. Maker already exhibits ball skills and can step out for jumpers. He doesn't do a lot inside as he is very thin. He's obviously a high major talent with NBA potential.
Latorre has good size and shooting ability for a wing while Mazalin is a nice power forward prospect with toughness, good shooting and rebounding ability (eight boards). Diallo is an athletic big man who excels in transition. Papagiannis is a fairly skilled (very skilled for his age) pure center with some nice post footwork and moves already. He can also step out. He's a very high major/NBA prospect who rumor has it may be playing at a prep school in Delaware this fall.
All the players participating in the international game are at least mid-Division 1 prospects with several with NBA and very high European professional potential. The Jordan Brand Classic is a great way to get a viewing of these players both in practice and in a game situation.
The USA All-Star games were fairly typical with lots of fact-paced transition time, quick shots and not a lot of defense. In the Regional Game the White team topped the Blacks 114-102. Hassan Martin (6'6, Curtis HS, Rhode Island) was the MVP for the winners as he scored 19 points with six rebounds and three steals in 22 minutes of play. Martin is an active combo forward projected as a three in college. He excelled in transition but showed a decent outside shot (2-of-5 three's) that he needs to improve. He'll be a great addition for the Rams and will have a solid four-year career in Kingston. Jon Severe added 16 for the winners but needed 13 shots to do it. Big's Kenton Facey (6'8, Lutheran, UConn) who had 10 points and 10 boards and Kyle Washington (6'9, Brewster Academy, NC State) 12 points and nine boards were both impressive for the Whites.
DeAndre Bembry (6'6, The Patrick School, St. Joseph's) was the MVP for the Black team scoring 26 points and adding nine boards. Bembry can light it up from anywhere (3-of-4 three's) and will be an immediate scorer for the Hawks. Tyler Roberson (6'7, Roselle Catholic, Syracuse) will likely see immediate minutes for the Orange. He had 19 points and 13 boards, scoring mostly in transition.
The West topped the East 102-98 in the All-America game as Nigel Williams-Goss (6'3, Washington) scored 17 points on 6-of-7 shooting and dished out four assists. Jabari Parker (6'8, Duke) added 16 and 7. Andrew Wiggins (6'7, undecided) and Julius Randle (6'9, Kentucky) led the East with 19 points each. It will be interesting to see what college Wiggins selects. Kentucky certainly appears overloaded at this point so we'd think he'd go elsewhere. Tyler Ennis looked good for the East in his time running the point. He scored 14 with five rebounds, six assists and four steals. Syracuse has their point guard to replace Michael Carter-Williams in the 6'2 Canadian.
Calling all HuffPost superfans!
Sign up for membership to become a founding member and help shape HuffPost's next chapter