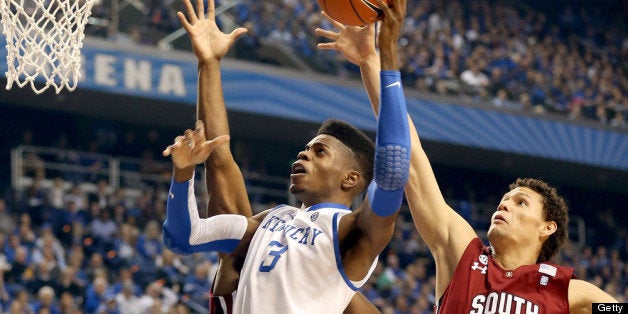 The NBA Draft is almost here and we still don't know for sure who the top overall pick will be.
Kentucky's Nerlens Noel is my prediction, but the fact that there is no clear No. 1 choice is news by itself. Yet while this particular draft may lack star power, it does offer value, especially in the middle-to-late first round where a number of potential sleepers will be.
And, as always, we cannot forget about the busts as well. Let's take a look.
Nerlens Noel, C, Kentucky
He's not as raw as the Thunder's Hasheem Thabeet and he's a more fluid athlete, but for a guy who's likely to be chosen first overall, Noel reminds me of the former second pick. This is not a good thing. There are concerns about Noel recovering from an ACL injury, and the fact that he's lost 25 lbs. from his very slight frame. While Noel is a terrific shot-blocker and highly active center, the lack of sheer basketball acumen and the fact that he is so raw offensively are huge scares. During his limited time at Kentucky, he didn't display a consistent touch outside the paint and showed that he could be a real work-in-progress as a pick-and-roll player. The dearth of big men in this draft has elevated his value, but it's still tough to justify taking Noel in the top three.
Michael Carter-Williams, PG, Syracuse
Carter-Williams has all the measurements on paper. He is 6-foot-6 and an explosive leaper who can flat out dish the rock. But NBA point guards these days have to score and have to be able to shoot the three out of a pick-and-roll, two areas where he has shown zero ability. Watch Carter-Williams and he will jump off the page with "flash plays," but something is definitely missing and I would stay away, even in the mid-teens. One scout told me that Jim Boeheim didn't love him either. For a guy with his type of talent, MCW doesn't impact the game the way he should.
Bennett is hard to evaluate because he played just one season in college and has a high ceiling. He can really finish above the rim and has displayed some nice versatility. But he's really going to struggle in the half-court NBA offense and quite honestly, I wonder what his true pro position is. He could play the three or the four, but he reminds me a lot of the Timerwolves' Derrick Williams, who was actually better when he left Arizona (scored more and was more efficient), but I don't believe he will be able to score with the same ease he did in college.
Dennis Schroeder, PG, Germany
The 6-foot-2 Schroeder really helped himself at the Nike Hoops Summit, where he displayed an elite first step and real ability to run screen-and-roll. He is still just 19 and a little wild, but his 6-foot-8 wingspan and tremendous lateral quickness make him special. He is also a hounding, on-ball defender and although he's raw, could become the best point guard out of the class because of his pure instincts on both sides of the floor.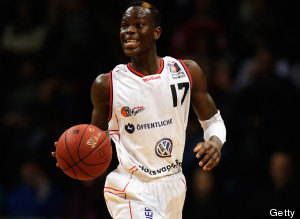 Dennis Schroeder, 19, of Germany, has a wonderful blend of quickness and explosive ability from the point guard position. (Getty Images)
Giannis Antetokounmpo, F, Greece
Like Schroeder, Antetokounmpo has an incredible upside and will also need time to develop physically. At 6-foot-9, he possesses excellent versatility because of his ability to handle the ball and score in the open floor, as well as facilitate for teammates. He still gets pushed around and struggles with a lack of strength, but Antetokounmpo is an elite talent who could have been a surefire top 10 pick in a year had he gone to college in the states. Give him three NBA seasons and he could become the steal of this draft.
Jackie Carmichael, PF, Illinois State
Guards Erick Green (Virginia Tech) and Ray McCallum Jr. (Detroit) are sleepers, but Carmichael is about as sure a thing as you can get in the 30s or 40s, and exactly why this draft is so interesting. He has an extremely high motor and a real knack for rebounding. While limited offensively, Carmichael offers high value because he has zero ego and will compete every night -- for 5 minutes or 20. He's the kind of glue-guy every good team needs, but very few actually possess.
Email me at jordan.schultz@huffingtonpost.com or ask me questions about anything sports-related at @Schultz_Report. Also, be sure and catch my NBC Sports Radio show, Kup and Schultz, which airs Sunday mornings from 9-12 ET, right here.
Popular in the Community