WASHINGTON -- The U.S. Senate voted down opposing plans to avert the across-the-board budget cuts known as sequestration on Thursday, just a day before the spending reductions start to take effect.
Sequestration mandates $1.2 trillion in budget cuts over 10 years, with $85 billion coming in the remainder of the 2013 fiscal year.
Democrats offered a plan that was designed to replace sequestration for 10 months through a combination of spending cuts and revenue raisers, such as closing tax loopholes for oil and gas companies and implementing the so-called Buffett Rule.
Republicans, who declared any new tax revenues a non-starter, introduced a counterproposal that would keep the sequester in place, but grant President Barack Obama the flexibility to implement the cuts in what he deems is the best way.
The Democratic bill received a final vote of 51 to 49, nine votes short of the 60 required to proceed, while the Republican alternative fell 38 to 62.
A united GOP conference, along with Democratic Sens. Kay Hagan (N.C.), Mary Landrieu (La.) and Mark Pryor (Ark.), voted against the Democratic bill. Senate Majority Leader Harry Reid (D-Nev.) switched his vote from a yes to a no as part of a procedural move that facilitates his ability to bring the measure up for another vote.
Two Democrats, Sens. Max Baucus (Mont.) and Mark Warner (Va.), voted for the GOP alternative. Nine Republicans voted against it: Sens. Kelly Ayotte (N.H.), Susan Collins (Maine), Ted Cruz (Texas), Lindsey Graham (S.C.), Dean Heller (Nev.) Mike Lee (Utah), John McCain (Ariz.), Rand Paul (Ky.) and Marco Rubio (Fla.).
"I want the big deal … let's bring that to the floor, let's open it up for amendments, and let's have the discussion," Heller said Thursday, explaining his vote. "All we're doing is kicking the can down the road with the sequester votes, and I'm not going to be a part of this game. Votes like this aren't doing anything to solve the problem."
Since the House of Representatives adjourned Thursday for a long weekend, the failure to come up with a replacement for sequestration means cuts to defense and domestic spending will kick in on Friday.
McCain said he could not vote for a proposal that kept the sequester cuts in place, given the blow to defense spending.
"[Defense is] 19 percent of the discretionary spending. It is absorbing 50 percent of the cuts. That's disgraceful," he told reporters.
The failure of both bills is hardly a surprise, and comes after a drawn-out blame game over the origins of the unpopular deficit-reduction scheme.
Reid warned of the consequences in a Thursday floor speech.
"Hundreds of thousands of civilian employees of the Defense Department will be furloughed in coming weeks and months," Reid said. "Families and businesses across this country are also bracing for the pain of deep cuts to programs that keep our food safe, our water clean and our borders secure."
Reid added that the GOP plan would "embrace these devastating cuts, while abandoning any of the responsibility that goes along with them."
Senate Minority Leader Mitch McConnell (R-Ky.) countered that the president could mitigate the problems with the flexibility the GOP wants to grant him, and that the only reason Obama is not embracing this plan because he wants the GOP to look bad. The best way to do that, McConnell argued, is to make sequestration hurt as much as possible.
"The president is ready to make it bite as hard as possible –- all to send a simple message to the public: 'You want to control Washington spending, America? Fine, let me show you much I can make it hurt,'" McConnell said. "Instead of directing his cabinet secretaries to trim waste in their departments, he's going to go after first responders. And teachers. And almost any other sympathetic constituency you can think of. And he'll arbitrarily close parks and monuments too –- all to force Americans to accept higher taxes. He'll claim his hands are tied."
Some weren't as concerned, looking ahead at the continuing resolution, or funding for the government, which expires on March 27.
"We'll do something sensible after we've tried everything else that's not," said Sen. Bob Corker (R-Tenn.). "At least we're finally on the right topic."
The sequester cuts could be reshaped as part of continuing resolution discussions, but Republicans are maintaining that the top line should be at the post-sequester spending levels of $974 billion. For most Democrats, that'd be a non-starter.
"It's something we won't go for," said Sen. Ben Cardin (D-Md.).
But the Maryland Democrat remained optimistic that continuing resolution negotiations won't culminate in an impasse and subsequent government shutdown.
"I think we will work out a bipartisan agreement," Cardin said. "I think sequestration makes so little sense -- it is mindless, it is hurting this country. I don't think there are too many members of the Congress who disagree with that statement, so we have to substitute it."
Sen. John Thune (R-S.D.) agreed that a government shutdown wouldn't be necessary.
"We're not advocating that," the Republican conference chairman told reporters outside the vote.
"Hopefully there will be enough pressure that builds around doing something big with regard to entitlement reform [and] hopefully tax reform, once [the sequester] is implemented," Thune added.
McCain was in no mood to entertain the notion of a government shutdown -- which would be the first since 1996 -- and urged his Republican colleagues to remember how it played out under former President Bill Clinton.
"I think they should go back and look at some old clips … and polling," McCain said. "The party that doesn't have the presidency, history shows, are the ones who suffer the most."
Obama blamed Republicans for failing to replace sequestration, putting out a statement soon after the votes Thursday that urged a path forward.
Today, Republicans in the Senate faced a choice about how to grow our economy and reduce our deficit. And instead of closing a single tax loophole that benefits the well-off and well-connected, they chose to cut vital services for children, seniors, our men and women in uniform and their families. They voted to let the entire burden of deficit reduction fall squarely on the middle class.

I believe we should do better. We should work together to reduce our deficit in a balanced way – by making smart spending cuts and closing special interest tax loopholes. That's exactly the kind of plan Democrats in the Senate have proposed. But even though a majority of Senators support this approach, Republicans have refused to allow it an up-or-down vote – threatening our economy with a series of arbitrary, automatic budget cuts that will cost us jobs and slow our recovery.

Tomorrow I will bring together leaders from both parties to discuss a path forward. As a nation, we can't keep lurching from one manufactured crisis to another. Middle-class families can't keep paying the price for dysfunction in Washington. We can build on the over $2.5 trillion in deficit reduction we've already achieved, but doing so will require Republicans to compromise. That's how our democracy works, and that's what the American people deserve.
This is a developing story and has been updated.

Before You Go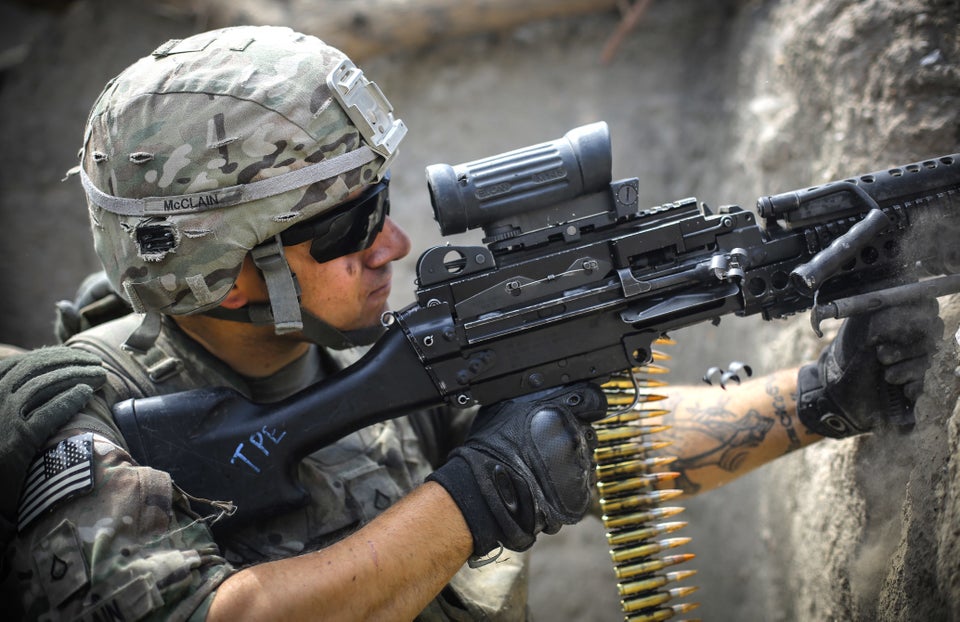 What Sequestration Would Cut
Popular in the Community