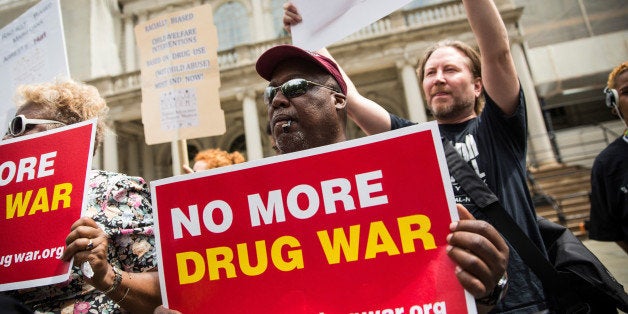 2014 was another nail in the coffin in the United States' disastrous war on drugs. The majority of the country now supports marijuana legalization and Oregon, Alaska and D.C. made it a reality by legalizing it. World leaders like former UN head Kofi Annan and Presidents of Latin America called for an end to the drug war and for legally regulating drugs.
U.S. Attorney General Eric Holder continued to speak out against racist mandatory minimum drug laws and mass incarceration. President Obama made national news when he spoke out against racist marijuana enforcement and said that marijuana is less harmful than alcohol.
Below are some of the top stories that made 2014 a watershed year in the fight to end America's longest failed war.
1. Oregon, Alaska and Washington D.C. Legalize Marijuana
2. CA Passes Historic Sentencing Reform Initiative: No More Felonies for Drug Possession
California voters took a significant step toward ending mass incarceration and the war on drugsby approving Proposition 47 in November. Californians overwhelmingly voted to change six low-level, nonviolent offenses - including simple drug possession - from felonies to misdemeanors. This builds on California reforming their "three strikes" law in the 2012 election,
3. World Leaders call for All Drug Decrim and Legal Regulation of Drugs
The Global Commission on Drug Policy made worldwide news when they launched a report calling for all drug decriminalization and also legal regulation of drugs. The Commission is made of former UN head Kofi Annan, former Brazilian President Fernando Henrique Cardoso, former Mexican President Ernesto Zedillo, former Colombian President César Gaviria, Ricahrd Branson and more. The Commission is the most distinguished group of high-level leaders to ever call for such far-reaching changes.
4. Attorney General Eric Holder Continues to Slams U.S. Mass Incarceration and Mandatory Minimums
Eric Holder will go down in history as the Attorney General who began unwinding the war on drugs and steering our country away from mass incarceration. In 2014, Holder continued to make a series of moves to fix our broken criminal justice system, including: calling on policymakers to find ways to reduce the number of people behind bars; supporting efforts in Congress and the U.S. Sentencing Commission to reduce punitive sentencing; changing how the Justice Department charges people to reduce the application of draconian mandatory minimum sentencing; promoting efforts to re-integrate formerly incarcerated individuals into society and eliminate barriers to successful re-entry; advocating for the restoration of voting rights for the formerly incarcerated and urging federal law enforcement agencies to identify, train and equip personnel who may interact with a victim of a heroin overdose with the overdose-reversal drug naloxone.
5. Colorado and Washington Show World Benefits of Marijuana Legalization
Colorado and Washington rolled out marijuana legalization in 2014 and showed us that legalization works in the real world. Despite scare claims from opponents, the "sky didn't fall" and instead led to millions of dollars of tax revenues and more importantly, 10,000s of fewer arrests.
6. Eighty Organizations Highlight Plight of Drug War's Youngest Victims At Home and Abroad
A diverse coalition of more than 80 civil rights, immigration, criminal justice, racial justice, human rights, libertarians called for an end to the war on drugs in the name of protecting children both in Latin America and here in the United States. The coalition connected the dots between the 52,000 unaccompanied children apprehended at the U.S. border, many of whom are fleeing drug war violence in Central America and the devastating consequences of the drug war in the U.S., mass incarceration driven by overly-punitive drug laws tears apart families and communities, leaving children - particularly children of color - vulnerable.
7. The New York Times Comes Out Big for Marijuana Legalization
The New York Times editorial board made history in June when they became the first major national paper to call for an end to marijuana prohibition. What made the news so huge was not only their position, but the passion and space they gave to the issue. In addition to the lead editorial, "Repeal Prohibition, Again", there was a six-part series on marijuana legalization with long, thoughtful editorials on related issues such as criminal justice, public health, regulatory models, and so forth. The Times' editorial had the feeling of legendary CBS News anchor Walter Cronkite coming out against the Vietnam War. They dropped a bomb on our country's disastrous war on marijuana with unprecedented force.
8. People Around the World Hit the Streets Over Police Killings and Racist Criminal Justice System
Outrage around police violence, corruption and discrimination in the criminal justice system is more intense than ever in the wake of the deaths of Michael Brown in Ferguson and Eric Garner in New York. Protests have erupted all over the world. Those united in the fight against the drug war know how racist, cruel, inhumane and unfair law enforcement can be when there is absolute power and no accountability. #BlackLivesMatter
9. Overdose Preventions Strategies and Harm Reduction Spread Around Country
The country mourned the overdose death of Phillip Seymour Hoffman at the beginning of the year. He reminds us that 105 people die in the United States every day from an overdose involving heroin or pharmaceutical opioids. With more than 30,000 deaths annually, accidental overdose has overtaken car accidents as our country's leading cause of accidental death for people 25 to 64. Fortunately there has been major momentum in states passing overdose prevention laws. This year California became the latest and largest state in the country to pass legislation to increase access to the opiate overdose reversal medicine naloxone by allowing people to obtain through a pharmacist.
10. Marijuana Reform is A Racial Justice Issue: DC Legalizes and NYC Halts Arrests
Washington D.C. and New York City won major marijuana reform by organizing for racial justice. In D.C., the Initiative 71 legalization campaign was based squarely on ending racially-biased enforcement of marijuana laws, following a 2013 ACLU report that showed that African Americans were eight times more likely to be arrested for marijuana possession than whites, despite use rates being the same across races. For years advocates have hammered the racist marijuana arrests under Mayors Guilliani, Bloomberg and now DeBlasio. Finally, DeBlasio was forced to take action and announced a new policy where people would not be arrested, but given tickets for under an ounce of marijuana. There is more work to be done, as advocates worry about racial disparities in tickets given out. But DC and New York make clear that legalizing marijuana is a civil rights issue.
11. Ethan Nadelmann Rocks the Crowd at TEDGlobal 2014: The War on Drugs Has Got to End
Ethan Nadelmann, founder and executive director of the Drug Policy Alliance, delivered a fiery TED Talk last month at TEDGlobal 2014 in Rio de Janeiro, Brazil. In the talk, Nadelmann delivers an unflinching and powerful analysis of U.S. drug policy that was greeted with a standing ovation. "The reason some drugs are legal and others are not has nothing to do with science or health or the risk of drugs, and everything to do with who uses, and is perceived to use, certain drugs," said Nadelmann during his TedGlobal talk. "If the principal smokers of cocaine were affluent older white men and the principal users of Viagra were young black men, using Viagra would land you time behind bars." The piece has been viewed 700,000 times in just month.
12. President Obama: Marijuana No More Dangerous Than Alcohol
In an interview with the New Yorker published in January, President Obama spoke about his past drug use, said marijuana was no more dangerous than alcohol and said the new laws legalizing marijuana in Colorado and Washington are 'important'. The president expressed concern about disparities in arrests for marijuana possession. "Middle-class kids don't get locked up for smoking pot, and poor kids do," Obama said, adding that individual users shouldn't be locked up "for long stretches of jail time." The New Yorker interview solidified his green light to Colorado and Washington being allowed to move forward with their legalization. His New Yorker interview generated 1,000's of articles around the world.
13. Congress Prohibits Justice Department from Undermining State Medical Marijuana Laws
Despite Progress, the Drug War Grinds On as Viciously as Ever
For all of the progress in 2014, the war on drugs is as vicious as ever. The worst drug war policies remain entrenched, as close to three-quarters of a million people are arrested for marijuana possession every year, and more than half a million people are still behind bars today for nothing more than a drug law violation. The bloodbath in Mexico has taken 100,000 lives in the last eight years. And overdose fatalities have doubled in the last decade.
We are at a paradoxical moment in our country. We are clearly moving in the right direction, toward a more rational drug policy based on science, compassion, health and human rights. But we need to step up our efforts, grow our numbers, and continue to win hearts and minds because the casualties from the war continue to mount every day. If the people lead, the leaders will follow.
Tony Newman is the director of media relations at the Drug Policy Alliance (www.drugpolicy.org)
Related
Popular in the Community