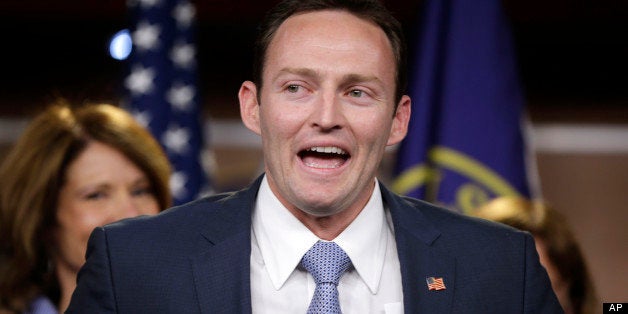 WASHINGTON -- The 14 most vulnerable congressmen with already declared challengers for 2014 are off to a fast start in fundraising, but so are their opponents.
According to Federal Election Commission reports filed Monday, Reps. Jim Matheson (D-Utah) and Chris Gibson (R-N.Y.) were outraised in the first half of 2013 by their challengers, while three other incumbents -- Reps. Gary Miller (R-Calif.), Mike Coffman (R-Colo.) and Michael Grimm (R-N.Y.) -- were closely matched by their opponents.
This far out from the election, fundraising is a key metric used by the parties and the public for judging the strength of candidates, both incumbents and challengers. It has also become essential for candidates in the most contested districts to raise large sums as they will almost certainly have to deal with spending by outside super PACs and political nonprofits.
In a rematch with 2012 Republican opponent Mia Love, the perennially vulnerable Matheson raised $557,263, compared to Love's $602,027. In New York, Democrat Sean Eldridge, the husband of Facebook co-founder and New Republic owner Chris Hughes, raised $747,943, compared to Gibson's $498,337. Eldridge's financial lead over Gibson is due mainly to the $215,000 Eldridge contributed to his own campaign.
In California, Miller, the most vulnerable Republican on the list of 14, raised $322,499, while Democrat Pete Aguilar, who ran in 2012, but did not make it to the general election, raked in $301,863.
While these five incumbents are facing near equal competition on the fundraising front, another six of the most vulnerable incumbents have so far raised more than double the amounts pulled in by their current competition.
Rep. Patrick Murphy (D-Fla.) has already raised more than 100 times the sums pulled in by his only announced competitor so far, Juno Beach Vice Mayor Ellen Andel, with $1.5 million in the first six months of 2013. In May, the National Republican Congressional Committee's vice chairman for recruitment, Rep. Patrick McHenry (R-N.C.), took a trip down to Murphy's Florida district to tell prospective Republican challengers that they will need to raise between $3 million and $5 million to compete.
In a rematch of one of the closest races in 2012, Rep. Ron Barber (D-Ariz.) has raised nearly $680,000, which is 14 times the $47,000 raised by Republican Martha McSally.
In California, freshman Rep. Raul Ruiz (D-Calif.) raised $817,646 in the first half of 2013, compared to $144,858 by his Republican opponent Assemblyman Brian Nestande.
Representing a sprawling district along Texas' border with Mexico, freshman Rep. Pete Gallego (D-Texas) defeated both a former congressman in the 2012 primary and an incumbent congressman in the general election. In the past six months, he has raised $521,585, or more than four times the $116,049 raised by Republican businessman Will Hurd.
Representing a district that Mitt Romney won by 19 points, Rep. Mike McIntyre (D-N.C.) raised twice as much as his Republican opponent David Rouzer: nearly $450,000 compared to $206,204.
The huge monetary advantages for these six incumbents will be touted by them and their parties, but they will not guarantee success. In every election since 1992, incumbents who lost raised on average more money than incumbents who won, according to Vital Statistics on Congress, a joint American Enterprise Institute-Brookings Institution project. Thus, these big numbers could simply represent the candidates' fundraising drive in the face of their own vulnerability.
There were also three vulnerable incumbents who raised modestly more than their opposition in the first half of this year. Rep. Brad Schneider (D-Ill.) raised $840,107 in a rematch with former Rep. Robert Dold (R), who pulled in $567,011. Rep. Scott Peters (D-Calif.) pulled in $687,743, compared to $487,616 for Republican Carl DeMaio. And Rep. David Joyce (R-Ohio) raised $649,174, compared to $377,891 for his Democratic opponent Michael Wager.
CORRECTION: An earlier version of this story misidentified congressional candidate Sean Eldridge's husband as Chris Hedges. He is Chris Hughes.