It was an inspirational, fun and thought-provoking show. San Francisco's spring weather was a treat even if I didn't see much of the sun -- I had to spend two entire days in both halls of Moscone Center. But my hard work paid out. Here are the culinary trends and predictions of a food writer and a serial attendee of the Fancy Food Show:
Sriracha: popcorn, hummus and even sprouted chips
Sriracha popcorn from J&D Foods is not new. It came out a couple of years ago and it does pretty well. Now a second company produces the same flavor: The Popcorn Factory, Lite Works Popcorn! Sriracha is available. Sriracha hummus was introduced by Hope Hummus company and also the Sriracha Jam from Jam Stand was present. Finally, Simply Sprouted Way Better Snacks will introduce their Sriracha sprouted chips very soon and I am all excited. As Dave Lefkow from J&D Foods says, "Sriracha sells as much as ketchup in the West Coast and that helps the sales of popcorn." Who knows, maybe next year it will be our bread too.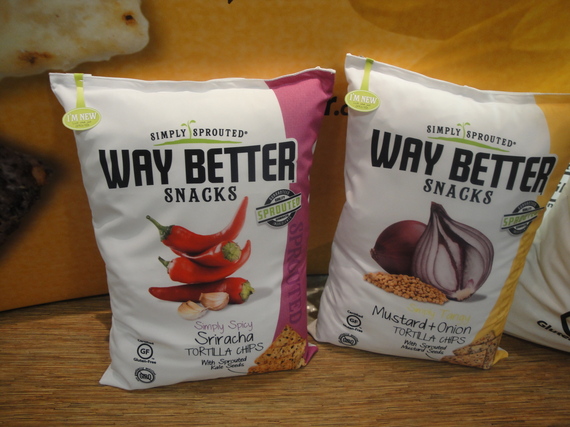 Seaweed: a healthy snack with a crunch
The abundance of seaweed-made products was evident. Now seaweed is not only available as a simple snack in its plain form but has obtained multiple flavors, shapes and formats.
Oceans Halo Seaweed Chips introduced their Chili Lime, Sea Salt, Korean BBQ and Hot & Spicy Seaweed chips; SeaSnax, their newest Chomperz Crunchy Seaweed Chips in four flavors included Jalapeno, Onion and Barbecue; GimMe added the bold wasabi flavor. But I was happily surprised with the Toasted Sesame and Seaweed Popcorn from 479 Degrees Popcorn. It is indeed a nutty but light popcorn for grown-ups.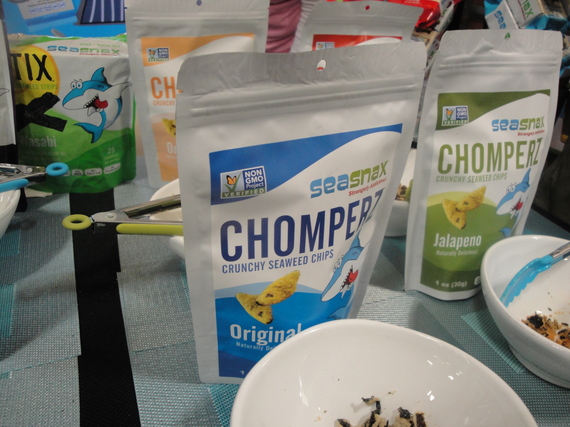 Jerky: Chicken, Turkey and even Salmon
Now jerky comes in beef but also in salmon, chicken and turkey. Ocean Beauty Seafoods introduced their Wild Salmon jerky in various flavors; Krave their amazing Black Cherry Barbecue Beef Jerky and the Basil Citrus Turkey Jerky. I saw the Turkey RealSticks from Vermont Smoke and Cure; Perky Jerky with their Turkey Perky Jerky as well as the Sweet & Spicy Beef Jerky. Even those who don't like beef can have a jerky made with salmon or turkey.
Oils with a kick
Forget about Olive Oil for now. Let me introduce you to Stöger's Oil Hazelnut Oil, Tomato Seed Oil, Cherry Seed Oil and Chile Seed Oil -- all wonderfully balanced and tasty. I found the Jalapeno Lime Cotton Seed Oil from Acala Farms; Black Walnut Oil from Hammons Black Walnuts; Red Palm Oil from Sioma, and finally the unexpected Green Tea Seed Oil from Arette.
Foreign traditions with a twist or not
How can a traditional Italian, Spanish and Greek food company make their traditional products more appealing to compete with Fancy Food Show's innovation and quirkiness? Change their name, give them a different packaging, add a new dimension not before seen or just be real to tradition as it is.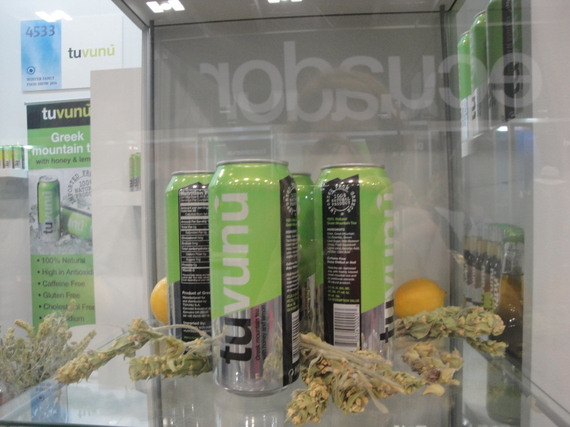 Greek Tea Company Tuvunu launched in the show, Mountain Tea in a can, with the same name "Tuvunu" (for Greek speakers that means of the mountain) -- a smart way to promote healthy iced tea from Greece.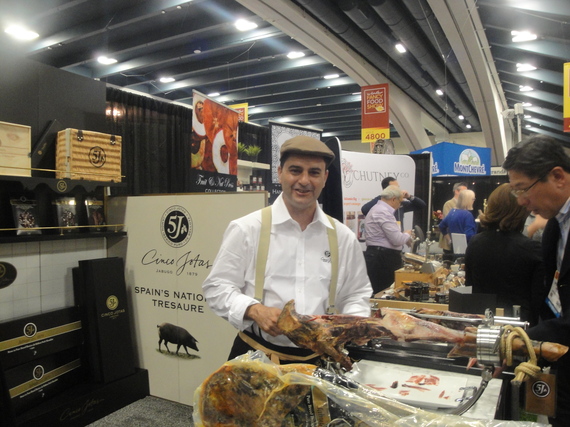 From Spain, Acesur introduced their newest La Española Organic Extra Virgin Olive Oils for Kids -- really a great idea in a colorful, playful spray bottle. And professional master cutter of jamón ibérico "Paco" was performing at the stand of Cinco Jotas (5Js), a traditional jamón with a sophisticated flavor.
The Brits loyal to tradition and the Royal Family showcased HRH Prince Charles product, the organic shortbread and biscuits Duchy and Walkers launched their newest Scottie Dog Shortbreads. Shortbread can be buttery for the American consumer and even "heavy" but is is smaller than the average American cookie. Have a small piece and let its crumbs melt in your mouth. It is a different experience.
Italy didn't seem to be extremely innovative this time and I was disappointed at France for being too slow to have a decent morning croissant. But without much thinking, I grabbed the fois gras canapés instead. Oh, vegetarians, you don't know what you are missing...
Related