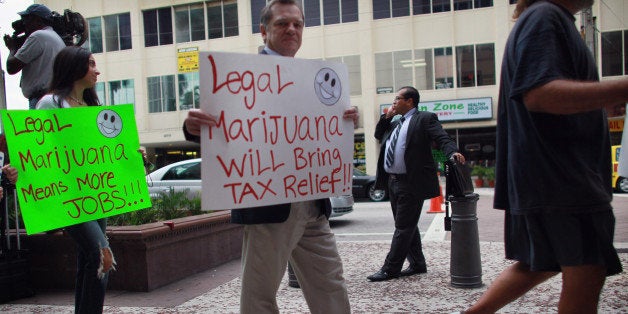 It may be an off-year election, but it's a big one for drug policy reform. In seven weeks, voters across the country will have a chance to accelerate the unprecedented momentum to legalize marijuana and end the wider drug war. In fact, there are more drug policy reform questions on the ballot this November than ever in American history. Voter initiatives -- primarily reforming or repealing marijuana laws -- appear on the ballots in seven states, at least 17 municipalities and one U.S. territory. To help you keep score at home, here's an overview, starting with the highest-profile measures.
Oregon: Passage of Measure 91 will make the Beaver State the third to legalize marijuana for adults outright. Like the historic laws adopted in Colorado and neighboring Washington two short years ago, this initiative would legalize possession of small amounts of marijuana for adults 21 and older and create a statewide system to regulate production and sales. And similar to Colorado's law, Measure 91 would allow adults to cultivate small amounts of marijuana under controlled circumstances. In this entirely vote-by-mail election, the initiative has already been endorsed by the Pacific Northwest's largest daily paper and would likely boost efforts across its southern border to end marijuana prohibition in California two years from now.
Alaska: The other statewide marijuana legalization initiative, Measure 2, is closely modeled on Colorado's Amendment 64 and tracks many of the elements in Oregon's prospective law. Alaska was something of a marijuana reform pioneer as possession and cultivation of small amounts for personal use in a private residence has been protected under the Alaska Constitution since the 1970s. Alongside Oregon in 1998, Alaska was among the first states to legalize medical marijuana. With a deep-rooted respect for personal freedom, Alaska would become the first red state to legalize marijuana for adult use, no doubt raising eyebrows across the political spectrum.
Florida: Amendment 2 is the only statewide medical marijuana initiative on the ballot this year, and it's one to watch. Victory would make Florida, with its huge population and bell weather status in American politics, the very first southern state to adopt a medical marijuana law. With 23 other medical marijuana states and super-majority support nationally, passage of Amendment 2 would effectively settle any lingering questions on public acceptance of marijuana as medicine. It's going to be a challenge, though, since Florida law requires 60% to pass a voter initiative. While polls indicate enormous support, casino mogul Sheldon Adelsoncontributed a few million dollars to stop it as Amendment 2 is associated with Charlie Crist's comeback gubernatorial campaign. Adelson's intervention has created the first well-funded opposition to a statewide marijuana reform campaign ever.
California: On the heels of reforming its harshest-in-the-nation Three Strikes law in 2012, Californians are now poised to refine six low-level, nonviolent offenses, including simple drug possession, from felonies to misdemeanors. Proposition 47 would then dedicate the savings -- likely more than $1 billion a year -- to schools, victim services, and mental health treatment. With retroactive sentencing and expungement provisions, the impact of Prop 47 in California on wasteful corrections spending and individual lives would be profound and surely resonate across the country.
District of Columbia: Earlier this year, the D.C. Council adopted the nation's most far-reaching marijuana decriminalization law. In November, voters in the nation's capital will decide whether to go even further. Initiative 71 makes it legal for adults over the age of 21 to possess and cultivate small amounts of marijuana. While District law prevents the ballot initiative from addressing the sale of marijuana, the D.C. Council is considering a bill that would tax and regulate marijuana within the District. D.C. has the highest per capita marijuana arrest rates in the U.S. with enormous racial disparities as police target African Americans for 91 percent of these arrests. Initiative 71 will be the first marijuana reform campaign fought primarily on the issue of the drug war's ongoing toxic impact on black communities.
Other races: Voters in municipal elections from the Northeast to Micronesia will weigh in November 4 on a range of marijuana focused issues.
· Guam: Voters could make this U.S. territory the first to adopt medical marijuana. Thebinding referendum would allow for dispensaries regulated by the Department of Public Health and Social Services.
· Maine: By a wide margin in 2013, Portlanders chose to eliminate criminal penalties for adult possession of up to an ounce of marijuana. In seven weeks, voters in York, South Portland, and Lewiston will tackle the same question.
· Michigan: In the last two years, residents of seven cities have voted to remove local penalties for adult possession of small amounts of marijuana in a private residence. As of now, a whopping 11 other cities (with apparently more to come) will have the chance to follow suit this year.
· New Mexico: Last month, the City of Santa Fe became the first in the state to decriminalize possession of small amounts of marijuana. On the ballot in November, voters in Bernalillo (Albuquerque) and Santa Fe Counties will decide if their county should affirm decriminalization efforts.
Public opinion has shifted dramatically over the last decade in favor of reforming marijuana laws and dismantling the egregious excesses of the drug war. And elected officials have begun to take notice. The U.S. House has voted five times in recent months to let states set their own marijuana policies while Senators Rand Paul and Cory Booker have introduced similar bi-partisan legislation in the U.S. Senate in addition to a cluster of other long-overdue criminal justice reforms. When the dust settles on November 5, the momentum for change in this country will only have accelerated.
Stephen Gutwillig is the Deputy Executive Director for Programs of the Drug Policy Alliance, the nation's leading organization working to promote alternatives to the failed war on drugs.
Popular in the Community