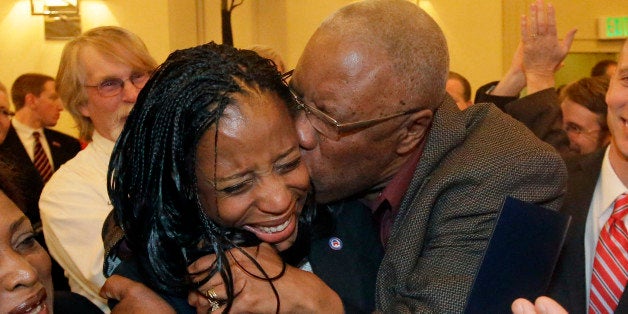 Tuesday's midterm elections marked a night of historic firsts.
Yes, Republicans resoundingly trounced Democrats, taking control of the Senate, expanding their majority in the House and even picking up key gubernatorial posts. But the GOP also made much history, electing younger, more diverse candidates to a legislative body that has historically been dominated by older, white men.
Mia Love picked up two such honors on Tuesday night. The former mayor of Saratoga Springs, Utah, narrowly defeated her Democratic opponent, Doug Owens, to became the first black Republican woman ever to be elected to Congress, and the first Haitian-American member of Congress from either party. The rising GOP star, who is Mormon, drew national attention in 2012 after an unsuccessful bid for Congress and a speech at the Republican National Convention.
In the Senate, women got a boost with the election of two Republicans. Joni Ernst, an Iraq War veteran, easily defeated Democratic U.S. Rep. Bruce Braley in what was considered a tight contest to become the first woman to represent Iowa in the upper chamber. West Virginia also sent a woman to the U.S. Senate for the first time; voters elected Republican Shelley Moore Capito over Democratic opponent Natalie Tennant by a wide margin. Her victory also marks the first time in 56 years that the state has elected a GOP senator.
Democrat Alma Adams will become the 100th woman in the 113th Congress after her victory in the special election to replace Rep. Mel Watt (D-N.C.) on Tuesday. Because it was a special election, she will be sworn in when the current Congress reconvenes this month. Before her election, there were 20 female senators and 79 congresswomen.
Republican Elise Stefanik became the youngest woman elected to Congress in history, after she defeated Democrat Aaron Woolf in New York's 21st District. House Speaker John Boehner (R-Ohio) and Majority Leader Kevin McCarthy (R-Calif.) both campaigned on behalf of the 30-year-old former aide to George W. Bush.
Scott Brown also made history on Tuesday, but not in the way he expected. His loss to Sen. Jeanne Shaheen (D-N.H.) made him the first-ever national candidate to lose two Senate races in a row to different women. The former U.S. senator from Massachusetts was already working against history by attempting to represent two different states in the U.S. Senate.
With his victory over Democrat Joyce Dickerson, Republican Tim Scott officially became the first black senator to be elected by popular vote in the South since Reconstruction. After he was appointed to fill former South Carolina Sen. Jim DeMint's seat, Scott became only the fifth African-American ever to hold a U.S. Senate seat. He will now serve out DeMint's term, which is set to end in 2016. Sen. Cory Booker (D-N.J.) also won re-election, meaning the Senate will have two elected African-Americans serving together for the first time in history.
On the other side of the aisle, Rep. John Barrow (D-Ga.) earned a different distinction. With his loss to Republican Rick Allen, Barrow became the last white House Democrat representing the Deep South, signaling the completion of a tectonic shift in American politics that began in the 1960s. With Sen. Mark Pryor's (D-Ark.) loss on Tuesday, Sen. Mary Landrieu (D-La.) is poised to be the last white Democrat from the Deep South in Congress -- for now. Landrieu will face Republican Bill Cassidy in a December runoff, after failing to secure the 50 percent of votes required for victory Tuesday night. Given the political environment and large GOP gains across the country, she, too, is likely to lose.
It wasn't all bad news for Democrats, however. The party picked up one of its very few victories by ousting Tom Corbett (R), who became the first governor of Pennsylvania to lose a second term since the state allowed incumbents to seek more than one term in 1968. Democrat Gina Raimondo was also elected the first female governor of Rhode Island, when she defeated Republican Allan Fung.
This post has been updated to include Elise Stefanik.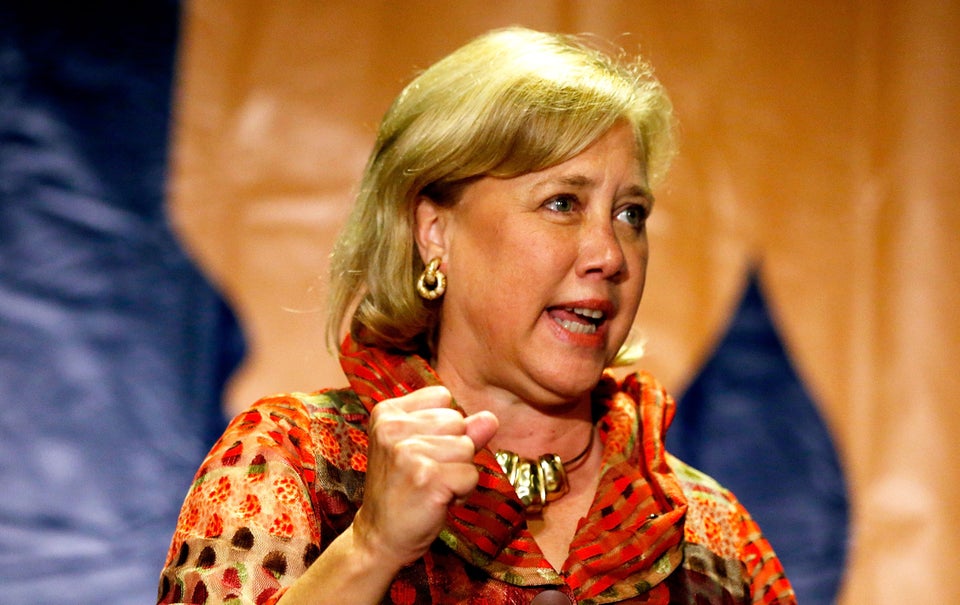 2014 Election Results: Winners & Losers
Popular in the Community