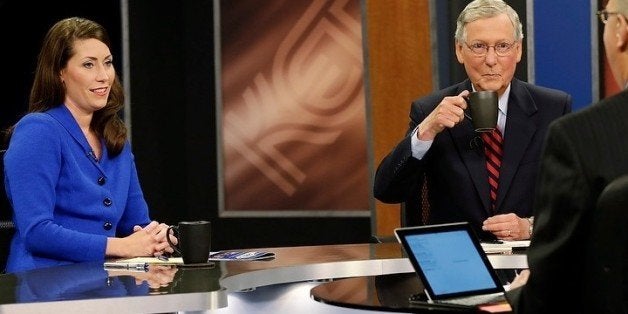 WASHINGTON -- The influence of money in politics was long treated as a side issue during the campaign season. But this year, in at least a half-dozen Senate races, large contributions to and big spending by independent super PACs and nonprofits have featured as key topics in candidate debates.
It probably should come as no surprise that candidates are finally raising the issue. Spending on the current federal contests is expected to exceed $5 billion, a record for a midterm election cycle. The 2014 midterms are just the second full election since the Supreme Court's 2010 Citizens United opened the door to unlimited corporate, union and, ultimately, individual spending on political campaigns.
The issue is also moving to the fore as reform groups, including Mayday PAC and Every Voice Action, pour millions into their own efforts to make the influence of money part of the debate in races across the country. That has helped pump up interest among the public and put pressure on politicians to talk about it.
"We've been watching elections for a long time, and I've never seen the issue be so front and center in so many debates, particularly in the Senate, than what we're seeing this year," said David Donnelly, president and CEO of the campaign finance reform groups Every Voice and Every Voice Action.
"It's really a phenomenal shift towards the issue of money and politics being not just a process question, but a question of who are senators going to work for," Donnelly added.
In an Arkansas Senate debate held Monday, Sen. Mark Pryor (D) blasted his opponent, Rep. Tom Cotton (R), for the support he has received from independent political groups tied to billionaires like Charles and David Koch. Cotton attended an event in June organized by the Koch brothers, where he was praised as "a champion" and applauded for voting against the latest farm bill.
"Folks, he's not listening to you," Pryor said. "He's listening to them. That applause is still ringing in his ear, and those dollar signs are still in his eyes."
Rep. Bruce Braley (D-Iowa) and Iowa state Sen. Joni Ernst (R) traded barbs over their connections to wealthy political donors in an Oct. 11 debate. In the race to succeed retiring Sen. Tom Harkin (D), Braley hit Ernst for her attendance at that same June Koch retreat. Ernst returned fire by noting the support Braley receives from a super PAC run by billionaire environmentalist Tom Steyer.
"The truth is you attended two secret donor meetings in California that were hosted by the Koch brothers," Braley said. "You called them 'wonderful' in that meeting. You credited them with launching your Senate campaign."
"These are the biggest supporters you have in your campaign right now," Braley added. "And it's a fair criticism to ask about how they're supporting you in these elections."
Ernst responded, "This is from someone that's being supported by the California billionaire extreme environmentalist who opposes the Keystone pipeline."
Such attacks have often been deployed to argue that a candidate is out of touch with local concerns and beholden to interests outside the state. This dynamic was on display in the Monday debate between Senate Minority Leader Mitch McConnell (R-Ky.) and his challenger, Kentucky Secretary of State Alison Lundergan Grimes (D).
"The only person Washington's been benefiting is Senator McConnell and the millionaires and billionaires that have bankrolled him," Grimes said.
On that occasion, McConnell declined to respond. But the senator has been a most vocal opponent of campaign finance laws and, according to Federal Election Commission records, received $345,700 from billionaires in this election cycle through the end of June.
In a debate in the Louisiana Senate race pitting Sen. Mary Landrieu (D) against two Republicans, Rep. Bill Cassidy and Rob Maness, the issue of campaign spending by billionaires also reared its head. Landrieu accused Cassidy, her leading rival, of orchestrating "a bogus campaign run on television" to attack her with the Koch brothers' help. A leading Koch-funded organization, Americans for Prosperity, has spent millions over the past year to assail Landrieu over her vote for the Affordable Care Act.
Cassidy hit back by pointing to the support Landrieu has received from a Democratic Party super PAC that received $2.5 million from former New York City Mayor Michael Bloomberg. A prominent supporter of gun control, Bloomberg was mentioned by Cassidy as a way to raise doubts about Landrieu's position on gun rights. Landrieu voted to move legislation that would have expanded background checks for gun buyers following the massacre at Sandy Hook Elementary School.
The Kansas contest between Sen. Pat Roberts (R) and independent Greg Orman has featured a reverse of the usual attacks on those who won't tackle big money's influence. In recent debates, Roberts has criticized Orman for supporting a fix to the problem.
Long backed by the Kochs and their Wichita, Kansas-based company Koch Industries, Roberts has been a leading opponent of campaign finance reform. He has repeatedly assailed Orman's support for a constitutional amendment to reverse decades of legal precedents establishing campaign spending as a form of First Amendment-protected speech. Over the summer, Senate Democrats voted in support of such a constitutional amendment while Roberts and McConnell led the opposition.
Perhaps the most interesting money-in-politics moment came during a debate in South Dakota's Senate race.
Long thought to be a lock for the Republican, former Gov. Mike Rounds, the race has tightened as Rounds has faced questions about a growing scandal related to the alleged sale of visas to the highest bidder through a contract awarded during his administration. These allegations have been talked up by Democratic candidate Rick Weiland and contrasted with Weiland's consistent opposition to big money in politics. Campaign finance reform groups, in turn, have put big money into the race, transforming it overnight into a closely fought contest.
In a debate held Monday, Rounds, Weiland and independents Larry Pressler and Gordon Howie answered questions regarding money in politics.
Weiland stuck to his usual attack on the role of money in political campaigns. "[W]e need to bring some common sense back to how these campaigns are run and financed," he said.
Unlike the hardline anti-reform stance of the Senate Republican bloc he hopes to join, Rounds' response moved closer to Weiland's position. "[W]ith regard to campaign finance reform, ladies and gentlemen, what we need is full disclosure," Rounds said.
This seemingly simple statement of support shows that even reform-averse Republicans can see the benefits of backing a publicly popular policy, according to Donnelly.
"It's an issue that appeals to conservatives as well as to progressives," Donnelly said. "It's smart politics not just to blast money in politics but to say what you're for."
Calling all HuffPost superfans!
Sign up for membership to become a founding member and help shape HuffPost's next chapter
BEFORE YOU GO
PHOTO GALLERY
Potential 2016 Presidential Contenders