Last weekend's MTV Movie Awards brought out a small group of gifting suites to honor the event with products for the young, hip and fashionable:
The Secret Room Events' Secret Room Style Retreat in honor of the 2014 MTV Movie Awards at the SLS Hotel benefiting the California Wildlife Center.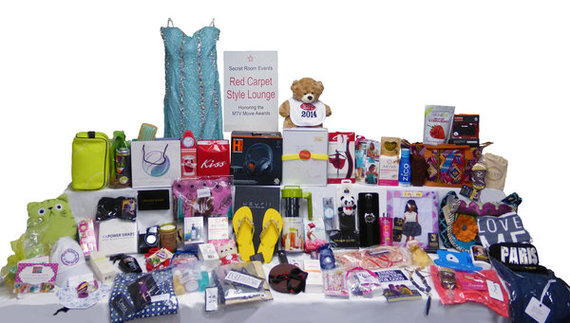 Held on the outdoor terrace of the hotel, this suite had company San-X giving out bags of goodies such as t-shirts, iPhone cases and plushies from Japanese brand RILAKKUMA featuring their popular brown bear. STEELSERIES gave out their H Wireless gaming headsets and Stratus wireless gaming controllers. ZUMMER SPORTS gifted toiletry bags, luggage tags, credit card holders, drawstring bags and backpacks made from real sports ball materials such as footballs, basketballs and tennis balls.
There was also haircare by HERBALOSOPHY, thongs and camis by MAD AND MAC, glasses and sunglasses by KAHOY Collection and iced tea beverage makers from TAKEYA with removable fruit infusers. KISS was on-hand to give guests lashes and press on manicures, along with a take-home bag of products.
Additionally, guests left the suite with an ALL-STAR CONVERSE mini-duffel bag filled with gifts including decorative flip-flops by UZURII Luxury Footwear, plush kittens from DICKE KATZE, chili & oregano green pitted olives by OLOVES, make-up by SUGAR, teeth whitening system by POWER SWABS, deodorizing body spray for dogs by PUPPY MCQUEEN, stainless steel drinking fountain bowls by PIONEER PET and soy candles by GLASSED OVER among others.
*For those more interested in the California Wildlife Center, it is having a Spring Open House at its Calabasas facilities on Sunday April 27, 2014 from noon until 4 p.m. with guided tours, up-close encounters with rescued animals and children's activities among other things.
GBK's Annual Gift Lounge honoring the 2014 MTV Movie Award Nominees and Presenters at the SLS Hotel benefiting Lambda Legal, Los Angeles Youth Network and Autism Speaks.
This indoor suite had chic canvas totes by THURSDAY FRIDAY and fashionable women's shoes, sandals and boots by QUPID. Guests got to pick out colorful silicon multi-shaped bracelets from LOLLIPOP BANDZ by Zorbitz. Electronic devices included headphones from ONKOYO USA and flavored portable mini-hookahs by BLOW ONE. A complete line of skincare products was provided by VERY PRETTY SKIN.
On the edible side, BARRY'S BROWNIES were there to indulge celebs' sweet tooths. For those craving the salty stuff, JACKSON'S HONEST POTATO CHIPS brought the goods with the first organic potato chip made using coconut oil that's also vegan and gluten free. RIPPED CREAM introduced the first ever powdered protein coffee creamer in Lean Vanilla Bean and Chizzled Chocolate. The creamers contain 5-6 grams of protein per serving, along with 11 essential amino acids and Vitamin D3.
ARTISAN GROUP, a collective of artists who make jewelry, bath products and other handcrafted gifts, gave out bags containing products such as dog collars and accessories from Scatter Brained, Four Black Paws and Bow Wow Couture, nail polish from Nail Nation 3000 and Serum No. 5. and exfoliating lotion bars known as "Truffle Buffers" by SoapyBliss Bath & Body Bakery. There were notecards by Julie Ann Art and fine art photographic images by Anita Miller's Nature's Images By Design. Jewelry included Chloe Alyson's 18 K gold filled Hamsa bracelets with calcite and citrine beads whose properties are said to stimulate the mind and get rid of negative energies.
Debbie Durkin's Movie Awards Eco Lounge at The Beverly Hilton's Bar 210 benefiting Yes! Beat Liver Tumors:
Guests with pets received BAYLEE NASCO designer pet beds and blankets, while belt company C4 had guests choose from an array of belts and buckles to create their own personal belts. On the beauty side, there was luxury organic body care by TRANSCEND ORGANICS and perfume by LOREE RODKIN.
The EYEBROW BOUTIQUE was doing on-site eyebrow grooming and organic spray tans while tattoo artist Adam Daniel of PERRI INK was doing actual tattooing on those who were ready and willing. NASH MOTORCYCLES showcased their U.S.A.-made bikes. VAPE REVOLUTION had atomizers with both nicotine and non-nicotine filled flavored e-liquids.
JOCKEY underwear had products for men and women, including their smoothing microfiber stretch "skimmies" slipshorts. The DAILEY METHOD handed out non-slip socks and online gift cards for 30 days of unlimited classes.