 After Democratic Senate candidates gained two seats Nov. 6, despite pundits' speculation just one year earlier that the party would lose its majority, and independent Sen.-elect Angus King (Maine)'s decision to caucus with Senate Democrats, the party now has a total of 55 seats compared with Republicans' 45 in the 113th Congress.
But with the right candidates and a favorable national political environment, the GOP will have opportunities to close that gap and possibly win the six seats necessary to take back the chamber in 2014.
Twenty Democratic senators are up for reelection in 2014, compared to only 13 Republicans. Despite the Democratic successes the last time this group of senators was up for election in 2008, many of their seats are in Republican-leaning, or swing, states. An initial analysis of the 2014 Senate races -- primarily based on the partisan leanings of each state and the perceived strength of the incumbents -- shows 12 Democratic seats that are potentially in play, compared with just two Republican seats that could be vulnerable, ensuring that Democrats will almost exclusively be playing defense in 2014.
Here is a rundown of these 14 races, in alphabetical order by state, with party designation indicating the party of the senator up for reelection in 2014: Alaska (D): In 2008, former Anchorage Mayor Mark Begich (D) narrowly defeated incumbent Sen. Ted Stevens (R), a mainstay of Alaska politics who was under indictment. Since then, Begich has been gearing up for a tough reelection battle in this red state, where many Republicans already are lining up to take him on. Lt. Gov. Mead Treadwell (R), and Joe Miller (R), who unsuccessfully ran for Senate in 2010, suggested they may run against Begich. Other potential candidates include Gov. Sean Parnell (R), current Anchorage Mayor Dan Sullivan (R) and former Lt. Gov. Loren Leman (R). Arkansas (D): Sen. Mark Pryor (D), first elected in 2002, is among the last of his kind: a popular Southern Democrat in a deeply red state -- he even ran unopposed in 2008. However, after former Sen. Blanche Lincoln (D) was handily defeated in 2010, state and national Republicans are bullish on taking Pryor down, and he should face a top-tier challenger. Reps. Tim Griffin (R) and Steve Womack (R), as well as Rep.-elect Tom Cotton (R) -– seen as a rising star in the party -– have not ruled out challenging Pryor. Colorado (D): Sen. Mark Udall (D) was easily elected to an open seat in the 2008 Democratic wave, defeating his opponent by more than 10 percentage points. Though 2014 may be more favorable to the GOP, the party likely will need a top-tier candidate to defeat Udall. Former Lt. Gov. Jane Norton (R), who lost in the 2010 Republican Senate primary to a Tea Party-backed candidate, is being floated as a possible candidate. Other potential candidates include Reps. Cory Gardner (R), Doug Lamborn (R) and Mike Coffman (R), former Gov. Bill Owens (R), state Attorney Gen. John Suthers (R), and Ken Buck (R), who defeated Norton in the 2010 Republican primary, but went on to lose the general election. Iowa (D): Sen. Tom Harkin (D), who will be 74 in 2014, has not yet indicated whether he will be seeking a sixth term, but either way his seat likely will be targeted by Republicans. Tea Party favorite Rep. Steve King (R) has not ruled out running in two years, and Lt. Gov. Kim Reynolds (R) and Rep. Tom Latham (R) also are being floated as potential candidates. Kentucky (R): Senate Minority Leader Mitch McConnell (R) narrowly escaped defeat in 2008, and will run for a sixth term in 2014. McConnell has been preparing for this race for a few years now and already has amassed a $7 million war chest. In September, he hired the former chief strategist of Rep. Ron Paul's (R-Texas) presidential campaign to lead his reelection effort. Democrats have a deep bench in this red state; Secretary of State Alison Lundergan Grimes (D), Lt. Gov. Jerry Abramson (D) and even actress Ashley Judd have expressed interest in challenging McConnell. Louisiana (D): Moderate Sen. Mary Landrieu (D) was considered the most vulnerable incumbent up for reelection in 2008, when she narrowly won a third term. Landrieu, who is the only remaining statewide-elected Democrat in this deeply red state, will surely be a top target for Republicans in 2014. Rep. Bill Cassidy (R) has publicly expressed interest in challenging her. Maine (R): With Republican Sens. Olympia Snowe and Scott Brown exiting the Senate this January, Sen. Susan Collins (R) may be the last truly moderate Republican left in the upper chamber. It is unclear whether Collins, who is very popular in the state, will seek a fourth term. If she runs and escapes the inevitable primary challenge on her right flank, she will be heavily favored to win another term. If she decides to retire or is defeated in the primary, this could become one of the few Democratic pick-up opportunities of 2014. Massachusetts (D): Sen. John Kerry's (D) name is reportedly on President Barack Obama's short lists for secretary of state and secretary of defense. If he joins the cabinet, it would give outgoing senator Brown (R), who is still popular in the state, a chance to make a quick comeback bid. However, Democrats have a deep bench to choose from in the state and Senate Majority Leader Harry Reid is still quite confident that the seat would stay in Democratic hands in the event of a special election. Minnesota (D): Former liberal talk show host and comedian Al Franken (D) defeated incumbent Sen. Norm Coleman (R) by 312 votes in 2008 after a seemingly endless recount. Republicans will surely make ousting Franken a top priority in 2014. Besides Coleman, potential challengers include Reps. Erik Paulsen (R) and Michele Bachmann (R). Former Gov. Tim Pawlenty (R), who ran an unsuccessful presidential bid in 2012, is unlikely to run since he decided to become a banking lobbyist earlier this year. Montana (D): Sen. Max Baucus (D), who saw his approval ratings drop after playing a prominent role in the passage of the Affordable Care Act, might be vulnerable to a primary challenge from popular outgoing Gov. Brian Schweitzer (D). Rep.-elect Steve Daines (R) and outgoing Rep. Denny Rehberg (R), who lost his 2012 Senate bid, are potential Republican contenders. New Hampshire (D): Sen. Jeanne Shaheen (D) defeated incumbent Sen. John E. Sununu (R) 52 percent to 45 percent in 2008. Despite her lackluster fundraising, her strong approval numbers suggest that it will be difficult to unseat her. Sununu may be eyeing a comeback bid, but the GOP has several alternate candidates, including two congressmen who were ousted this year, Reps. Frank Guinta and Charlie Bass. North Carolina (D): State House Speaker Thom Tillis (R) is seen as the top recruit to take on freshman Sen. Kay Hagan (D), who is considered one of the most vulnerable incumbents of the cycle, given her mediocre approval ratings and the Republican lean of the Tar Heel State. South Dakota (D): Former two-term Gov. Mike Rounds (R) announced Thursday that he will challenge incumbent Sen. Tim Johnson (D), who has not indicated if he is running for a fourth term. But with Rounds as the likely nominee, this seat is one of the best Republican pick-up opportunities in the country. West Virginia (D): After winning reelection comfortably in this red state in 2008, Sen. Jay Rockefeller's (D) future remains uncertain. He will be 77 in 2014, and has not indicated whether he will run for another term. Even if he does, he may face a strong opponent in Rep. Shelley Moore Capito (R), who announced her bid earlier this week. However, her candidacy already has gotten some backlash from conservative groups, so she may not have the primary field to herself.
Support HuffPost
The Stakes Have Never Been Higher
Before You Go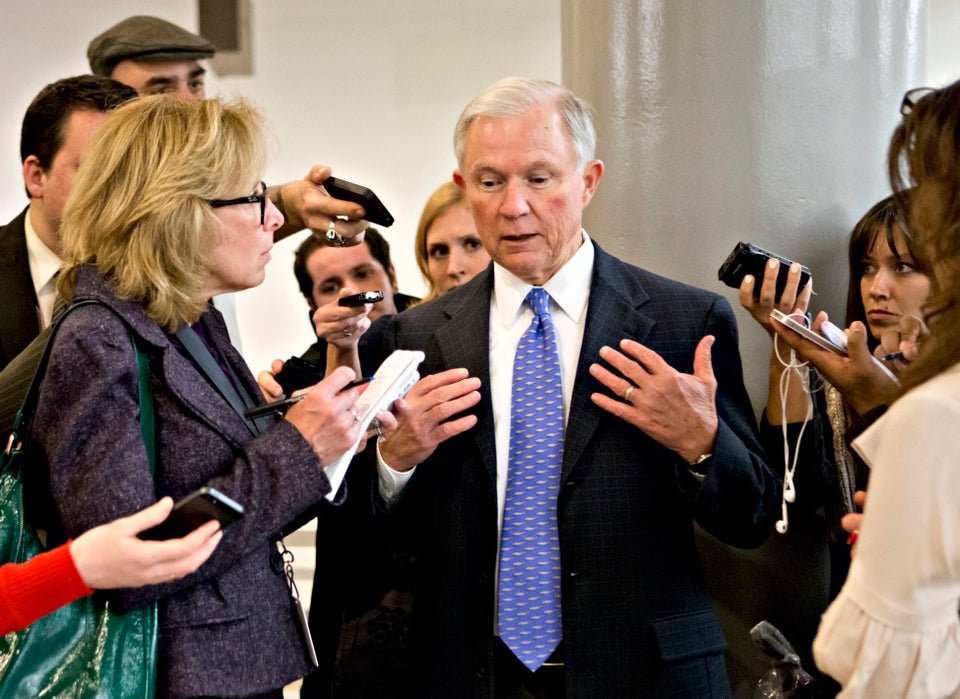 2014 Senate Preview
Popular in the Community