WASHINGTON -- The latest trend in Senate campaigns is the posting of b-roll footage on the Internet, available to download. The goal isn't to draw the attention of comedians at "The Daily Show," but to provide footage of candidates for supportive super PACs and "dark money" nonprofits to use in their advertising.
Campaign finance watchdogs argue that it violates election laws. So far, the Federal Election Commission has punted on that question.
Nine Senate candidates in this election have uploaded b-roll footage -- video clips with no narration -- to their websites and YouTube pages for other groups to download, and three more candidates have uploaded similar video with narration, according to a review of campaign websites by The Huffington Post. Already, independent groups have run eight ads in six Senate contests using b-roll footage made available by the campaigns.
The most prominent example of such republication came in Kentucky, where Senate Minority Leader Mitch McConnell (R) posted b-roll footage that was then used in a $1.8 million ad campaign by the dark money nonprofit Kentucky Opportunity Coalition. The McConnell footage has also featured prominently in sketches on Comedy Central's "The Daily Show," whose viewers have been encouraged to make their own mash-ups of the b-roll with added songs, film clips and even pictures of themselves. The meme was dubbed "McConnelling" by "Daily Show" host Jon Stewart.
Election law does grant limited exemptions from the republication ban to use campaign materials in news, editorials or commentary and to provide a "brief quote of materials that demonstrate a candidate's position." Those using the questionable b-roll footage tend to point to the brief-quote loophole and the FEC's failure to clarify it.
According to Campaign Legal Center lawyer Paul Ryan, the watchdog organizations are paying attention to the republication of b-roll throughout the country. "Our concern is not limited to the Kentucky race and the b-roll footage of Senator McConnell," Ryan said.
The candidates and groups engaged in this republication who responded to HuffPost's requests for comment either declined to speak to the potential legal violation or stated that they were comfortable that the practice is legal.
"Anytime we make an ad, it involves legal review from script through production, and I'm confident that we're on the right side of the law," said Jim Lottsfeldt, the director of Put Alaska First.
David Di Martino, a consultant advising the Environmental Defense Fund, Moms Clean Air Force, the Southern Alliance for Clean Energy and the American Sustainable Business Council Action Fund, said in an emailed statement, "These ads use a few images that are available on YouTube and other publicly available websites." He continued, "That's a common practice, which is allowed as long as there is no coordination with any candidate. It's also economical, especially when you are on a budget and fighting to be heard over deep-pocketed special interests."
"We have followed this issue closely (long before 'McConnelling' made Mitch McConnell late night comedy fodder) and we have always adhered to FEC rules, which clearly allow for 'brief quote of materials,'" Senate Majority PAC spokesman Ty Matsdorf said via email. "The FEC has repeatedly dismissed complaints involving the standard of 'brief quote of materials,' which is why both Democratic and Republican groups often use such footage as part of their ads."
American Crossroads political director Carl Forti made a similar point about the bipartisan nature of the practice. "We're following the lead of the Democratic super PACs," he said.
Ryan of the Campaign Legal Center said those arguments shouldn't hold up. The use of b-roll footage cannot be categorized as "brief," he said, when it constitutes 30 percent to 40 percent of the ad in question -- as it does with several of the spots in question.
He also said that the brief-quote exemption allows for the republication of material that "actually expresses a candidate's views," but in the words of the group running the ad. "B-roll footage just doesn't fit" the standard, he said.
The Senate campaigns that responded argued that they are simply trying to inform those supporting their candidates.
"Kay is committed to fighting for North Carolina's middle class, raising the minimum wage, and creating jobs, and the content we post online is a way for our volunteers and supporters to learn more about Kay and what she stands for," Hagan spokeswoman Sadie Weiner said in an emailed statement.
"As is common, our campaign has hosted a variety of videos on our website to give our supporters an opportunity to see the Senator in action," Schatz spokesman Clay Schroers said via email.
Ryan questioned that stated motive. "I can't help but wonder if posting b-roll footage on a candidate's website can have any other purpose than to be used by an outside group," he said.
It is true that in the past, the six-member FEC has deadlocked on the issue of whether independent groups can republish b-roll footage. And that lack of decision gives the users of b-roll some arguable cover.
"There is no official safe harbor, which comes from an advisory opinion (which requires 4 affirmative votes)," University of California-Irvine election law professor Rick Hasen said in an email. "In practice, however, when there is a 3-3 split it sure looks like you are acting in good faith when you do something questionable and have asked for guidance, and half of the commissioners agree that what you want to do is ok. So acting on a 3-3 split is not as safe as having an advisory opinion, but it is a whole lot better than nothing."
But a deadlock doesn't mean the FEC signed off on the practice. "The fact that the FEC is split on an issue does not mean that it is legal," Ryan said.
Before You Go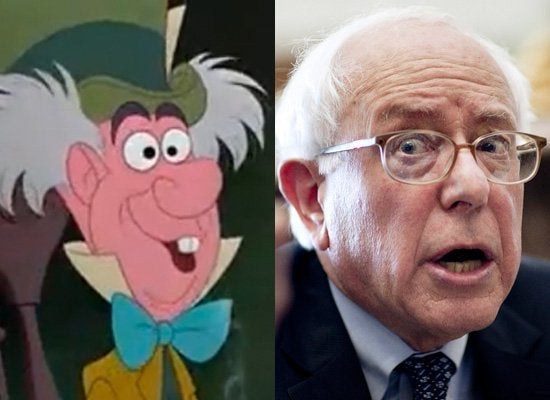 Politicians Who Look Like Disney Characters
Popular in the Community