Each year I survey what I have seen and experienced in the past 12 months and, after much soul searching and difficult internal debate, come up with my top 20 picks. (Plus two alternates!) Here is the list for 2014:
1. All is Lost
Directed by J.C. Chandor who also wrote the story. It stars the aging Robert Redford as a lone yachtsman out on the Sea of India -- perhaps for a last big adventure crowning a super active life. We are never told and can only surmise the backstory. This is a slow moving, intense, and moving tale whose last 30 seconds of breathtaking (literally!) ambiguity I am still thinking about. Within a few minutes of the opening, which shows an idyllic day and a smooth-as-a-mirror sea, everything goes wrong that can possibly go wrong, in a slow incremental descent into utter hopelessness. I believe the movie is a retelling of the "Book of Job" and indeed Redford's only conversation is with God.
2. Diplomacy
Directed by Volker Schlöndorff and based on the play Diplomatie by Cyril Gely. The film is, as they say, inspired by a true story, but what a story. It is August 24, 1944, Paris, and the General in charge of the city, Dietrich von Choltitz, has been ordered to destroy the city before the allies arrive (they are just hours away). Hitler basically wanted to assault the French with the same brutality he demonstrated to the Poles when he razed Warsaw to the ground. The General is confronted by the Swedish diplomat Raoul Nordling, who has lived in Paris all his life, and who, over a period of several hours, persuades the General to disobey his orders and save the city. The dialogue is imaginary and yet rings true. The power of the General in the first confrontation is an exposition of raw Manichean authority, with the diplomat's life hanging by the next sentence he utters. All very special, with great acting by Andre Dussollier as the diplomat, and Niels Arestrup as the General.
3. The Grand Budapest Hotel
Ahhhh... and now to our favorite movie of the year ("our," because my entire family fell in love with this one). Its director, Wes Anderson, is at his most magical in mittel-Europe circa 1932 at the hotel of the title. Anderson has assembled his usual company of actors who obviously adore working for him -- Bill Murray, Tilda Swinton, Adrien Brody, Harvey Keitel, Edward Norton, but with a few new faces -- Jude Law, F. Murray Abraham, newcomer Tony Revolori as Zero Moustafa, who nearly steals the show, and...Ralph Fiennes, who most definitely does. Fiennes is given the most wonderful gift, a brand new fictional character, the Concierge of the Grand Budapest, M. Gustave, a character who reminds me of many others, but is totally original. A sort of combination of Niles (from Frasier), Mozart, Álvaro Mutis's Maqroll, and Somerset Maugham's Jane. The story is... fast paced, complicated, beguiling, refined and curiously emotional. My choice of the year.
4. Twelfth Night, The Globe Theatre on Broadway.
This is one of the most perfect Shakespeare productions I have ever seen, the magic of which has me smiling still. It was performed by an all-male cast led by Mark Rylance in the role of Olivia, in which he finds more comedy than you could ever imagine. He was awarded a Tony for this and rightly so.
5. Cabaret, Roundabout Theatre production at Studio 54, NYC with Alan Cumming.
This production made the play-with-music (I just can't call it a musical) into something potent and dangerous with Alan Cumming reprising his famous characterization of the frenetic Emcee. See him in the video below in the earlier incarnation of this show.
6. Macbeth at the Park Avenue Armory, NYC
Directed by Rob Ashford and Kenneth Branagh, with the latter in the title role. This was a big production taking up the whole of the giant space of the Armory, but never sacrificing intimacy in the depiction of the characters and their states of mind. The most memorable moment perhaps: Macbeth's most nihilistic soliloquy "Tomorrow and Tomorrow."
7. King Lear, Brooklyn Academy of Music,
Production starring Frank Langella, from the Chichester Festival Theatre, directed by Angus Jackson.
Langella had received mixed notices for his Lear in the U.K. so I was keen to see what he made of the role. For me this was one of the best Lears ever with Langella flying to untold heights in his version of the mad king.
8. Titus Andronicus, Globe Theatre, London
Lucy Bailey production with William Houston in the title role and Flora Spencer-Longhurst as Lavinia.
Only the Brits could pull this off! Shakespeare's most bloody play (making Tarantino look like Disney) but done with humor and style. We counted 12 members of the audience being carried out the night we attended but the body count was as high as a 100 some nights. Anyway, it revealed that Shakespeare is alive and well and kicking, even if some of his characters and audiences are not!
9. Henry IV, Parts 1 & 2, Royal Shakespeare Company, Barbican, London.
Directed by Gregory Doran, with Antony Sher as Falstaff. This is an epic day of sitting through six hours of Shakespeare and I would do it again in a heartbeat, just to see Antony Sher's reaction as Prince Hal, now Henry V, utters his "I know thee not, old man."
10. Broadchurch
U.K. (ITV) production of an original story written by Chris Chibnall, directed by James Strong and Euros Lyn, and starring that most amazing actor, David Tennant, who is surrounded by an equally strong cast. Tennant is for me a unique creative force. Whether playing Richard II, or Doctor Who, he becomes that role, that part, and in Broadchurch he is the most vulnerable I have ever seen a character. Very special.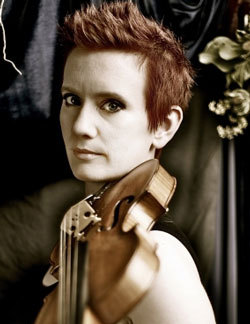 11. Violinist Aisslinn Nosky and the Handel and Haydn Society Orchestra, Jordan Hall, Boston, playing Vivaldi as though it were written last week, with more élan and love than I thought possible. Congratulations to H+H on its 200th birthday!!
12. John Zorn in residence at New England Conservatory with a 35 Year Retrospective concert dedicated to his totally original music which still has Jordan Hall reverberating! The performance pleased the composer so much that he invited the musicians to repeat it December 7 at The Stone in NYC (where Zorn is Artistic Director).
13. Hugh Wolff with the NEC Philharmonia, Boston Symphony Hall, in Shostakovich "Symphony No. 11." There is a simplicity and grandeur to this work that Wolff made into something unique and special in this performance. '
14. Petrucci Quartet, NEC's Brown Hall, Boston.
This young student quartet took on perhaps the most demanding chamber music work of all time, Beethoven "Op. 130" concluding with the original "Grosse Fuge," and provided us with a performance of great originality and authenticity. A bow to Nick Kitchen, the inspired leader of the Borromeo String Quartet, who coached the ensemble on the work through an Entrepreneurial Musicianship program he calls "Quartetutopia."
15. Menotti's The Consul, NEC opera performance at Jordan Hall, Boston, guest conducted by Gil Rose of the Boston Modern Orchestra Project, directed by Josh Major, and featuring Nataly Wickham in the title role. This opera was described as a "musical" around the time of its first performances in 1949, but I can't think of anything less like a musical in the opera repertoire. It is a dramatic vehicle for the lead soprano -- a role originally planned for Callas -- and here delivered with outstanding panache and brilliance by our Artist Diploma in Opera candidate, Nataly Wickham, who we should all watch out for.
16. Die Fledermaus, Cutler Majestic Theatre, Boston.
NEC Opera production conducted by Stephen Lord, directed by Josh Major. Johann Strauss at his finest. Wit, gaiety, with great singing and playing.
17. Leonidas Kavakos, Violin Recital at Jordan Hall, Boston.
Kavakos is the most compelling and original violinist performing at the moment. His musicianship and technique have so many colours and applications that you wonder what he will do next. And I hope the answer to that is to give many more concerts.
18.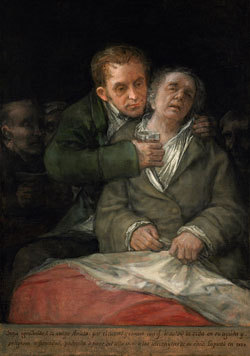 Goya: Order and Disorder at the Museum of Fine Arts, Boston.
An exhibition of Goya as you may not imagine or remember him. An assemblage of 170 works, on paper and painted canvas, that runs the gamut from the harrowing violence of war, elegant portraiture, and withering social satire. Top marks to the MFA for bringing this together.
19. The Tate Modern, London.
This museum is such a celebration of the power of art. A huge old power station converted into a giant exhibition space devoted to a glorious permanent modern collection plus visiting shows whose challenging polemic can supply entertaining dinner conversation for weeks on end!!
20.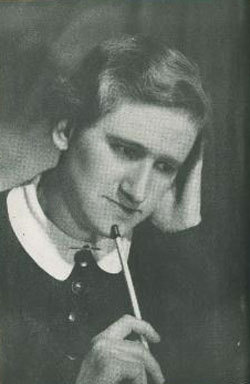 The Baton and the Jackboot by Berta Geissmar.
A deeply moving memoir written during the 1940s by the extraordinary but little known woman who was assistant first to Wilhelm Furtwängler and, then after her exile from Nazi Germany because she was Jewish, to Thomas Beecham. The description of unfolding events following Hitler's takeover in Germany offers some of the most chilling detail and insightful analysis I have ever read. My admiration for Dr. Geissmar--for her masterful management skills, her courage, her elegant command of English (certainly her second language), her resilience, and her touching devotion to each of these larger-than-life conductors-- knows no bounds.
21. The Villa Borghese, Rome.
For its permanent exhibition containing some of the great Berninis of all time including Daphne and Apollo created when he was just 24. And the Caravaggios...
22. I couldn't resist this... but the movie Mrs. Doubtfire, which I watched again after all these years just to revel in the sheer genius that was Robin Williams.
REAL LIFE. REAL NEWS. REAL VOICES.
Help us tell more of the stories that matter from voices that too often remain unheard.