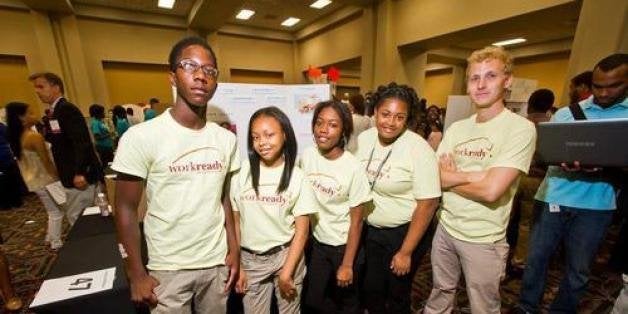 What do Wichita and San Francisco have in common? No, it's not a trick question, and the answer has nothing to do with politics or ideology or geography or weather. These cities -- along with Chicago; Allentown, Penn.; Research Triangle Park, N.C.; Philadelphia; and Indianapolis -- are the winners of the 2014 US2020 City Competition.
This White House-inspired initiative, led by US2020 and sponsored by Cisco, encourages cities and their community and corporate partners to address America's looming skills and talent crisis. Today at the White House Science Fair, these seven cities were announced as the winners of the national competition.
The simple truth is that America is not producing enough engineers and scientists to keep up with the demand and compete around the world.
In 2018, there will be 3 million job openings in science, technology, engineering and math (STEM) fields in the United States. But unless something dramatic changes, there will be only about 1 million Americans with the skills necessary to take those jobs. In essence, our nation faces an enormous skills gap, and these jobs may very well go overseas instead of being filled here at home.
Last April, in recognition of this crisis, the White House called on America's civic and corporate leaders for innovative ideas. What emerged? US2020, a bold initiative formed through a partnership of leading education nonprofits and business leaders.
The goal: One million STEM professionals spending 20 hours or more a year with students in hands-on, project-based learning by the year 2020.
We're already making progress toward that goal, and businesses like Cisco are leading the way.
Cisco has pledged that 20 percent of its U.S. workforce will volunteer 20 hours a year on STEM mentoring by 2020. US2020's newest partners, Chevron and Discovery Communications, recently joined the initiative alongside US2020's founding corporate partners Cisco, Cognizant, Raytheon, SanDisk and Tata Consultancy Services.
The concept is simple: Students can't do what they can't see. So STEM mentorship helps open the eyes of students from every background to the possibilities that a career in the technology industry might hold. It's about more than rote memorization of facts and figures, but instead igniting a lifelong love for science and math. It takes many forms, from participating in robotics competitions to shadowing STEM professionals to seeing an research and development lab in action.
But this is just the beginning. To achieve the ambitious goals laid out, we need buy-in from entire communities. And so we were thrilled when 52 city coalitions applied as part of the cities competition. Of those, 13 were named finalists, and now there are seven winning city coalitions from coast to coast. Over 250 organizations, including 100 nonprofits and over 60 businesses, were represented among their coalitions. That's a truly amazing commitment to change.
The city competition was designed to tap into the convening power of city leadership as well as the potential for national service to play a leading role in helping the nation address its STEM education needs. The Corporation for National and Community Service (CNCS), in partnership with US2020 and Citizen Schools, has made a total investment of 29 AmeriCorps VISTAs to do the important work of engaging communities in this STEM mentoring initiative.
There are seven winning city coalitions today but the hope is that the competition will encourage more cities to adopt STEM mentoring strategies and follow the best practices established by the winning coalitions.
So what can we learn from the winners? These cities know that providing students with extensive experiential learning opportunities alongside talented, committed and well-supported STEM professionals can significantly increase inspiration and achievement in STEM. Here's what the winning cities are planning.
• Allentown, Penn., is creating a "locations vs. needs" grid so they can focus efforts on high-impact opportunities and avoid the traditional "siloed" approach. The Mentor Allentown Coalition will utilize existing STEM programs like science fairs to provide 2,300 students with access to mentoring during the school day and after school. "I recognize how important it is to have youth develop into productive citizens, and I am encouraging corporations, nonprofits and individual citizens to participate," said Allentown Mayor Ed Pawlowski.
• Wichita plans to turn a robust pool of existing STEM volunteers and strong city-wide volunteerism mentality into long-term STEM mentors. The city plans to use connections within its coalition to significantly increase the supply of volunteers and mentors in the STEM community and work with youth-focused organizations to ensure that their volunteers have a real impact and inspire the next generation of students.
• Working directly with Chicago public school district, Chicago plans to engage underrepresented students in high-impact STEM mentoring. They are also working across 10 organizations to share best practices, improve communication and use data in a smart way to encourage a love for STEM. Chicago is particularly interested in which types of STEM mentorship experiences have the greatest impact on students and whether more effective engagements can increase the number of women and minorities that pursue STEM in college and beyond. Mayor Rahm Emanuel said, "Our goal as a city is for every child to be 100 percent college ready and 100 percent college bound so that we prepare our children with the academic foundation and skills to be the next leaders in the 21st-century, highly specialized technical economy."
• In San Francisco -- despite being home to the tech industry -- students sometimes have few opportunities to interact with STEM professionals. The San Francisco coalition came together in order to reach out to middle school students, particularly those from backgrounds underrepresented in the sciences, and open the door to hands-on opportunities in STEM. "One of my highest priorities as mayor is to make sure San Francisco's youth receive a quality education, both in and out-of-school," said Mayor Ed Lee.
• In Research Triangle Park, N.C., mentorship with students is being established through nonprofit STEM programs and broken down into jobs ranked Level A through E based on the required time commitment for completion, with "A" being a "one-off" model and "E" representing longer term support. Their goal is to move volunteers up the continuum from A to E by letting them experience success through established programs with experienced nonprofit partners.
• In Philadelphia, with strong private sector partners that include Dow Chemical, GSK, IBM and Microsoft, there are nearly 530,000 STEM jobs, making the city the eighth largest region in the United States for STEM employment.They are developing a centralized resource center to help connect students from all communities to the growing STEM fields. Mayor Michael Nutter says, "Our city has incredible STEM resources available to excite, educate and prepare our young people -- especially girls, children of color and children from low-income families."
• Finally, Indianapolis is taking a multifaceted approach to inspiring more students to pursue STEM by increasing the supply of mentors, expanding high-impact programs and providing resources where they're needed most while meeting school and community demands. The city has two goals: increasing students' interest in STEM careers and creating a culture of volunteerism among STEM companies.
As you can see, there is no one-sized-fits-all solution. Each city has taken a different route based on their local partners, values and opportunities. But the goal is the same across the board: expanding students' minds to see the incredible possibilities of a STEM career.
The bottom line is this: From an extraordinary pool of finalists, the winning coalitions demonstrated ambitious visions for the proposed scale and quality of their mentor engagements. Individually, these teams will jumpstart STEM mentoring efforts within their communities. Together, they will accelerate the STEM mentoring movement building across the country.
Blair Christie is senior vice president and chief marketing officer at Cisco Systems and a US2020 board member. Eric Schwarz is the executive chairman of US2020 and co-founder and CEO of Citizen Schools.
Related